President Donald Trump apparently really doesn't like sharks.
InTouch Weekly released the full transcript of their interview with adult film actress Stormy Daniels, where she discusses an affair with Trump. Trump's lawyer reportedly arranged for Daniels to be paid $130,000 to keep her from talking about the affair in the run-up to the 2016 election.
Tucked in with the details of the now-president's proficiency in bed, Daniels recalled how Trump is "terrified of sharks."
Daniels said after their first meeting where they had sex, they met again at the Beverly Hills Hotel, where she found him watching Shark Week in a "private bungalow." Besides being "obsessed" with the episode of Shark Week, which apparently recounted the worst shark attack in history, Trump let her know just how much he hates sharks.
"'I donate to all these charities and I would never donate to any charity that helps sharks. I hope all the sharks die,'" Daniels said he told her.
As their conversation continued, Daniels said they moved to a sofa after dinner "so he could get a better view of Shark Week."
But this isn't the only time Trump has expressed his hatred for sharks. In the past, he has tweeted at least four times about his dislike for the ocean predators, and once even said sharks were "last on his list" other than the "losers and haters of the world."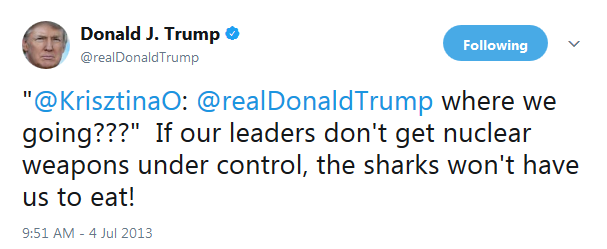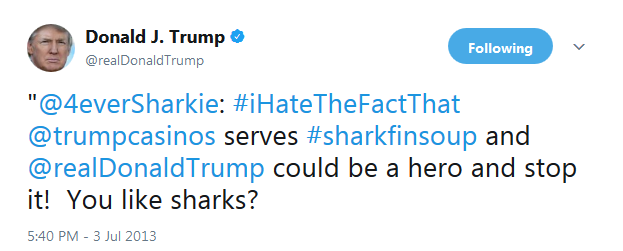 It looks like Trump stuck to his word about not giving money to shark-related charities. David Fahrenthold, who won a Pulitzer Prize for his reporting on the Trump Foundation, said the president has not donated any money to "shark-focused charities."
In the @intouchweekly interview, Stormy Daniels says @realDonaldTrump wouldn't give to shark charities. I checked: the Trump Fdn. gave $0 to any shark-focused charities. Closest was $10K to Florida Keys Reef Relief, where a Trump friend is on the board.

— David Fahrenthold (@Fahrenthold) January 19, 2018
While the president clearly has it out for sharks, it didn't stop him from eating shark fin soup while visiting Vietnam last year. The dish is considered a delicacy in some countries, but has also been criticized as promoting animal cruelty.
Maybe he thought eating the soup would mean one less shark roaming the sea.