President Donald Trump took to Twitter on Tuesday morning to declare that he needed to "start focusing my energy" on other things besides the investigation into Russian interference in the 2016 election and other related matters.
The decision goes against the near-daily complaints the president has made against the investigation, headed by Special Counsel Robert Mueller, on Twitter and in speeches since it began shortly after he fired former FBI Director James Comey last year.
Trump has used his Twitter account to comment on the Russia investigation on countless occasions, so it's unclear how long the president intends to adhere to his self-imposed redirection of "energy."
The president tweeted his decision to focus his "energy" elsewhere as part of a tweetstorm on Tuesday morning where he accused the Mueller investigation of "meddling" in the 2018 midterm elections.
"'This investigation involved far more surveillance than we ever had any idea about. It wasn't just a wiretap against a campaign aide…it was secretly gathering information on the Trump Campaign…people call that Spying…this is unprecedented and scandalous.' Mollie Hemingway," the president wrote in a series of tweets. "The 13 Angry Democrats (plus people who worked 8 years for Obama) working on the rigged Russia Witch Hunt, will be MEDDLING with the mid-term elections, especially now that Republicans (stay tough!) are taking the lead in Polls. There was no Collusion, except by the Democrats!
Trump added:
"Why aren't the 13 Angry and heavily conflicted Democrats investigating the totally Crooked Campaign of totally Crooked Hillary Clinton. It's a Rigged Witch Hunt, that's why! Ask them if they enjoyed her after election celebration! Sorry, I've got to start focusing my energy on North Korea Nuclear, bad Trade Deals, VA Choice, the Economy, rebuilding the Military, and so much more, and not on the Rigged Russia Witch Hunt that should be investigating Clinton/Russia/FBI/Justice/Obama/Comey/Lynch etc."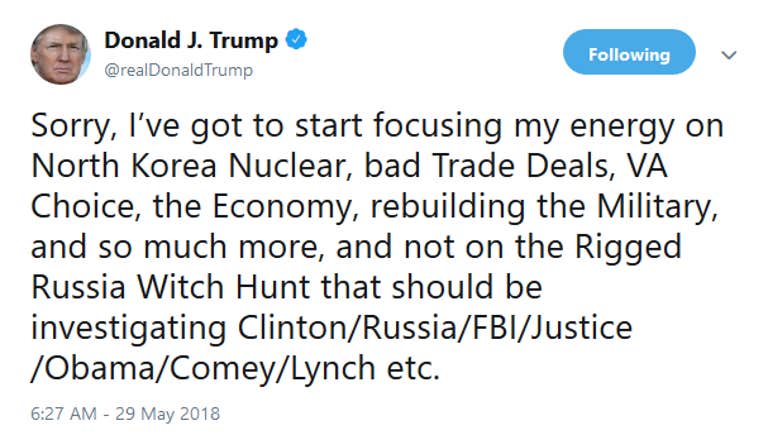 Given that Trump said he needed to focus his "energy" elsewhere shortly after making an accusation, without evidence, about the Russia probe "meddling" in the upcoming midterms, Twitter roasted the president's seemingly new change of heart.
Republicans in Congress, fighting for their majorities, would be ever so pleased if he'd heed his own advice right here -> https://t.co/KRaDhMGaDC

— Rachael Bade (@rachaelmbade) May 29, 2018
who hacked his account https://t.co/fkEQuXPEsm

— Jennifer Bendery (@jbendery) May 29, 2018
Says the guy who has tweeted 12 times about the Russia investigation since Saturday. https://t.co/YR11d5E9Eh

— Kaitlan Collins (@kaitlancollins) May 29, 2018
Nothing says 'I can no longer focus on this investigation' like 4 obsessive tweets by 7:30am! https://t.co/ie7sZoBkxd

— Translate Trump (@TranslateRealDT) May 29, 2018
Then get the fuck off Twitter and stop live-tweeting Fox & Friends. https://t.co/TM0vlb98V6

— Jon Bon Scott (@jonbonscott2) May 29, 2018
Yes, this is definitely the last time he will tweet about the Russia investigation. https://t.co/YUZXTKt9Zu

— Mark (@quigonsmith) May 29, 2018
https://twitter.com/raju/status/1001451023662231552
The president followed up his tweetstorm by reminding everyone that he is, in fact, president.
READ MORE: