President Donald Trump retweeted someone who referred to him as a "fascist" early Tuesday morning before quickly deleting the tweet.
The president appeared to be trying to share a story from Fox & Friends, a favorite morning talk show of the president's, that said he was "seriously considering" pardoning Joe Arpaio, a controversial former Arizona sheriff.
A twitter user, @MikeHolden42, replied to the Fox & Friends tweet calling Trump a fascist. Trump retweeted @MikeHolden42's reply to Fox & Friends instead of the original story.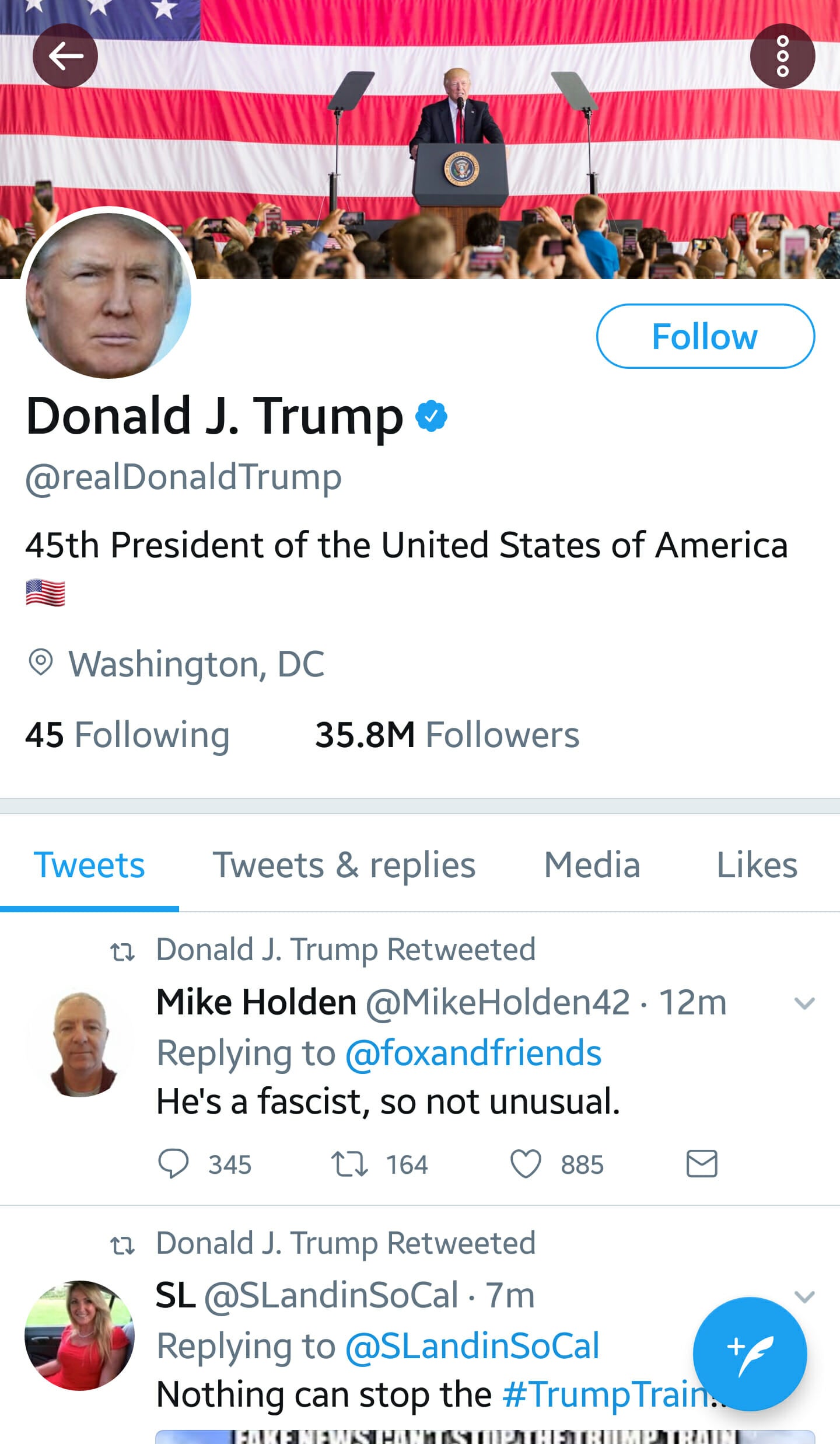 After seeing what the president had done, Holden said he was retiring from Twitter because he'd "never top" the president retweeting him calling Trump a fascist.
I'm announcing my retirement from Twitter. I'll never top this RT. pic.twitter.com/HuGHkiPoyR

— Mike Holden (@MikeHolden42) August 15, 2017
Holden confirmed that he was calling the president, not Arpaio, a fascist in a subsequent tweet.
The story Trump appeared to be trying to retweet was an "exclusive" from Fox News that Trump was considering pardoning Arpaio, who was found guilty for defying a court order to stop targeting undocumented immigrants during traffic stops.
Trump spoke with the network, saying that Arpaio was an "American patriot."
But the mistaken "fascist" retweet wasn't the only thing Trump tweeted on Tuesday morning.
The president also retweeted a woman who posted a photo of a train with the words "Trump" on it slamming into someone with the CNN logo on their face. The photo says "Nothing can stop the #TrumpTrain."
The picture echoed his much-criticized retweet of a GIF depicting him body slamming a person with CNN's logo superimposed on a person's face. The "Trump Train" retweet quickly drew criticism for being posted days after a counterprotester was killed in Charlottesville, Virginia, when a man with suspected ties to neo-Nazi groups slammed his car into a crowd.
Trump appears to have also deleted that photo; however, the original tweet from @SLandinSoCal is still up.
https://twitter.com/SLandinSoCal/status/897412929644933121
Twitter faux paus seem to be a trend in the Trump family.
On Monday Donald Trump Jr. was duped by a fake account claiming to be WikiLeaks founder Julian Assange. The fake account (which has an extra "n" in the handle) tweeted out in support of Trump's response to the Charlottesville violence while claiming there was a "double standard" in comparing Trump's response to other leaders.
The president's son retweeted the defense of his father, seemingly unaware that the account was fake.