In the wake of startling revelations by journalist Bob Woodward about President Donald Trump's handling of the coronavirus, POTUS responded this morning by tweeting. A lot.
Trump posted about Woodward, New Mexico, North Korean leader Kim Jong-un, Sen. Mitt Romney (R-Utah), school re-openings, and voter fraud, while tossing out retweets along the way to his myriad supporters posting enthusiastic memes. He also retweeted this.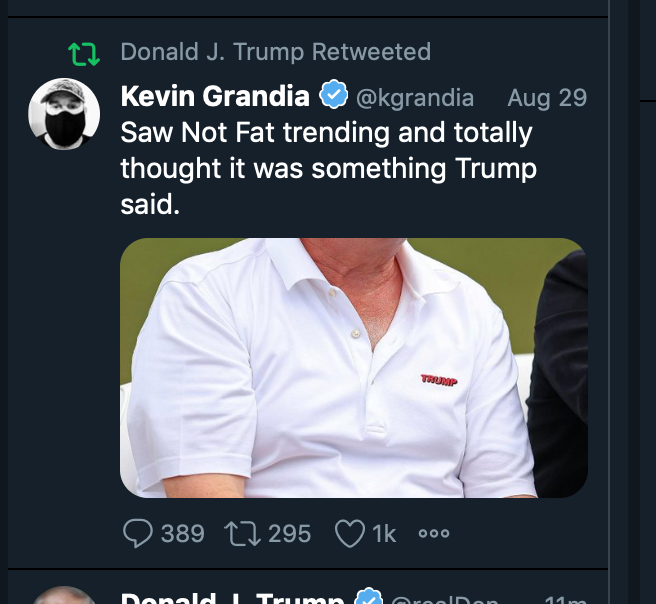 The full tweet includes a frumpy-looking Trump above the words from Kevin Grandia, a digital marketer, who said that he "Saw Not Fat trending and totally thought it was something Trump said."
Curiously, the tweet is from nearly two weeks ago, so it's a mystery as to why the president would see it now.
And although the president has raged against Twitter trending topics, this tweet isn't really criticizing them. And the picture of Trump is unflattering, so why he'd blast it out to his 86 million followers is unclear.
All the commentary on Grandia's tweet was equally as baffled, simply noting his retweet and wondering why.
Grandia himself was equally confused.
In a follow-up tweet, Grandia said he was merely trying to make a joke, and didn't have any further commentary on it.
Perhaps Trump just found it funny, too? Or maybe he wanted the world to know he is indeed "not fat."
This post has been updated.