President Donald Trump tends to use his Twitter account to express his opinion on a number of different topics, but his constant use of the social media platform is of interest to Special Counsel Robert Mueller.
According to the New York Times, Mueller has a number of questions he wants to ask the president, and several of them focus directly on tweets Trump has posted on numerous topics related to the ongoing investigation into Russian interference in the 2016 election and the president's possible obstruction of justice.
While only three tweets are directly referenced in the questions obtained by the Times, given Trump's prolific use of Twitter, it's conceivable that other messages posted by the president about the topics highlighted in the questions could come up in the future.
Here are the tweets that are mentioned in Mueller's questions:
1) Trump's threat of having 'tapes' of James Comey

In mid-May 2017, as former FBI Director James Comey geared up to testify before Congress after being abruptly fired by the president, Trump seemed to threaten him by suggesting he had "tapes" of conversations they had in the past.
"James Comey better hope that there are no "tapes" of our conversations before he starts leaking to the press!" the president wrote on May 12, 2017.
Following the threat, Comey told Congress: "Lordy, I hope there are tapes."
Several weeks later Trump admitted that he did not have any "tapes" of his conversations with Comey. During a subsequent conversation with Fox & Friends, the president seemed to think his threat may have caused Comey to change his story.
Specifically, Mueller's team wants to know "the purpose" of Trump's tweet about the "tapes," according to the Times.
2) Trump's wielding of the Justice Department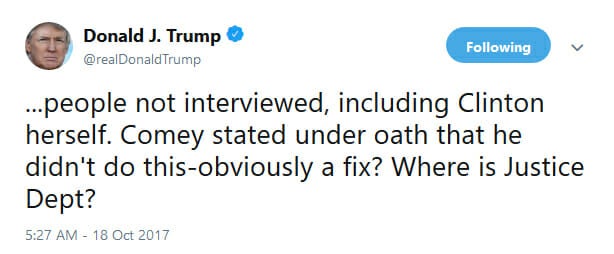 Mueller also asked about "the purpose" of a Trump tweet about Comey in mid-October 2017.
"…people not interviewed, including Clinton herself. Comey stated under oath that he didn't do this-obviously a fix? Where is Justice Dept?" the president tweeted on Oct. 18, 2017.
Specifically, Trump ranted about Comey drafting a letter "exonerating Crooked Hillary Clinton" before an investigation into her was complete, then suggesting that the Justice Department should investigate Comey's handling of the Clinton probe.
This is the same day that Trump said Comey was the "best thing that ever happened" to Clinton, whom she partly blames for her election loss.
The Times suggests that Mueller asking about the Oct. 18 tweet may be looking into how the president views the Justice Department as a way to attack his political rivals.
3) Trump's criticism of Jeff Sessions and Clinton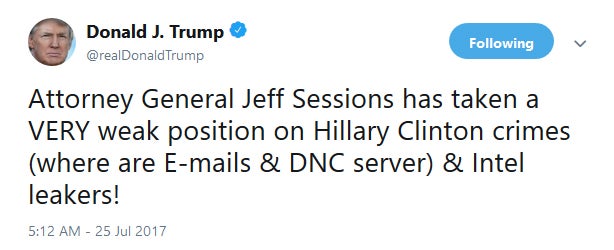 Similarly, a July 25, 2017 tweet from the president about Attorney General Jeff Sessions being "weak" on Clinton could fall under a similar umbrella in terms of what Mueller is asking about.
Specifically, Mueller is asking about the president's criticism of Sessions throughout July 2017, according to the Times.
On July 25, 2017, Trump tweeted: "Attorney General Jeff Sessions has taken a VERY weak position on Hillary Clinton crimes (where are E-mails & DNC server) & intel leakers!"
The next day, he wrote: "Why didn't A.G. Sessions replace Acting FBI Director Andrew McCabe, a Comey friend who was in charge of Clinton investigation but got… big dollars ($700,00) for his wife's political run from Hillary Clinton and her representatives. Drain the Swamp!"
But are there more?
While those three tweets were the only ones specifically brought up by Mueller's team, its likely that other tweets could come back to haunt the president.
Mueller's team also asks about WikiLeaks—which published hacked DNC emails shortly before the election–which Trump posted about on Twitter several times.
The president also tweeted about the meeting his son, Donald Trump Jr., and several high-level campaign associates—including Paul Manafort, who was indicted by Mueller—had with a Russian lawyer in June 2016 who claimed to have damaging information about Clinton.
In July 2017, the president called the meeting just "politics," and he defended the meeting by blasting the media on Twitter.
Mueller's team has several specific questions about the meeting.
Basically, Trump should stop tweeting.