What are the odds that President Donald Trump faces impeachment or leaves office early?
This question, once seen as a rabid liberal fantasy, has percolated into the realm of relative possibility amid a cacophony of scandals that have bombarded the Trump White House over the past few months.
As recently as late May, former Trump adviser Roger Stone suggested that Trump may not seek another term as president–and while that may be a possibility, it hasn't stopped some rabbid speculation, and betting, about whether or not Trump's presidency will end before the 2020 election.
In mid-November, a group of six Democrats in the House of Representatives introduced articles of impeachment against Trump. The articles accuse Trump of obstruction of justice, violation of the foreign emoluments clause, violation of the domestic emoluments clause, undermining the federal judiciary, and undermining the freedom of the press. Rep. Al Green (D-Tx.) was the first member of Congress to call for Trump's impeachment and was one of the six House Democrats to introduce the latest articles of impeachment. Even some Republicans, including Rep. Carlos Curbelo—who faces re-election in a blue district in 2018—have entertained the possibility of a Trump impeachment.
A Public Policy Polling survey released last year found that 49 percent of voters supported impeaching Trump, with 41 percent of voters saying they were opposed to the idea. The number increased from 47 percent of people who supported impeaching the president in June.
Calls for Trump's impeachment—or a simple resignation—increased in August following the president's widely criticized remarks regarding violence at a white supremacist rally in Charlottesville, Virginia. The uproar has sparked headlines declaring Trump a failed president, and the moment marks a new low for Trump. But that doesn't mean he'll vacate the Oval Office anytime soon.
While the upheaval over Charlottesville did not take down Trump, the president's penchant for controversy has reportedly set fellow Republicans on edge. CNN reports that lawmakers, donors, and even members of the Trump White House worry that the president underestimates the desire among Democratic members of Congress to impeach him—a concern that becomes infinitely more pressing if Democrats retake a majority in the House of Representatives in 2018.
Not only that, but the top donor during the 2016 election, billionaire hedge fund manager Tom Steyer, recently issued an ultimatum to Democrats running in 2018: Pledge to impeach Trump or else.
Still, let's be clear: Impeaching Trump remains a distant possibility, and booting him out of office is even less likely. Doing so right now would require the Republican-controlled House of Representatives to bring impeachment against him, and the Republican-controlled Senate to conduct an investigation into allegations against him—and a two-thirds vote in the Senate to find him guilty.
In short, Trump is probably not going to get kicked out of office—especially not before the 2018 midterm elections. Of course, as any American likely remembers, he was probably not going to be president, either. Not only that, but there's the even less likely—but still lingering—possibility of his cabinet kicking him out by invoking the 25th Amendment.
READ MORE:
Despite the low probability of a Trump impeachment, the chances are rising on political betting markets. Unlike polls, these markets are based on the predictions of people who have real money in the game, which may make them more accurate than any single poll.
Below, we've compiled a list of the odds bettors put on Trump either being impeached or leaving office before the end of his term in 2020 from the best online sportsbook providers.
As of mid-May, Betfair has 15/8 odds offered for Trump leaving the presidency early, or a 34.8 percent probability.
The odds against him leaving early are 8/15, or 65.2 percent.
Those numbers are dramatically smaller than ones offered late last year, where Betfair put the odds of Trump leaving the White House before the end of his first term at 53.5 percent.

Predictit, which bills itself as a "stock market for politics," currently has Trump's impeachment odds at 39 percent.
The number has hovered in the low-to-mid 40s for most of May, with a 90-day high of 51 percent being reached on April 19, the day after Trump contradicted himself when he tweeted that former FBI Director James Comey was "not fired because of the phony Russia investigation" despite saying in an interview in 2017 that the probe was on his mind when firing Comey.
The tweet came as Comey gave a number of interviews where he compared Trump's presidency to a forest fire and went into detail about the so-called "pee tape."
In December last year, Predictit had the odds of Trump being impeached at 40 percent just after Michael Flynn pleaded guilty and agreed to cooperate with Special Counsel Robert Mueller's Russia investigation.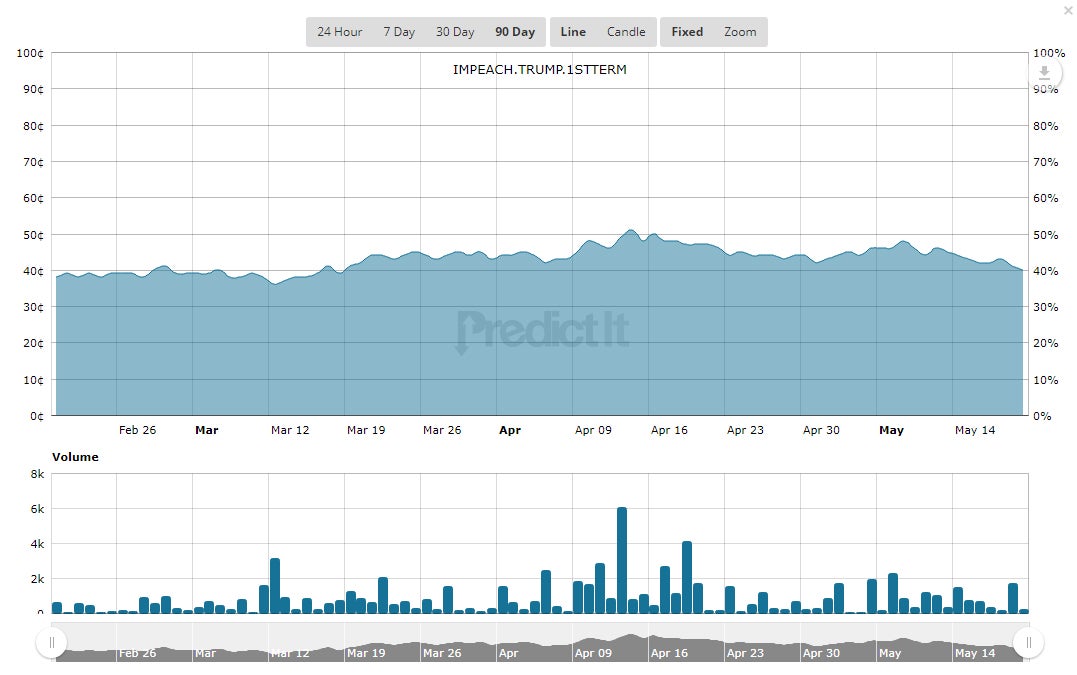 Ladbrokes combines the question of Trump being impeached and leaving office early (which are not necessarily the same thing) to give even chances of America having a different president earlier than expected.
As of late May, Ladbrokes bettors are offering a 6/4 bet on Trump leaving office via impeachment or resignation before his first term, or a 40 percent probability.
However, the bettors also say there is 4/7 odds, or a 63.6 percent probability, that he will serve out his first term. They are also offering 2/5 odds, or 71.4 percent, that the president will not be re-elected in 2020.
Perhaps more shockingly, there are 7/2 odds, or 22.2 percent probability, that Trump will be replaced in 2025 or after.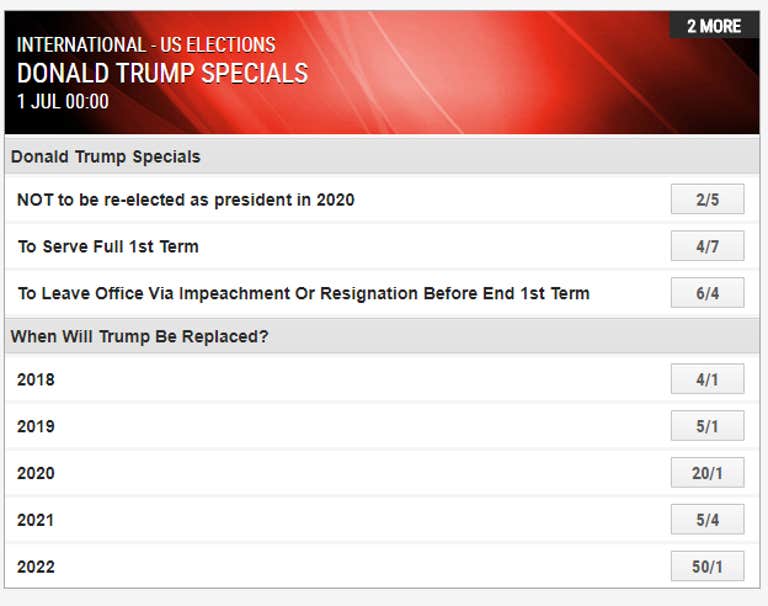 Are Trump impeachment odds correct?
These numbers may seem high and according to some data experts, they likely are.
David Rothschild, an economist with Microsoft Research, tracks Trump's chances of leaving office early at his site, PredictWise. The site tracks betting markets like Betfair and Predictit to give an aggregate look at the data.
Rothschild's latest data shows that the president has a 65 percent chance of finishing his first term, a 15 percent chance of leaving the White House in 2019, a 10 percent chance of leaving this year, and a 10 percent chance of leaving in 2020.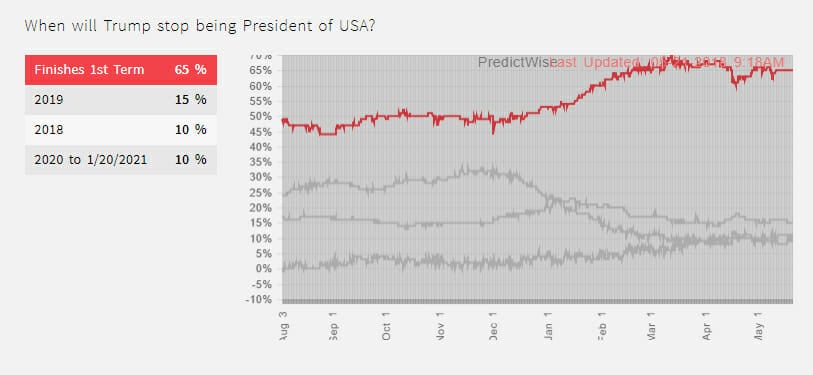 Editor's note: This article is regularly updated for relevance.