President Donald Trump has called for a boycott of Goodyear Tire & Rubber Company after a viral photo showed a policy that banned employees from wearing MAGA hats and other political attire.
Trump urged a boycott of the 122-year-old American company on Twitter.
According to a leaked slide purportedly from a training session at a Topeka, Kansas plant, Goodyear has a "zero tolerance" policy regarding such attire, specifically including Make America Great Again, Blue Lives Matter, and All Lives Matter. It permits Black Lives Matter and LGBT pride.
The inclusion of MAGA hats set the president off.
"Don't buy GOODYEAR TIRES – They announced a BAN ON MAGA HATS," Trump tweeted this morning, before encouraging his followers to "get better tires for far less!"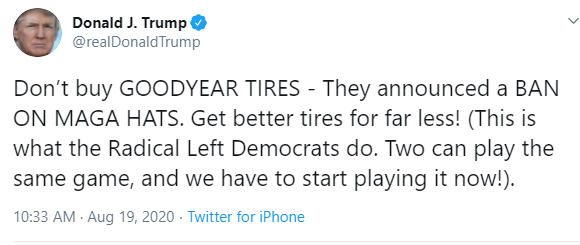 However, Goodyear said on Wednesday—shortly after Trump's tweet—that the "visual in question" was not created or distributed by the corporate company, and that it also asks its employees to "refrain from workplace expressions in support of political campaigning for any candidate or political party, as well as similar forms of advocacy that fall outside the scope of racial justice and equity issues."
Trump's boycott call follows a report on the policy by Kansas-based WIBW.
The company provided WIBW this statement:
Goodyear is committed to fostering an inclusive and respectful workplace where all of our associates can do their best in a spirit of teamwork. As part of this commitment, we do allow our associates to express their support on racial injustice and other equity issues but ask that they refrain from workplace expressions, verbal or otherwise, in support of political campaigning for any candidate or political party as well as other similar forms of advocacy that fall outside the scope of equity issues.
Nevertheless, conservatives predictably lost their minds.
Goodyear's statement has been quote retweeted by thousands of people, with many of them saying it was "not good enough." Others noted that Goodyear turned off comments for the tweet.
Some also seemed to believe that MAGA is a racial identity.
"The policies Goodyear put out are as racist as it gets," complained @catturd2.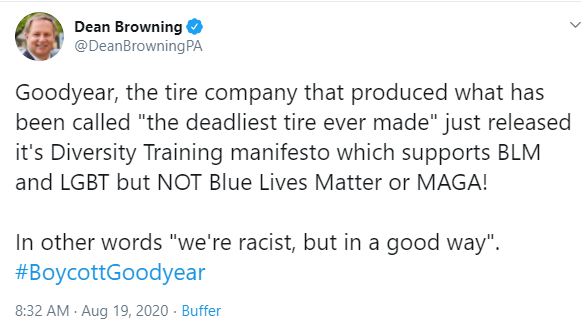 This is hardly the first time Trump has called for a boycott. He's urged embargoes of Macy's, Harley Davidson, Apple, Glenfiddich, Rolling Stone, CNN, Megyn Kelly, Univision, and more.
Goya Foods seems to be the only company Trump wants people to stop boycotting.
But it wasn't just conservatives commenting on Trump's urge for a boycott. Many liberals noted that Goodyear employs thousands of Americans.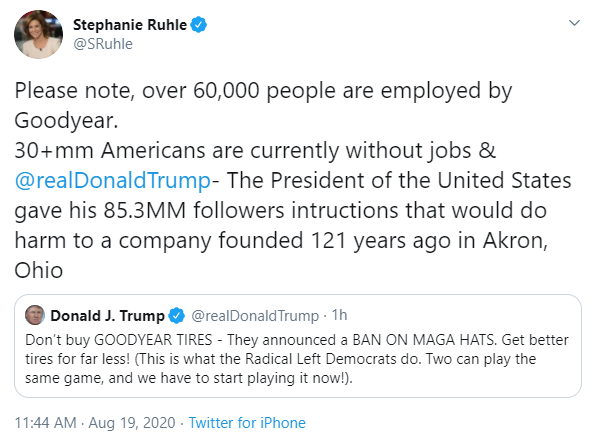 Reporter Jack Date was among those who observed that the presidential limousine has Goodyear tires. In 2009, Goodyear put out a press release where it noted that it was "the exclusive tire for the presidential limo, and the standard tire of the U.S. Secret Service."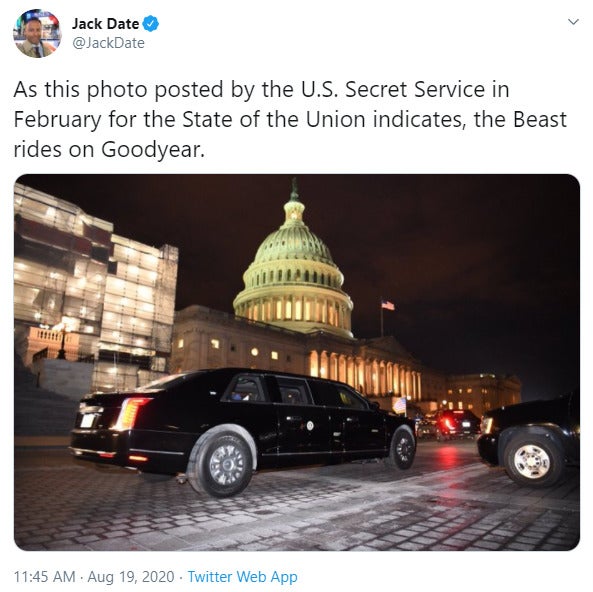 It didn't take long for the jokes to come rolling in, including ones about how Trump has railed against "cancel culture" before calling for a boycott.
"I just removed my tires and replaced them with cans of Goya Beans because I am a real patriot," joked @JenzoBeans.
"What does that hat represent that the Confederate flag doesn't?" Rex Chapman tweeted.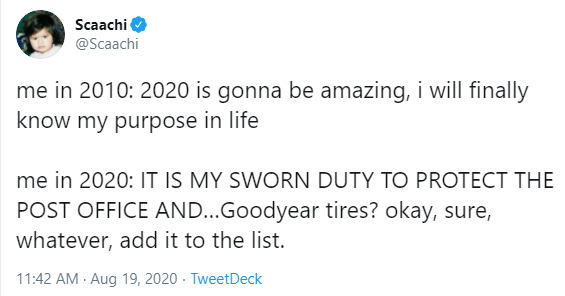 Reuters reports that Goodyear's shares immediately dropped 4% after Trump's tweet. The company provides the largest share of tires on new vehicles sold in the U.S.
---
Read more of the Daily Dot's tech and politics coverage