With President Donald Trump's 100th day in office just a week away, the president logged in to Twitter on Friday morning to dismiss the "ridiculous standard" by which the public and media usually measure up a new leader—despite having used that very notional construct as a benchmark for presenting his policies.
In the tweet, Trump claimed that he had achieved "a lot," citing the nomination of Supreme Court Justice Neil Gorsuch, but seemed to warn that the media would use this opportunity to strike out at him for a lack of accomplishments.
No matter how much I accomplish during the ridiculous standard of the first 100 days, & it has been a lot (including S.C.), media will kill!

— Donald J. Trump (@realDonaldTrump) April 21, 2017
That wouldn't have been so easy had the president, however, not presented his policy bundle in an easy to digest "contract with the American Voter"—still available to read and sign on his website—a "100-day plan to restore prosperity to our economy, security to our communities, and honesty to our government."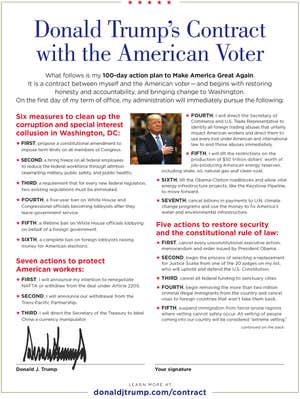 In fact, the president made quite a big deal of his 100-day plan to voters and reporters as early as the end of October in a speech given during his visit to Gettysburg.
Then, again during his administration's transition into the White House.
Analyzing the accomplishments of a United States president after their first 100 days in office is a decades-old tradition and, of course, a relatively arbitrary one established by the news media to assess a leader's direction and influence. However, to dismiss its importance after using it as a marketing tool for his policy agenda will surely only serve to shirk those who bought into it.
Aside from providing clear evidence of Trump's flip-flop on the 100-day benchmark, the contract also provides a clear way to compare Trump as president-elect and president of the United States.
Trump has been unable to hold to many of the promises presented in the two-page document, achieving only 10 of the 28 action pledges. The pledges on the first page are organized into three main areas: "clean up corruption," "protect American workers," and "restore constitutional rule of law." On the second is a list of legislative measures—none of which have passed and most of which are yet to move through Congress.
Trump has suffered from bad approval ratings, some of the lowest among new presidencies. He's also been repeatedly frustrated in the implementation of his domestic and immigration policies, legally opposed in his travel ban and forced to pull the GOP healthcare reform bill over lack of congressional support.
With a week left to go, will the president try to throw away his unofficial report card without anyone noticing?