The hashtag #AbolishThePolice disappeared from TikTok for at least half a week before suddenly reappearing.
"Abolish the police" was not searchable or linkable in captions of TikTok videos beginning around April 16. The Daily Dot confirmed the hashtag wasn't visible twice since then. It only was reinstated on Monday after TikTok was asked to comment for this story about its disappearance.
But the erasure of the hashtag has some Black creators saying they are done being used for their content and silenced when they have an opinion.
There has been an increased push for more equitable treatment for Black content creators in the wake of the death of George Floyd, a Minnesota man killed by police. The police killing sparked Black Lives Matter rallies across the world protesting police brutality and racism. During those protests and on social media "defund the police" became a common phrase and movement.
But at the time, Black creators said they noticed that their content was more likely to be shadow banned, effectively hiding videos from users, or removed completely compared to other white creators.
Now, TikTokers and activists say they are seeing a new spike in unfair treatment on the platform as the officer who killed Floyd, Derek Chauvin, is on trial and in the aftermath of the latest police killings of Adam Toledo and Daunte Wright.
Activist Wagatwe Wanjuki first noted, in a Twitter post last week, that "#abolishthepolice" was no longer working on TikTok.
"fun fact: TikTok has banned the #abolishthepolice hashtag. mind you, the last banned hashtag I learned about was 'superstra*ght'—a transphobic neonazi dogwhistle," Wanjuki tweeted.
Wanjuki noted in a follow up tweet that #abolishthepolice was faded out on a TikTok video and was not able to be clicked on like other hashtags including #blacklivesmatter, #joebiden, #syria, #imperialism, and others.
When the Daily Dot searched TikTok for the #abolishthepolice hashtag last week and earlier this week, it did not appear on the platform.
Other similar hashtags like "abolish police" and "abolish_police" were visible, but not #abolishthepolice, which is more widely used.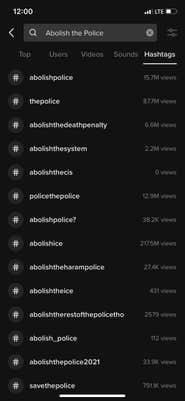 The hashtag only reappeared after the Daily Dot requested comment from TikTok. It's unclear why the hashtag was removed for at least several days. TikTok responded to a request for comment, pointing out that the hashtag was restored. However, it did not discuss on the record why exactly the hashtag was temporarily removed.
But, the temporary removal of the "abolish the police" hashtag isn't the first time TikTok has been called out for minimizing the Black experience on the platform.
Many creators used social media to mobilize and educate followers last summer amid the Black Lives Matter protests. At the time, Black creators said when they made content that called out racism, the videos were taken down.
In the past, TikTok has admitted to shadow banning some content, particularly surrounding potential bullying, the Guardian reported.
Shadow banning hides posts from the creator's audience by not boosting it on the "for you page," or "fyp." Black creators noticed that white creators were more common on the "fyp" page and demanded changes.
Last summer, TikTok released a blog post that appeared to try and address concerns that were raised, where they said "users have voiced tough but fair questions about whether all creators have an equal opportunity for their content to be seen."
"To our Black community: We want you to know that we hear you and we care about your experiences on TikTok," the app said in the statement. "We welcome the voices of the Black community wholeheartedly."
While TikTok may have tried to address it, activists and creators say it's still going on.
"I've also noticed tiktok will often put videos with Black lives matter and related hashtags immediately under review. If the vids are approved, they're often heavily suppressed with very limited reach," Wanjuki tweeted last week.
TikTok creator Malik El-Amin (@itsmalikel), who posts frolicking videos with progressive and anti-racist captions, told the Daily Dot he put "BLM" in his bio last week.
Almost immediately, El-Amin said, TikTok removed his bio from the @itsmalikel account and restricted the account from having a bio for 24 hours.
Then, El-Amin responded to a racist comment on one of his videos, but was told it violated TikTok's community guidelines.
He says he received a community guideline violation for hate speech. Finally, El-Amin said TikTok blocked him from posting for a week after he posted a video that received another community guideline violation that included the hashtag "Black Lives Matter."
El-Amin said he contacted TikTok several times asking for an explanation without any response.
After getting the violation notifications, El-Amin went on Twitter, writing: "You post TikToks advocating for human rights for 2 days and you get banned for a week."
While TikTok declined to speak on the record about why El-Amin was blocked from posting and received community guidelines violations, after speaking with the Daily Dot the videos in question were restored.
El-Amin told the Daily Dot that banning topics important to Black creators creates a single-minded echo chamber on the app.
"We see everything that we do is commodified from our dances to our clothing styles, to our sayings or dialects. Even our mannerisms as Black people, everything is just copied and commodified," El-Amin says. "And then as soon as we have an opinion about not being shot or killed, we're discredited."
El-Amin says he's never experienced the type of backlash on his other platforms like Twitter and Instagram as he has on TikTok.
In response to TikTok's promises for a better platform for Black creators, El-Amin says it's all "performative."
---
This week's top technology stories