Allegations that Parler, the social media site used largely by conservatives, had been hacked went viral online Tuesday evening after a seemingly prominent Twitter user claimed to have evidence of a breach.
Kevin Abosch, a self-described conceptual artist, alleged that hackers had successfully infiltrated the social media platform before obtaining thousands of direct messages from its users.
"I've seen what looks like legit proof of 5000 compromised Parler accounts including DM's of some well-known figures," Abosch said. "Hackers decompiled the app, zero day exploit etc.. I wish I could unsee what I've seen."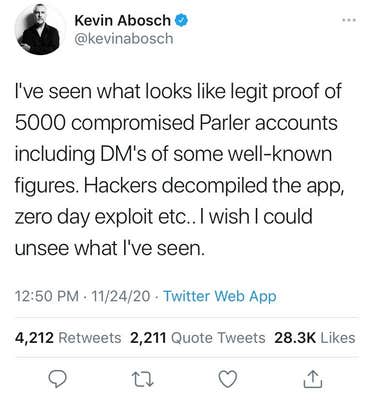 The claim, which offered no actual evidence of a hack, was immediately repeated by countless users on Twitter.
A screenshot of what appeared to be credentials for a Parler database began circulating not long after, which was widely cited as proof that a hack had actually taken place.
Eventually, numerous hashtags including #parlerhack began trending on Twitter as a result.
Yet the database screenshot was not new and did not show evidence of a hack.
The Daily Dot had already investigated the screenshot after it first appeared online in July and determined that the exposed file was not linked to Parler's main site or any infrastructure holding user data.
As noted by prominent hacker WhiskeyNeon, who aided the Daily Dot's investigation into the file at the time, the screenshot was related to a WordPress page that did not host any actual content.
The reliability of Abosch, the individual who claimed that the site had been hacked on Tuesday, was also called into question by Jane Lytvynenko, of BuzzFeed News, given his history of questionable remarks.
The Daily Dot reached out to Abosch to inquire about his allegations but did not receive a reply. Abosch eventually deleted the tweet claiming that Parler had been hacked without explanation on Wednesday.
Parler CEO John Matze released a statement on Tuesday evening that similarly refuted the hacking claims as well as the significance of the database screenshot.
"The alleged 'Parler hack' is a screenshot from a WordPress website that has been circulated repeatedly over the past 6 months, despite Parler's multiple responses that we do not use WordPress products, nor WordPress databases," Matze said.
While Parler is undoubtedly a high-profile target, no evidence at this time indicates that it has been hacked.
---
This week's top technology stories