Earlier this week, tech investor and former the Next Web contributor Pavel Curda landed in hot water after a female colleague, Gesche Haas, accused him of sending her inappropriate emails after they met at an industry event in Germany. According to Haas, Curda's email contained the subject line, "I like you a lot," along with the following text: "I will not leave Berlin without having sex with you. Deal?"
Needless to say, there was no deal, and Curda recently issued a public apology for the email after Haas sent it to Valleywag. (Since then, yet another female Silicon Valley employee has come forward with similar accusations, tweeting a screengrab of a text Curda sent her with an almost identical message from the same conference.)
Although Curda's advances toward Haas were inappropriate, to say the least, he's far from the first male techie to hit on a female colleague via text or email; in fact, compared to what some of his colleagues have said about women, "I will not leave Berlin without having sex with you" is relatively tame. In celebration of the vaunted tradition of Silicon Valley sexism, we've rounded up some of the douchiest texts, emails, tweets, and blog posts authored by tech power players, most of which put Curda's pathetic come-ons to shame.
Justin Mateen, cofounder of Tinder
Earlier this year, Whitney Wolfe, a former vice president at the hookup app, filed suit against Tinder following alleged sexual harassment and misogynistic treatment from Tinder CMO Justin Mateen. According to Wolfe's allegations, Mateen, whom she briefly dated, sent her various inappropriate texts and emails, referring to one woman as a "liberal lying desperate slut" and discussing "fucking" the wife of a famous blogger. Texts between Wolfe and Mateen later surfaced on various blogs, in which Mateen largely comes off like a spurned 14-year-old: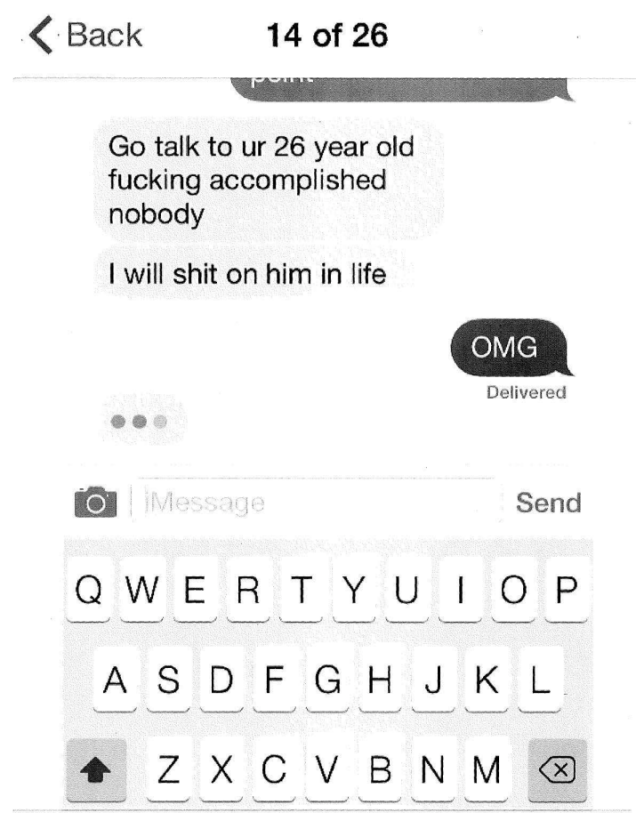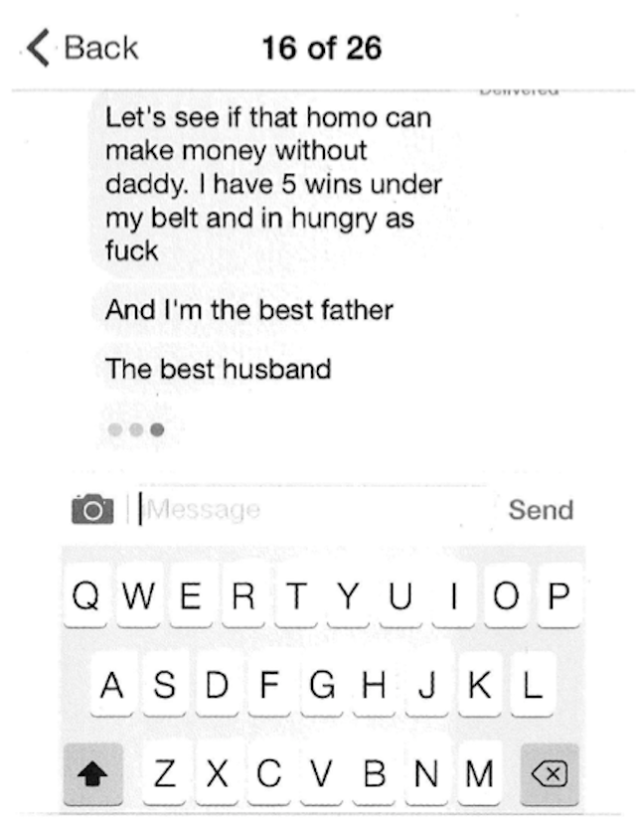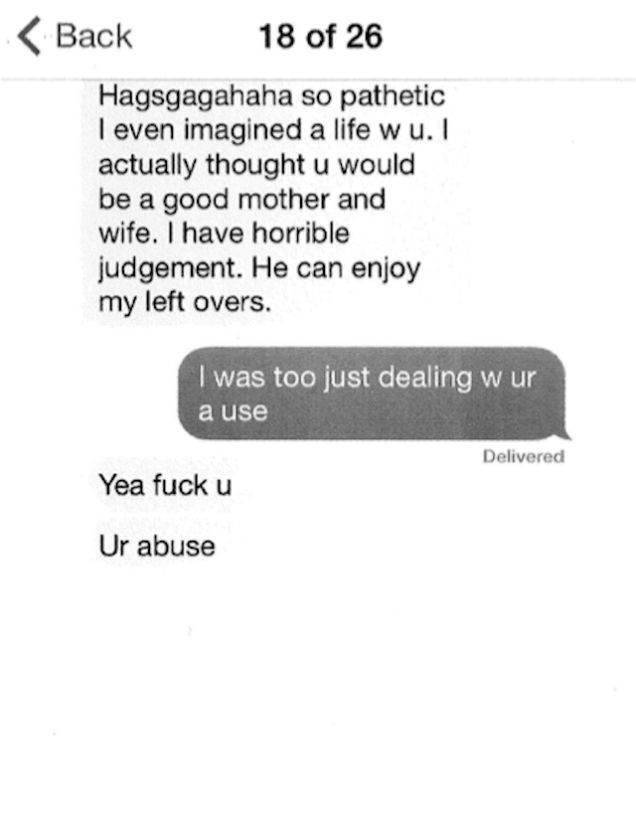 Mateen was suspended from his role at Tinder shortly after the texts surfaced.

Pax Dickinson, CTO at Business Insider
Back in 2013, Dickinson, the former Chief Technology Officer at Business Insider, was fired after bloggers reposted some of his old racist and misogynistic tweets, including such gems as "Women's suffrage and individual freedom are incompatible. How's that for an unpopular truth?" and "Men have made the world such a safe and comfortable place that women now have the time to bitch about not being considered our equals." But don't feel too bad for ol' Pax: He's currently the CTO of ephemeral messaging app Glimpse, which was cofounded by a woman. He's also learned his lesson (re: Twitter) and has made his account private.
Peter Shih, founder of payment startup Celery
A Y Combinator accelerator grad and cofounder of payment processor startup Celery, Shih made headlines for posting a hate-filled screed on his blog called "10 Things I Hate About You: The San Francisco Edition." In the post, Shih railed against, among other things, homeless people and the weather in San Francisco (which he compared to "a woman PMS'ing"), but the highlight was probably his argument against the San Francisco "49ers":
No, not the football team, they're great. I'm referring to all the girls who are obviously 4's and behave like they are 9's. Just because San Francisco has the worst female to male ratio in the known universe doesn't give you the right to be a bitch all the time.
Shih later added a disclaimer to the piece, saying it was "intended to be humorous," before the backlash on social media prompted him to delete it entirely.
Obie Fernandez, cofounder of Javelin
A programmer and the CTO of Javelin, a startup that builds "tools and services to help you change the world" (oh, OK!), Fernandez infuriated women in tech when he tweeted the following "joke" about Ruby on Rails last month: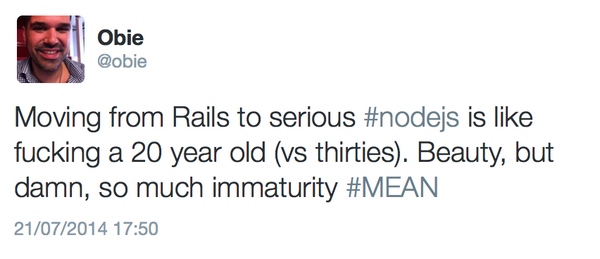 Fernandez later issued a retraction, though not before tweeting, "still not sure exactly what I'm supposed to apologize for other than being a bit crass about 20-year-old people." You know what they say: Sexism means never having to say you're sorry. 
 
Evan Spiegel, CEO of Snapchat
Following allegations that the 23-year-old Stanford grad and partner Bobby Murphy had denied alleged Snapchat cofounder Reggie Brown a stake in the company, Evan Spiegel was not exactly known as the nicest guy in Silicon Valley. But when fratty emails from Spiegel's undergrad years at Stanford were leaked back in May, it was clear that Spiegel wasn't just a jerk—he was a hardcore misogynist. In emails to his fraternity brothers, Spiegel joked about peeing on women, throwing a Sally Hemings-themed party, and made various references to "shooting lazers at fat girls" and receiving oral sex from "sororisluts." Snapchat is now reportedly worth almost $10 billion.
Photo via Clinton Steeds (CC BY 2.0)