Fact: I am obsessed with my cat, Thundercat. (She's named after the jazz bassist, not the 1980s children's cartoon.) I'm obsessed with her tail. I'm obsessed with her paws. I'm obsessed with the way she knocks over various household items to get my attention, then stares me directly in the eye as if to say, "Yeah, bitch, what of it?" And if I'm working on a story that could be possibly perceived as cat-centric, like a pushy stage mom, I won't hesitate for a second to put her in there.
Luckily, I'll no longer have to subject Daily Dot readers to my cat obsession, now that there's Tag a Cat, a new, Tinder-like app that lets you share and view photos of adorable felines in your area. Basically, it's a dream come true for crazy cat people like myself, who'll have a whole new audience with whom they can share their favorite photos of Mrs. Bumples asking for belly rubs, or Chairman Meow torturing a grasshopper!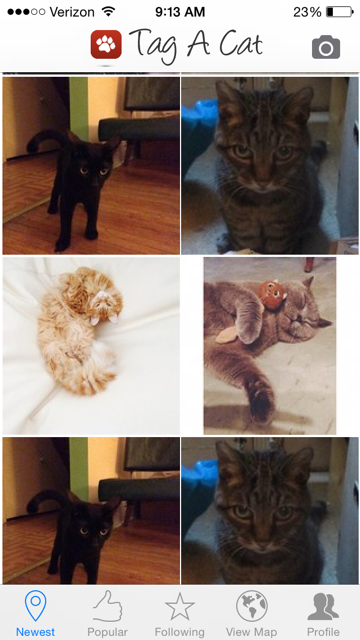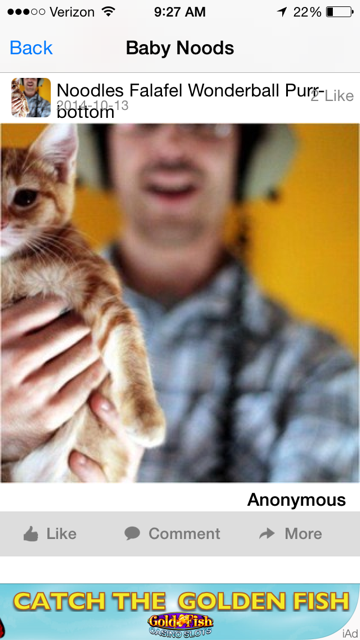 Here's how Tag a Cat works: You open the app and create a profile, and it automatically pulls up a map of kitties in your area. (Note to users, the map is pretty specific—if I ever want to visit some kitties in Huntington, N.Y., for instance, I now know exactly where I could find them—so I'd advise users to hide their locations.)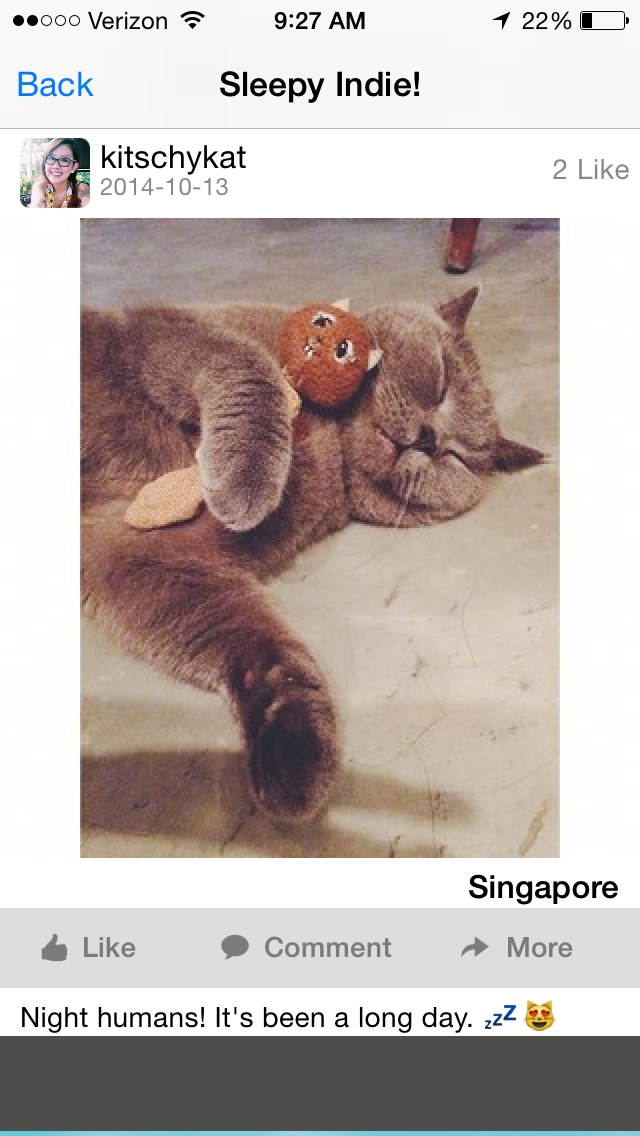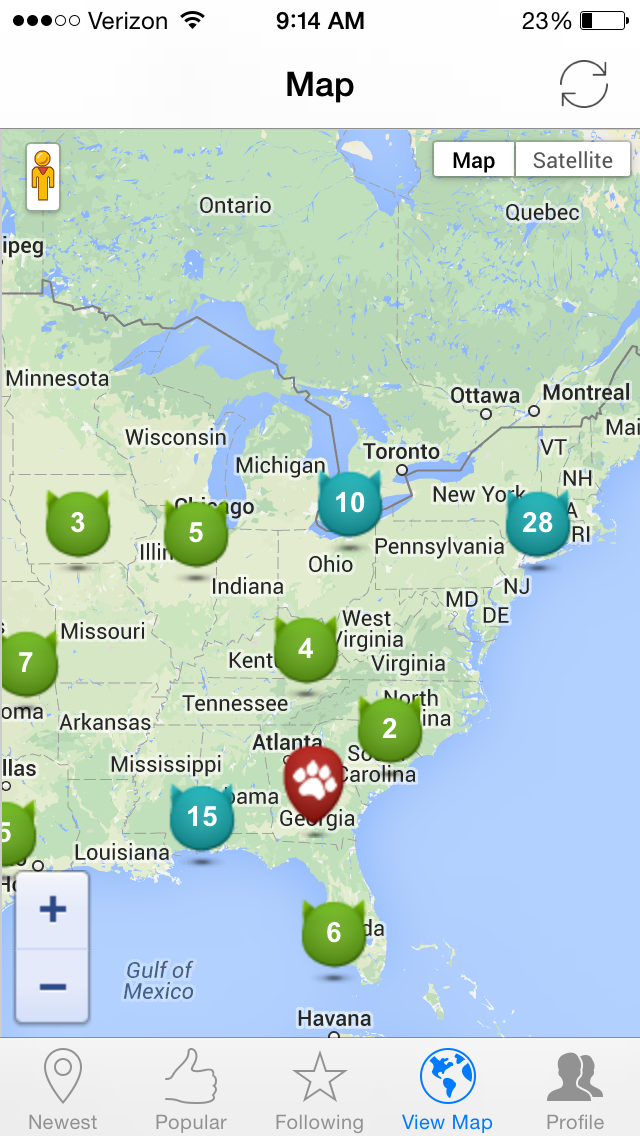 Just like Instagram, you can follow specific cats' profiles and like or comment on their photos. 
Because my kitty was too busy begging for food and trying to be pet by her father, who was looking at one of his stock's performance on Seeking Alpha, I couldn't get her to pose for any new photos for her profile. So I used previously existing photos of her, such as this one: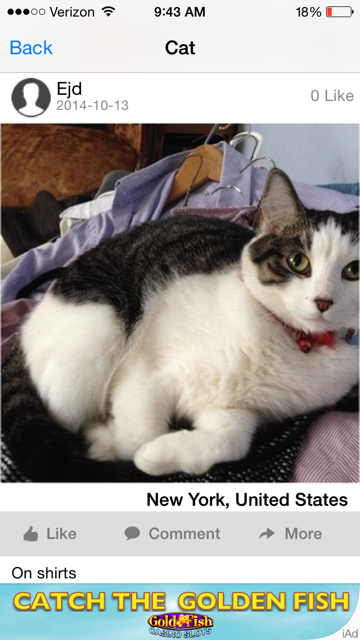 And this one of her looking ratchet in a mesh tank top: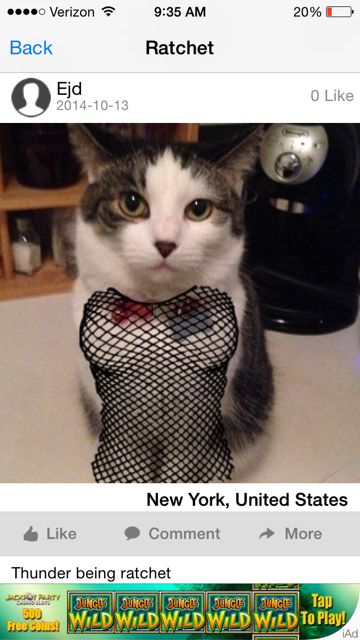 And this one of her with the sex toy the Autoblow 2:
And this one of her dressed as Amy Winemeowse last Halloween: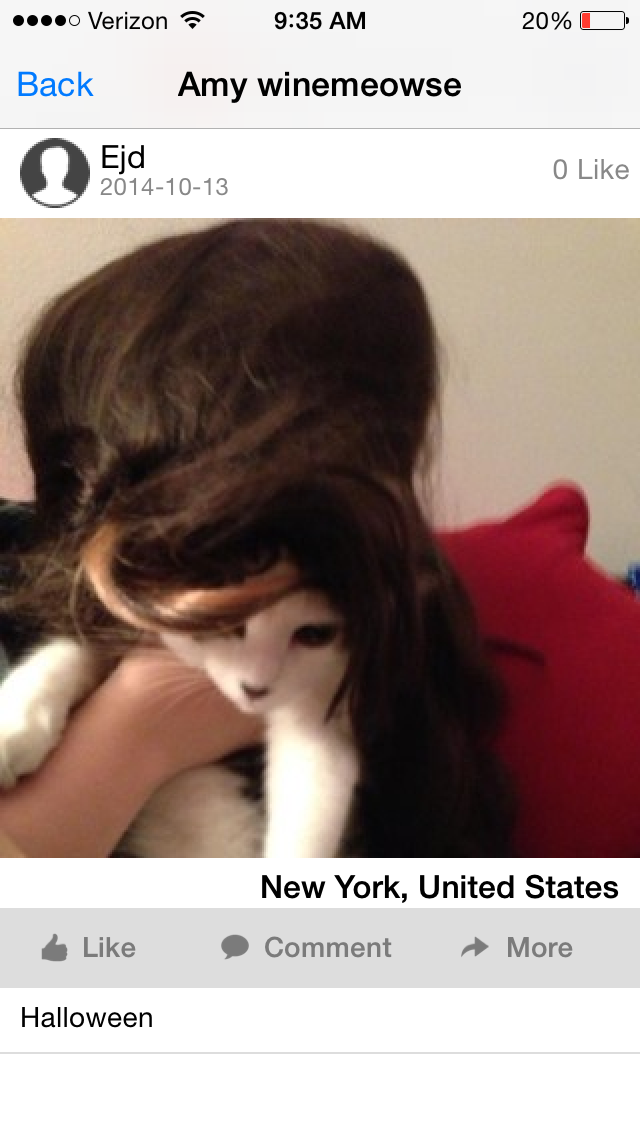 We're going to have a lot of fun with Tag a Cat, Thundercat. Boy oh boy, are we going to have fun with it.
A previous version of this article described a Tag A Cat feature that lets you search images of cats by emotion. Tag A Cat has not developed this feature.
H/T Daily Mail | Photo by Ej Dickson