Everyone knows the trick where you secretly glimpse at your partner's inbox by pretending to be reaching for something over their shoulder while they're sending an email. But few people take that act of covert espionage to the next level by actually swiping their phone and poring through their digital correspondences.
The mobile surveillance software company mSpy, however, is urging you to fully embrace your obsessive, stalker-like tendencies with mCouple, an app that allows couples to track each other's phone calls, texts, and even their GPS location history. Because nothing says "I love and trust you" like confronting your partner and demanding to know why he spent 1.36 minutes at the pizza place on Grove Street at 5:46 PM on the way home from work.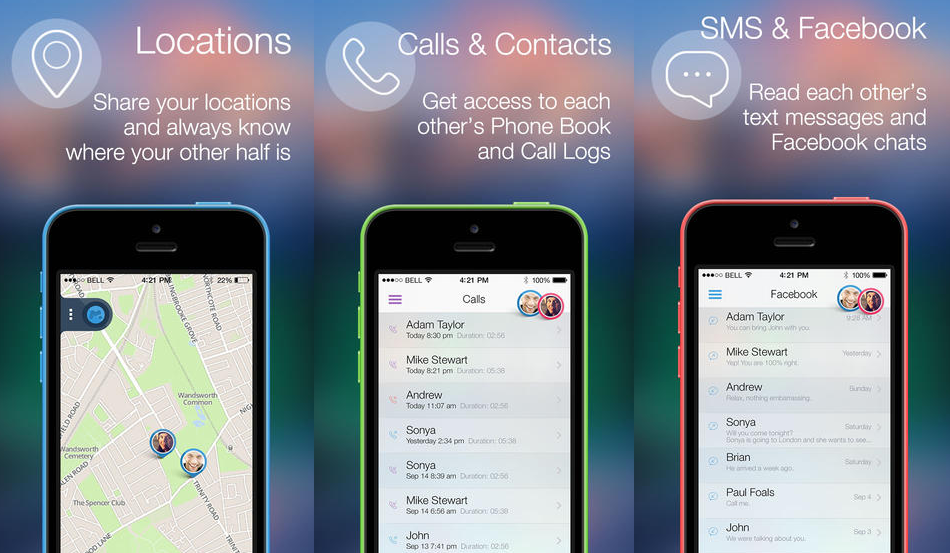 A companion to mSpy, mCouple is being marketed as a free surveillance app for the bunny-boiling set, or couples who are so obsessed with each other that they need to constantly track each other's digital footprints in real time. The app lets you track your partner's Facebook chats, phone contacts, text messages—basically, everything short of their bowel movement schedule. All you have to do is download the app on your phone and have your partner download it on theirs, and request each other's unique "user IDs" to gain access to each other's info.
Of course, tracking someone's calls and texts is illegal in the United States, so mSpy and mCouple stress in their marketing that both partners must give consent in order for the app to work on both of their phones. But as Betabeat points out, there's a simple way to circumvent this: by giving your partner a new phone with the app already downloaded on it, without telling them. On the psycho scale, that's basically one tier below putting their childhood pet in the microwave and creating an effigy of them with the hairs you found in their shower drain, but whatevs.
Say it with me now: If you don't trust your partner enough to respect their privacy, then you almost certainly shouldn't be with them at all. Just stick to sneaking peeks of their texts while they're in the shower and Facebook stalking their exes like the rest of us.
H/T Betabeat | Photo by Sigfrid Lundberg/Flickr (CC BY SA 2.0)