In case you missed Snapchat's sky-high valuation, it's worth learning that the vanishing messaging app is rumored to be worth $10 billion. 10. Billion. Dollars. In Silicon Valley, the streets are lined with gold. 
What exactly is going on here?
For an idea of scale, and an origin point, Facebook bought Instagram for $1 billion in 2012—an iconic acquisition that kicked off the social app arms race. By 2014, Facebook readily handed over $19 billion for WhatsApp. We're now conditioned to think about hot social apps in billions, mostly because a billion sounds like a lot and everything is misguidedly scaling from the two-year-old Instagram deal. 
Snapchat isn't a public company, so it doesn't need to make actual money yet. In Silicon Valley, buzzy companies that don't lose their luster inevitably get yet more cash pumped into them by eager investors looking for a dog in every fight or get snapped up by a competitor—a common exit for social startups.
Repeat step one indefinitely at your own risk to guarantee a balls-to-the-wall valuation when the time comes. Or opt for the path less traveled and take the long haul route of a quasi-real business. In this scenario, your company goes public and suddenly has to figure out how the hell to make money, often at the expense of your consumer-facing product (see Facebook). 
Let's put Snapchat's $10 billion valuation into a bit more context.
1) Who's paying $10 billion?
No one paid $10 billion for Snapchat. Yet, anyway. The number comes from a Bloomberg report of a funding round led by Chinese ecommerce titan Alibaba that would value the company at $10 billion.
2) Is Snapchat profitable?
Snapchat has generated exactly $0 in revenue to date.
3) How much was Snapchat worth before?
Facebook is said to have offered Snapchat $3 billion in 2013. Last December, a round of investment valued the company at around $2 billion.
4) How will Snapchat make money?
According to a Pew report from late 2013, a whopping 9 percent of smartphone owners use Snapchat. Snapchat plays its usage numbers close to its chest, but that's a huge segment of the market to go untapped by advertising. Social apps show massive mobile engagement, so it's no surprise that companies will be eager to target Snapchat's young, unsuspecting slice of the population.
5) What else is worth $10 billion?
If you ask Silicon Valley, Airbnb, and Dropbox are both worth one-ish Snapchats. Uber is worth almost two Snapchats.
Check out this handy chart from Quartz: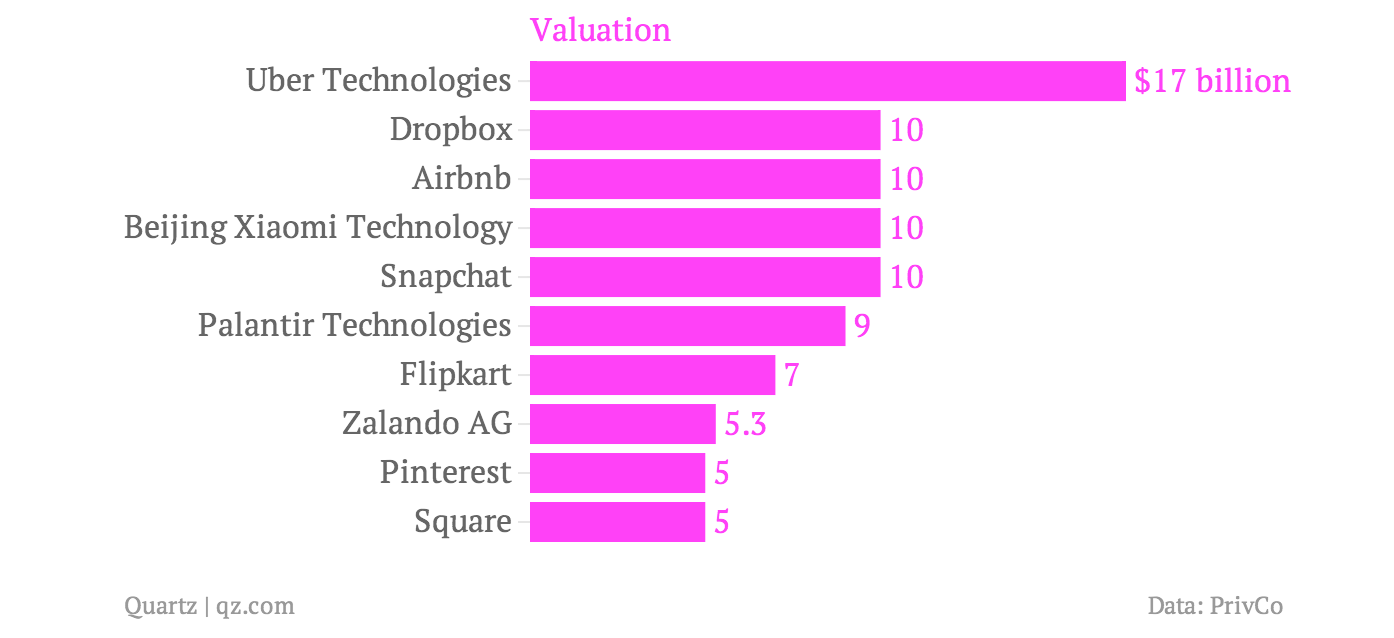 If Snapchat is worth 10 Instagrams that makes Uber worth 17 Instagrams. Remarkably, Facebook's total market cap is inching toward 200 Instagrams. Yep. That's where we're at. 
Illustration via Jason Reed