Time magazine's Twitter account and Person of the Year poll were both hacked today by the Syrian Electronic Army, Techworm reported.
According to the security news site, on Friday the SEA broke into the company's Twitter account and wrote, "'Syrian Electronic Army' was here via @Official_SEA16.. Next time write a better word about the Syrian president #SEA."
At press time, the magazine has yet to respond to the Daily Dot's request for confirmation, but a screenshot published by Techworm appears to affirm that the hack took place: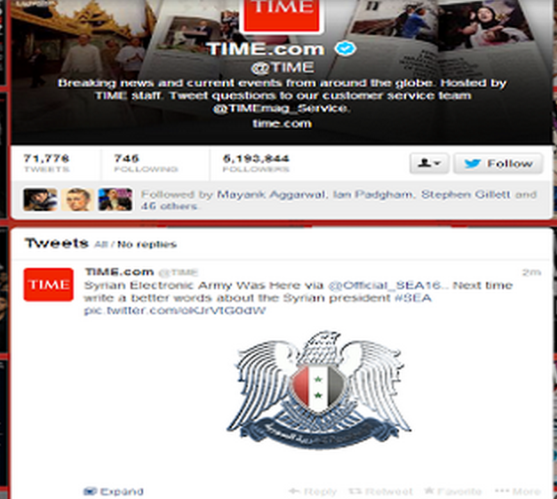 The SEA then apparently shut down Time's Person of the Year poll, though this too has yet to be confirmed. According to Techworm, the SEA tweeted that it took issue with Time's description of Syrian President Bashar al-Assad, which currently reads, "Bashar Assad: Syria's ruler presided over a bloody year, shrugging off international concerns over the use of chemical weapons as the death toll of his country's civil war eclipsed 100,000."
The SEA has a long history of hacking into media sites that negatively portray the Syrian president. To date the SEA has compromised major outlets such as BBC, Al Jazeera, NPR, and, earlier this year, the Daily Dot.
In most cases, these hacks are carried out using email phishing attacks that trick company personnel into providing the SEA with personal login information. The method used in the Time attack is still unclear.
This isn't the first issue Time has had with this year's poll. Although the company used new polling software that required a valid Facebook ID to vote, two security researchers were able to generate fake votes and rig the poll in favor of Miley Cyrus. That loophole has since been closed. 
Illustration by Jason Reed