A potential scammer appears to be using Hong Kong's protest movement to solicit donations from users on Twitter.
A Twitter account impersonating Carrie Lam Cheng, Hong Kong's chief executive, has been seeking funds for an organization known as "Free Hong Kong."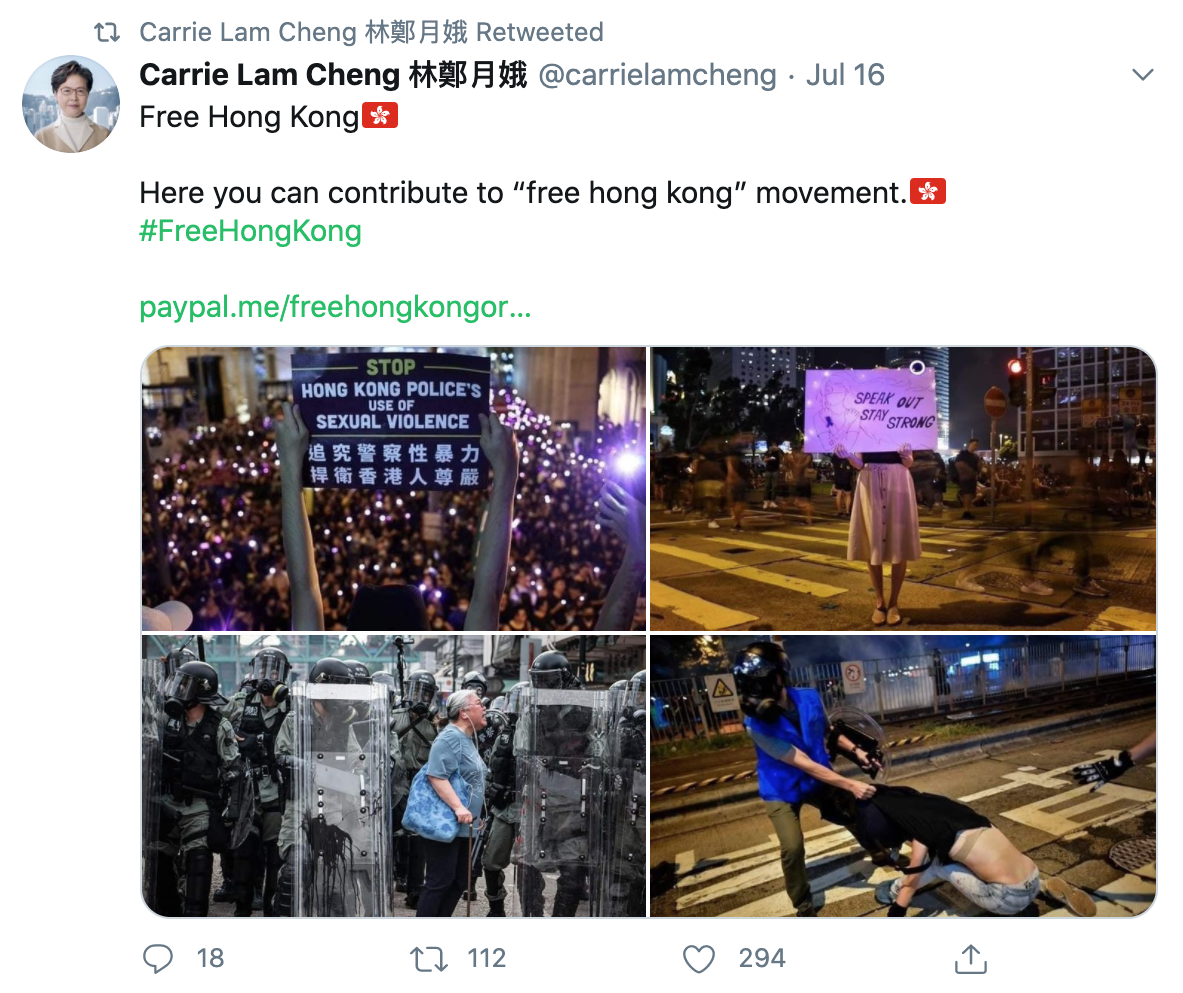 Lam, who has served as Hong Kong's leader since 2017, is a controversial figure given her opposition to pro-democracy candidates and imprisonment of political activists. 
The account has sent out numerous links to a PayPal profile while simultaneously sending users DMs looking for financial support.
Given that Lam is pro-China, it seems paradoxical a Twitter account in her name would be raising funds for Hong Kong's freedom, especially by DMing random people.
"Even your small contribution of $5 as a donation can make huge difference to our freedom Campaign of 'Free Hong Kong,'" one DM in broken English states. "Note: please make the donation in your domestic currency."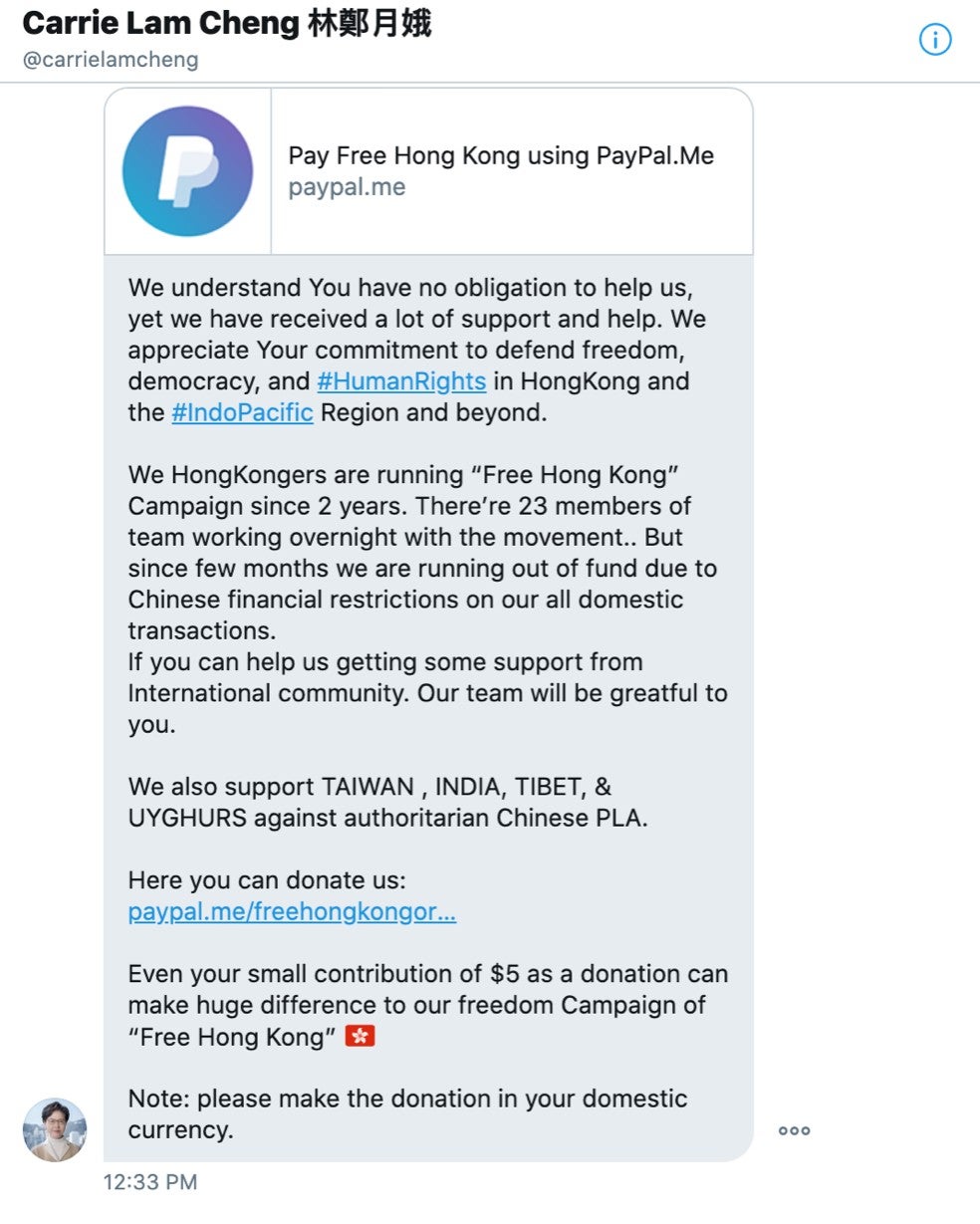 Although the Twitter account was created in 2011, no tweets are visible prior to June of this year. It remains unclear if the account purported to be someone else at an earlier time.
The account currently has nearly 11,000 followers.
A website linked in the user's bio goes to freehongkong.org, which calls on Americans to lobby for legislation that defends Hong Kong's autonomy.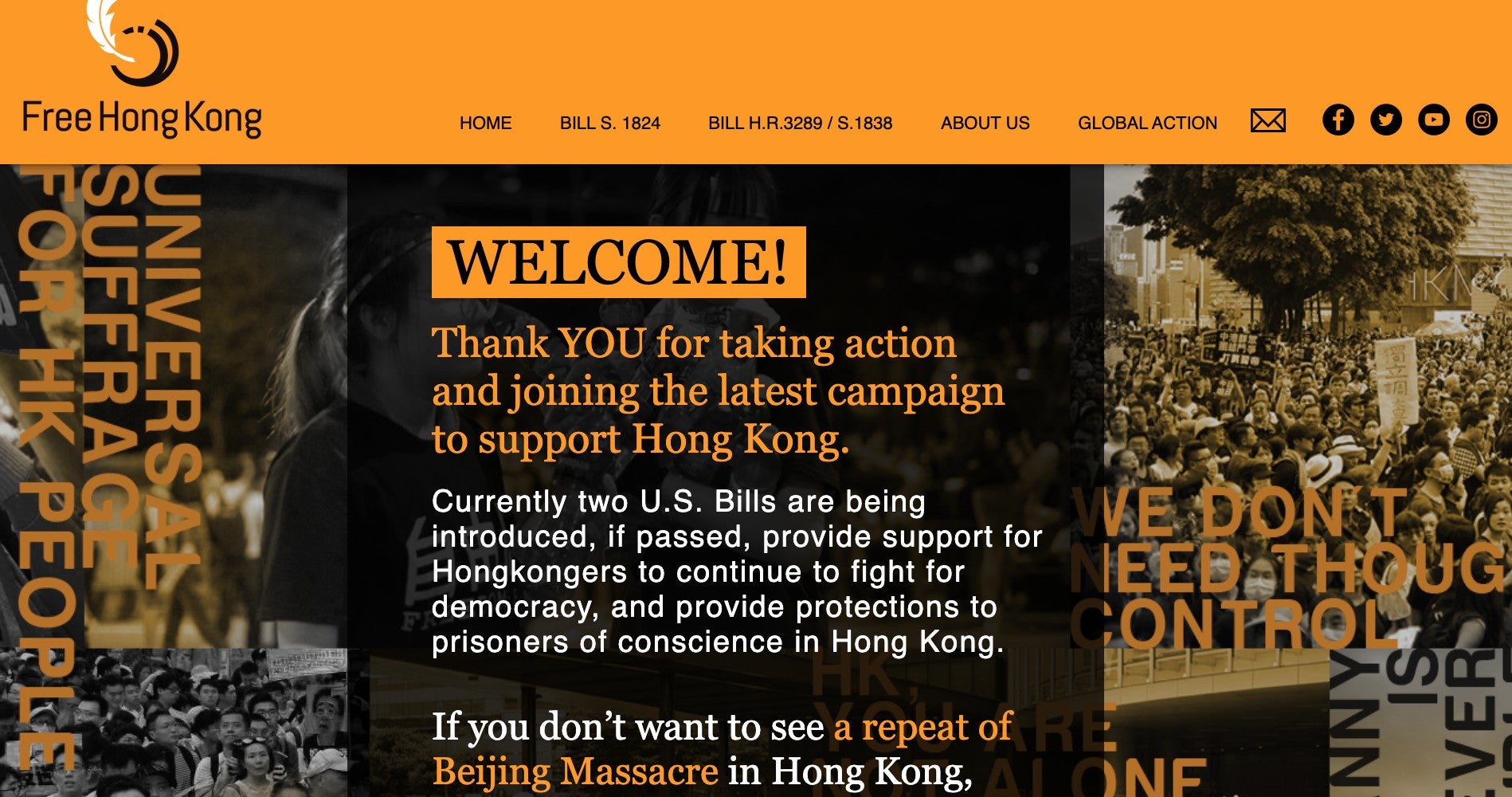 Analysis of the website on the Internet Archive shows that the domain has been active since 2011. But as far back as 2013, long before the current Hong Kong protests, the site portrayed itself as a pro-recycling forum for users to offer up free items.
"You can pass on an item that you no longer need to someone who may need it," the website said. "Instead of discarding those items to become landfill you can see if somebody else can use it."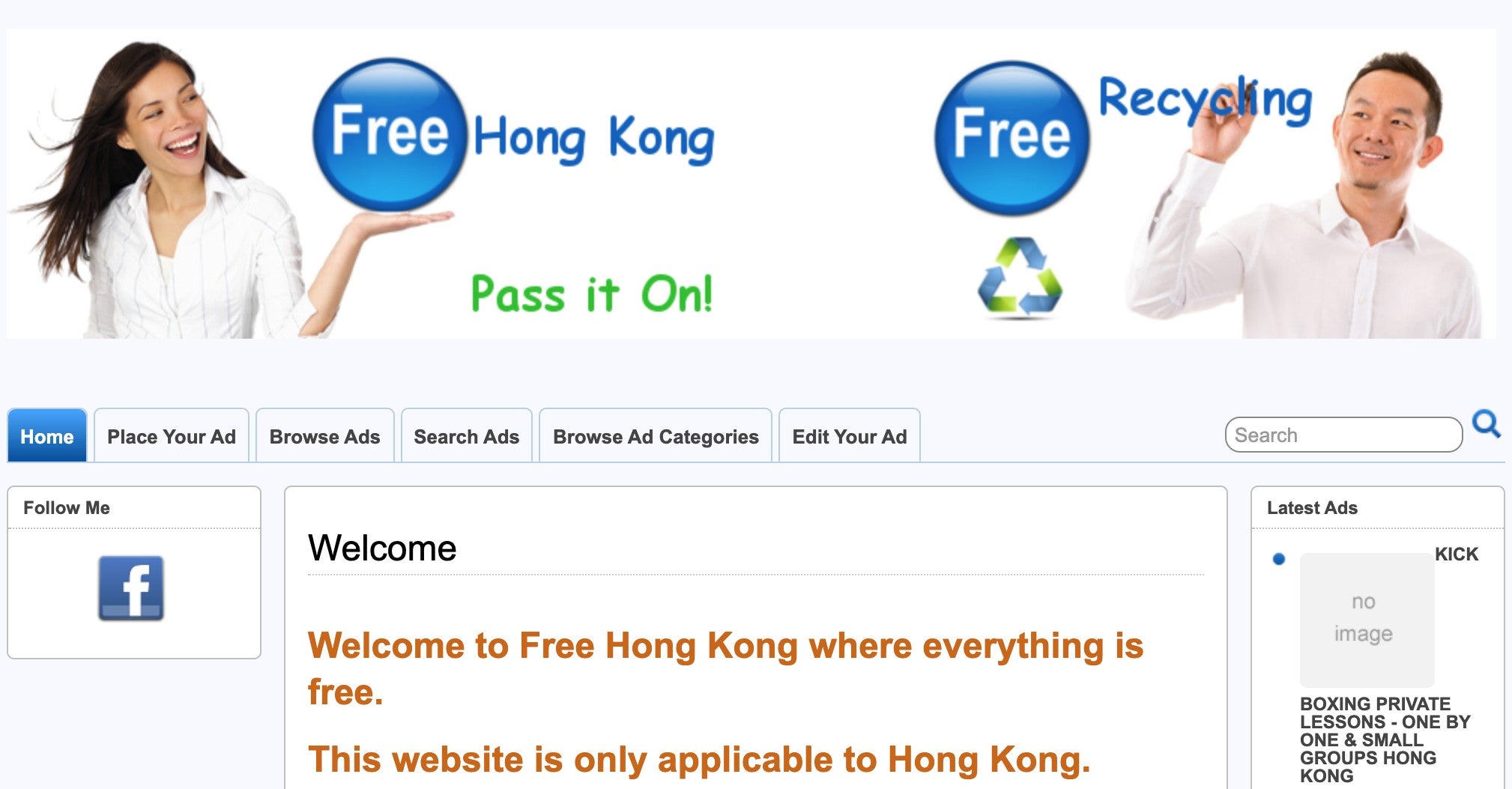 At some point in 2016, the domain expired. The site laid dormant for nearly three years before the domain was re-registered in June of 2019. It wasn't until November of 2019, around eight months after the protests began, that the site appeared as it is today.
The site advertises several social media pages including a Twitter profile with 106 followers that sent a single tweet in June of 2019. A Facebook page with around 3,000 likes last made a post earlier this month. A YouTube account for Free Hong Kong also created in June of last year has uploaded zero videos. An Instagram page with 10 followers has similarly produced zero content.
Speaking with the Daily Dot, Jeffrey Ngo, an advisor board member with the Washington, D.C.-based Hong Kong Democracy Council, stated that he was unfamiliar with the organization in question.
It remains unclear what Free Hong Kong is doing with the donations it receives. Numerous Twitter users have attempted to flag the Lam impersonator but thus far the platform has not taken action.
The Daily Dot reached out to Twitter to ask whether the account was in violation of the site's rules against impersonation but did not receive a reply by press time.
The Daily Dot also reached out to the fake account but did not receive a response.
PayPal also failed to provide an answer over whether the account had violated any of its guidelines. Not long after the account was flagged, however, the Free Hong Kong PayPal account was removed.
"We can't find that PayPal.Me profile," a notice now says. "Either it doesn't exist or it was disabled by its creator. Try checking the link's right."
Tweets sent out by the Twitter account advertising the PayPal link have also been deleted. The account has since begun using a service known as Razorpay to solicit funds.
A profile for the Free Hong Kong group on Razorpay alleges that the organization has been running for two years, despite their presence on the web being significantly shorter.
READ MORE: