The parents of two children who were killed in the Sandy Hook Elementary School shooting in 2012 have sued Alex Jones and his website InfoWars for defamation, according to a new report.
The lawsuits, filed on Monday in Austin, Texas, center around the conspiracy theories Jones has peddled about the school shooting, including that it was a hoax, HuffPost reports.
Neil Heslin, the father of a six-year-old boy killed in the shooting, and Leonard Pozner and Veronique De La Rosa, who also lost a son, are seeking more than $1 million from Jones, InfoWars, and Free Speech Systems LLC.
"Even after these folks had to experience this trauma, for the next five years they were tormented by Alex Jones with vicious lies about them," Mark Bankston, a lawyer for the parents told HuffPost. "And these lies were meant to convince his audience that the Sandy Hook parents are frauds and have perpetrated a sinister lie on the American people."
Jones has purported in the past that the Sandy Hook shooting never happened. The shooting left 26 people dead, including 20 children, in 2012.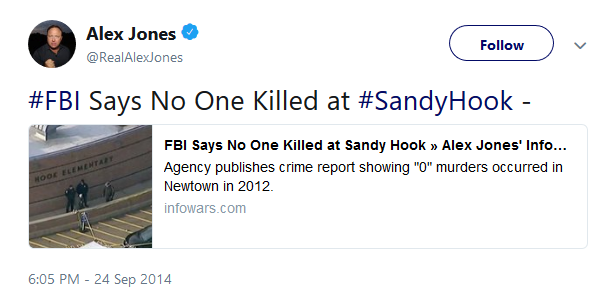 During an interview with Megyn Kelly last year, Jones seemed to have a different view on the shooting, where he admitted that the shooting did happen, but said the mainstream media "exacerbated" it to fit a "globalists" agenda.
Jones and InfoWars have pushed a number of conspiracy theories over the years, including most recently that the school shooting in Parkland, Florida was organized to draw attention away from Rep. Devin Nunes' (R-Calif.) controversial FISA memo.
You can read all of HuffPost's report here.