On Dec. 21, longtime Supreme Court Justice Ruth Bader Ginsburg underwent surgery to remove one of the lobes of her lung after cancerous tumors were found. The liberal icon had broken several ribs in a fall the previous month, and a scan revealed the tumors
The prognosis for Ginsburg's cancer was excellent, and reports had her back up and working within a few days. Nonetheless, she missed oral arguments at the Supreme Court when the body returned to work on Jan. 7, and has missed the rest of the week as well.
While recovering from surgery seems like a decent enough reason to work from home, it was noteworthy nonetheless that Ginsburg missed arguments at the Court for the first time in 25 years.
So noteworthy, in fact, that conspiracy theorists immediately concocted an alternate explanation for Ginsburg's absence: she's either dying or already dead.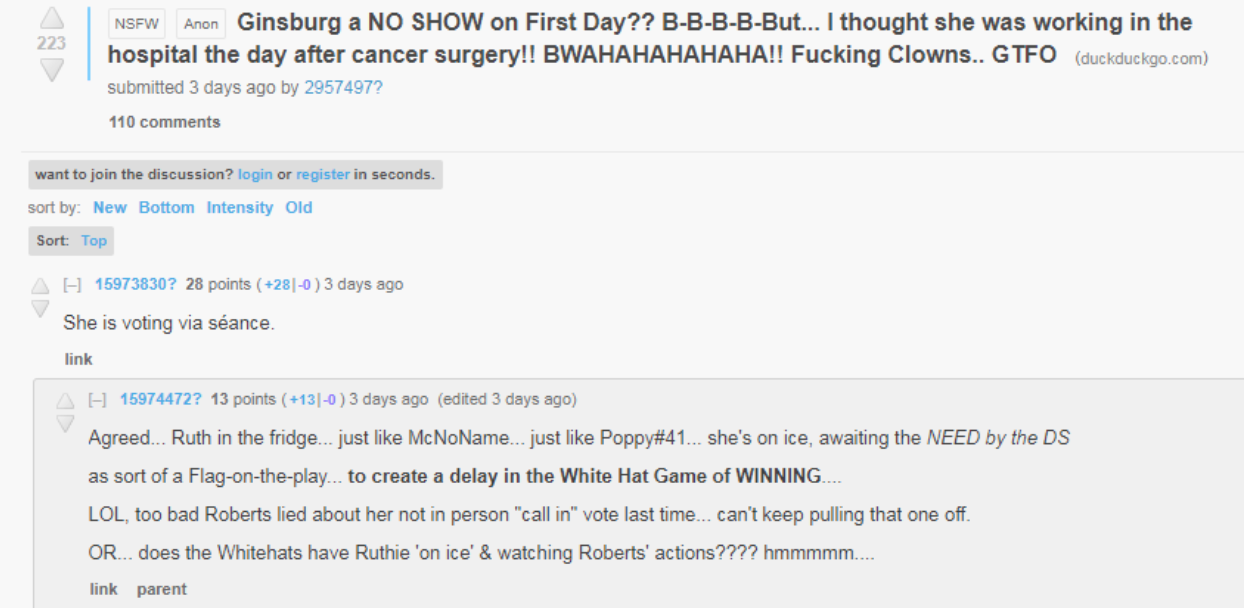 The news of Ginsburg's absence at SCOTUS sparked a flood of threads by conspiracy theorists on social media sites like Twitter, Reddit, and Voat, as well as several posts by conspiracy avatar QAnon. The speculation was that Ginsburg's status as incapacitated or dead was being hidden by the mainstream media as a way to avoid giving up another Supreme Court seat to President Donald Trump.
QAnon took it a step further, laying out a complicated conspiracy theory where Ginsburg was being treated by shady doctors using "off-market drugs" to "sustain minimum daily function."
Anything that Q puts out immediately gets amplified by a massive base on social media, and within a day, it was almost a foregone conclusion in the conspiracy community that Ginsburg was either incapacitated or dead, and that the MSM and deep state were colluding to keep it secret.
"RBG IS DEAD (or in a veggie state)!! All of a sudden Cuomo and HRC demand Roe v Wade to be codified in the next 30 DAYS!! Running out of time???" blared one popular thread on Voat, while threads on r/conspiracy asked if Ginsburg was "even alive" and "really still alive," with another simply declaring that she's "dead."
Am I the only one who thinks Ruth Bader Ginsburg is actually dead but the media won't report it bc they don't want Trump nominating anyone else? #WeekendAtRuths

— Mrs. Bregman's Wheelbarrow (@newguymeltz) January 7, 2019
Some even speculated that her "death" would be kept secret until an opportune moment, when it would be revealed by the deep state to send the nation into mourning, and distract from some great 3-D chess move Trump was about to make.
If that rhetoric sounds familiar, it's the same thing QAnon believers said about former President George H.W. Bush's death—that he'd been dead (or executed) for a while, with his funeral scheduled for the same day as testimony said to be devastating to the Clinton Foundation.
With each day that Ginsburg missed oral arguments, more conspiracy theory chatter came out, and the level of distrust in the "working from home" story grew. Of course, no evidence went with it that demonstrated Ginsburg was actually dead. If she was, keeping such a secret would be virtually impossible.
https://twitter.com/EllaaaCruzzz/status/1082414664003260417
And if she was being treated with "off-market drugs," there was no indication as to what they were. Even conservative media sources like Fox News didn't seem that interested in finding out, and their audience would be the ones predisposed to thinking the truth about Ginsburg was being obscured.
Video that emerged on Wednesday of Ginsburg leaving her house (in a wheelchair) to go to a waiting car didn't make the conspiracy theory go away. Indeed, QAnon believers on Voat decided that whoever that was, it wasn't Ruth Bader Ginsburg, merely a body double or clone.
Because she's already dead.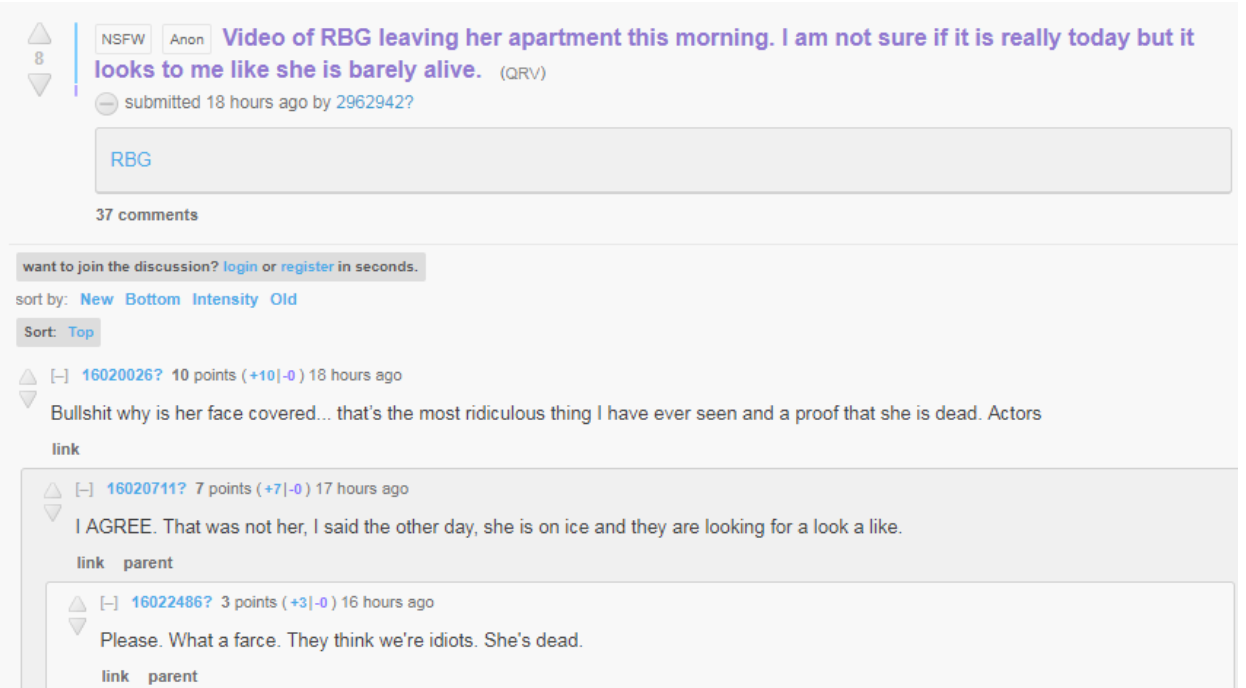 So far, the "RBG is dead" hysteria hasn't trickled upward from the swampiest parts of the internet into more mainstream conservative media, where it would presumably mean big viewership. That's the usual trajectory for right-wing conspiracy theories—they start in the anonymous dark corners and make their way up to pundits with bigger followings.
But the theory has little imprint there so far, with just one video on InfoWars rhetorically asking "Is Ruth Bader Ginsburg dead?" and nothing of note on YouTube.
In fact, suggestions that Ginsburg is ailing enough to retire have mostly been met by pushback even from conservative pundits. A notable example was in December, when Bill O'Reilly tweeted that Ginsburg was "very ill" with a new SCOTUS judge's appointment being "inevitable and soon." Meghan McCain, daughter of frequent conspiracy theory target John McCain, called it "gross and ghoulish," with O'Reilly claiming his "dispatch" was simply the truth.
Justice Ginsburg is very ill. Another Justice appointment inevitable and soon. Bad news for the left.

— Bill O'Reilly (@BillOReilly) December 21, 2018
As of this writing, Ginsburg is still alive and still receiving briefing summaries and court documents at home. The conspiracy theorizing about Ginsburg reflects not her specific medical condition, but the condition of the political discourse of the day, as well as the immediacy of information provided by social media.
It wasn't long ago that a political figure's medical condition simply wasn't something that the public would have any access to. It seems sensible that Ginsburg would work from home after surgery. Most people would.
But the fact that she never had before, including after two previous surgeries, raised eyebrows—and that's all it takes to spark a conspiracy theory believed by people predisposed to believe conspiracy theories.
If Ginsburg does emerge healthy and ready to hear cases, the conspiracy theory will be forgotten. And if she doesn't, then it'll be seen as proof that only its believers know the truth.