Comedian Joe Rogan has inserted himself in the presidential campaign with a bizarre offer to have the candidates on his show for a four-hour debate.
Rogan talked about this idea with Tim Kennedy over the weekend.
"It would be four hours with no live audience. Just the two candidates, cameras, and their vision of how to move this country forward. Who wants this?" Kennedy tweeted yesterday.
Rogan's fans were all for it. Exclamation marks littered responses to the tweet.
"Would love this! First question: Have you guys tried DMT?" said one.
"Can the people of the internet please make this happen!" gushed another.
This morning, President Donald Trump said he'd do it.
"I do!" he tweeted enthusiastically in response to Kennedy's question.
Conservative mouthpieces and politicians raced to call for Democratic presidential nominee Joe Biden to agree to the marathon debate.
"Joe?" Sen. Ted Cruz (R-Tex.) quote-tweeted the president.
Some Trump supporters made jokes about Biden's mental acuity.
"If Joe Biden can't handle a 20 minute sit down interview with Chris Wallace, he sure as hell can't handle a 4 hour debate with Trump moderated by Joe Rogan," Tim Young said.
Others argued that Rogan's show would hardly be a neutral venue. Rogan previously said he supported Sen. Bernie Sanders (I-Vt.) for president; since Sanders lost, he's gone on record supporting Trump.
"Maybe Joe Biden should agree to do the Joe Rogan moderated debate if Trump agrees to do a Rachel Maddow moderated debate first," suggested @Minuteman04.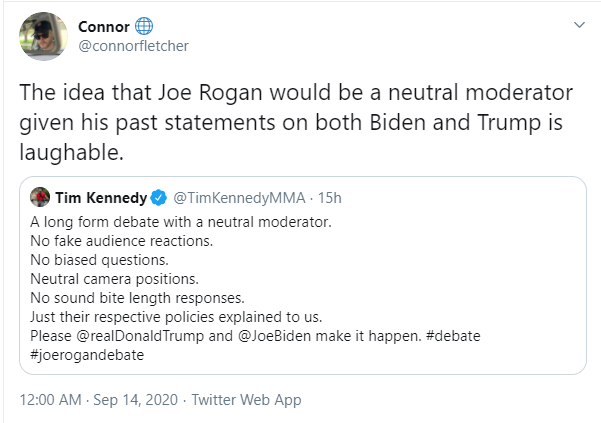 A few used the offer as an opportunity to dunk on Rogan.
"Having Joe Rogan moderate a presidential debate would as asinine as having an Evangelical pillow manufacturer speak as a health expert on a global pandemic," joked author John Pavlovitz.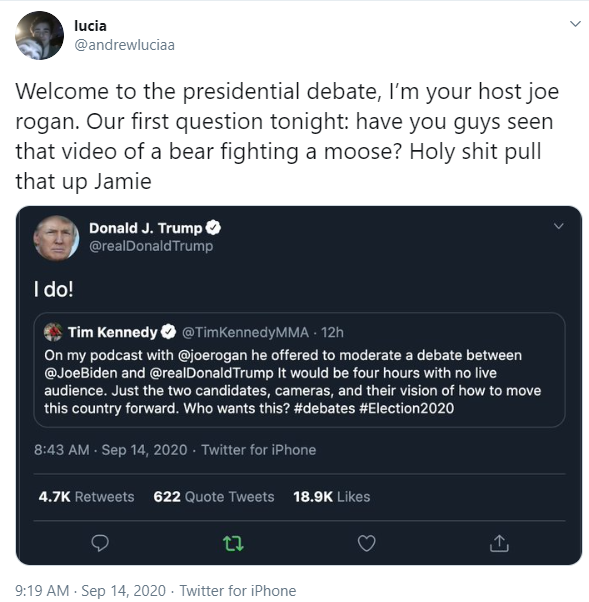 Biden has not responded to Rogan's offer—though it seems incredibly unlikely he'll agree to do the debate.
The first (real) presidential debate is on Sept. 29.