Just when you thought the case of crack-smoking Toronto Mayor Rob Ford couldn't get any weirder, a cottage industry springs up around the scandal. Yesterday, Ford was on hand at City Hall to sell bobblehead dolls of his likeness—"Robbie Bobbies"—to anyone willing to stand in line, with the proceeds benefiting international charity United Way.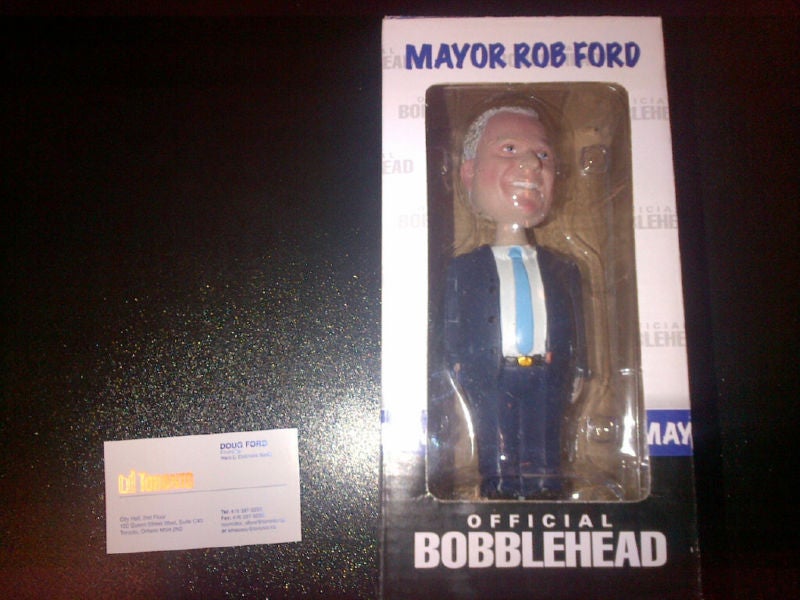 Many waiting in line to purchase the $20 novelty were wearing "Ford Nation" T-shirts bearing the Ford Motor logo, some of which Mayor Ford autographed. The company did not approve (and whoever was selling them was apparently told to leave):   
Ford Motor Company did not grant permission for the use of its logo and thank you for bringing this to our attention.

— Ford Canada (@FordCanada) November 12, 2013
Local American Apparel locations have likewise been selling various Rob Ford T-shirts, and Toronto's fast-food eateries are capitalizing on the moment of infamy with spicy specials like the "the crack dog" and "RoFo Crackburger." 
The bobbleheads, meanwhile, have become the must-have item for anyone investing in Rob Ford paraphernalia: only 1,000 were initially manufactured, and a few have begun to fetch staggering prices in online marketplaces such as Kijiji and eBay. Tuesday morning, a bidder paid $355 to get their hands on one. The seller indicated that a portion of this resale would also go to the United Way.
Other bobbleheads are still up for grabs on eBay if you're willing to part with a couple hundred dollars for your piece of political history, but over at Kijiji the prices are nearly doubled. Though maybe $650 is not that much to ask for a bobblehead that comes signed "in gold pen," with the box autographed as well.
With these tchotchkes flooding online auction sites as people look to turn massive profits while Ford is headline news, you really have to wonder: didn't anyone who waited hours to buy one of these in person just want a souvenir?
Photo by Michael Monastyrskyj/Flickr