On Monday, President Donald Trump announced his intention to deliver a brief address to the nation from the Oval Office on what he deemed "the Humanitarian and National Security crisis on our Southern Border."
News of the speech immediately ignited controversy. Should the networks show what amounts to purely a political announcement? Was Trump going to announce a state of emergency or invoke presidential emergency powers, as he'd hinted at the previous day? Does he even have that power? Is there actually a crisis at the U.S.-Mexico border? If so, what is it?
But QAnon believers had only giddy anticipation that Trump would use the remarks to kick off a great purge of America's enemies.
The most anticipated tweet in the history of Twitter – picture this:@Potus pauses midsentence during his speech tomorrow night;

taps out a few words on his phone;

presses "tweet";

stares into camera;

Verbalizes his tweet: "My fellow Americans, the storm is upon us!" #qanon pic.twitter.com/XZsG2XtaKI

— libertyandjusticeforall (@Mark923to25) January 7, 2019
"The Storm" is the long-prophesied, constantly-delayed, never-quite-happening great event foretold by QAnon, the supposed anonymous Trump insider at the center of an elaborate conspiracy theory.
In an early Q post, the poster claimed that the mass arrest of deep staters, Democrats, and pedophiles would begin with a Trump tweet reading, "My fellow Americans, the Storm is upon us."
No such tweet has emerged, but that doesn't mean the Q faithful have stopped thinking it will happen. There is a strain of hope that his address tonight will begin with those words, signaling the beginning of the end for the deep state and an onslaught of arrests.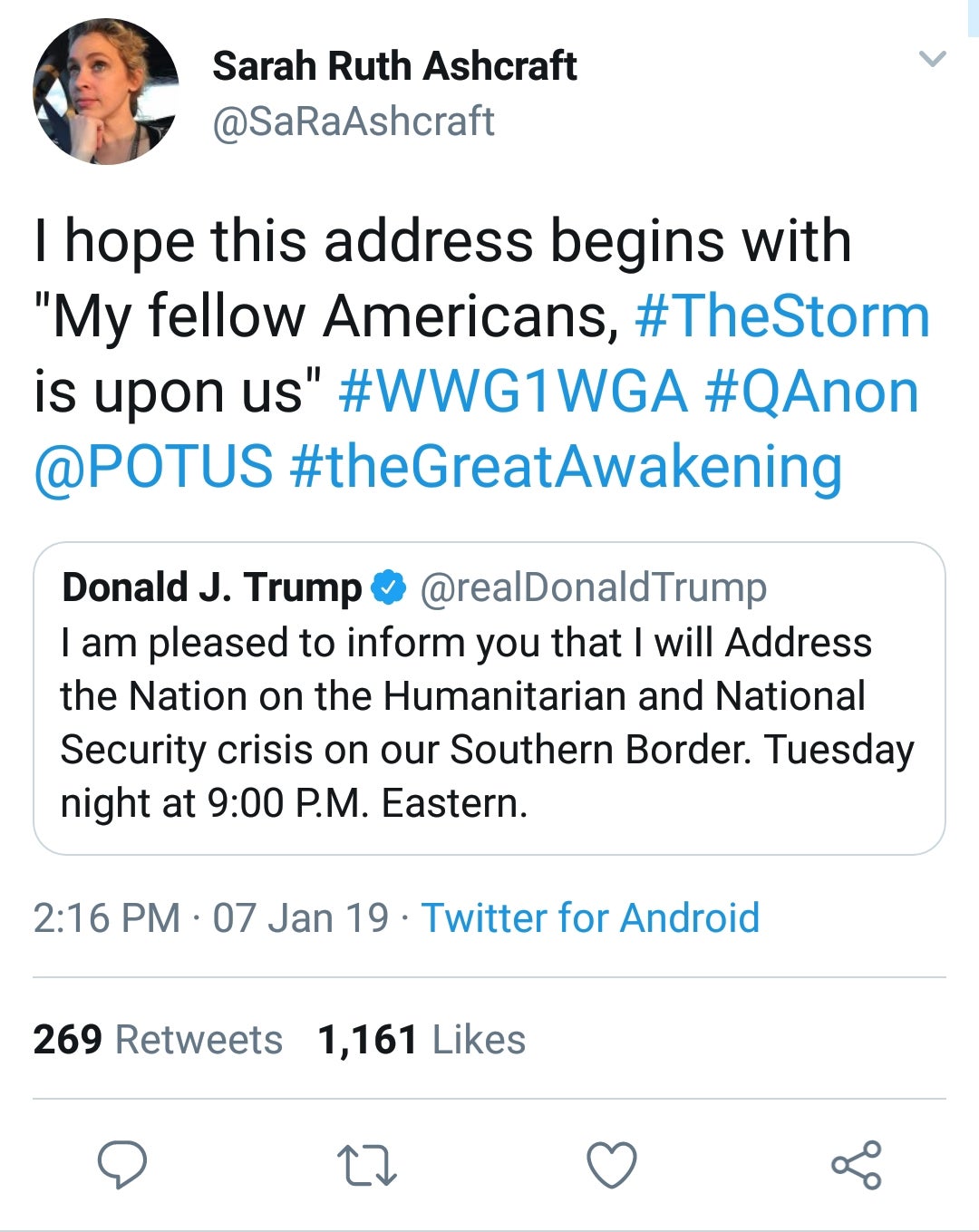 Other Q believers simply want the president to acknowledge Q, either through an outright reference or the use of the number "17," connected with Q because it's the 17th letter in the alphabet. Such acknowledgements are a critical component of the Q conspiracy theory, with believers thinking the president speaks through Q directly to his most politically aware and fervent acolytes, giving clues as to what he's really doing and how he's protecting them.
In reality, there's no evidence that Q has any link to Trump. But that hasn't stopped Q believers from dissecting every Trump misspelling, hand gesture, and figure of speech for clues that he's reaching out to them. A mention in the speech tonight would be the ultimate affirmation of their long-held hopes, even if it doesn't lead to anything quite as bloody as a massive purge of America's enemies.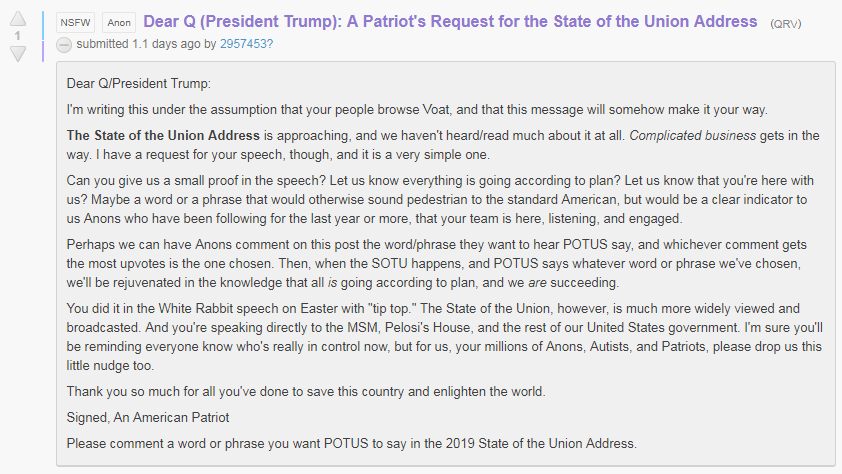 How comforting and reassuring would it be to get a Q reference during the prime time address tomorrow night? #qanon #WWG1GWA @realDonaldTrump @TrueEyeTheSpy @prayingmedic @intheMatrixxx

— Ed (@gr8fl_ed) January 7, 2019
Finally, some Q fans are simply hoping that the president does declare a state of emergency (at press time, reports have the president as undecided) to go around Congress and build the border wall.
THANK YOU, @realDonaldTrump ‼️
America needs you to STAND FIRM for national security!

Please–don't budge an inch!

Children are being trafficked!

If a wall saves ONE child, that's worth $5 Billion!

#QAnon #MAGA #BuildTheWall pic.twitter.com/XAb3CdS6iR

— Heather (@Plymouth1620USA) January 5, 2019
Whatever does happen, the brief address is unlikely to change the situation at the border, or help the president dig out of the hole he's put himself in. And the Q believers will put it alongside all of their other failed hopes for the great event.
READ MORE: