The new chief executive officer (CEO) of conservative undercover journalism group Project Veritas began her career at James O'Keefe's side. Now Hannah Giles is taking the helm of the organization that very publicly ousted her former colleague and is currently suing him.
The relationship between O'Keefe and Project Veritas fell apart earlier this year. In February, Project Veritas suspended him amid complaints that he mistreated employees and used the nonprofit's funds for luxury travel. Weeks later, O'Keefe announced his departure, which he portrayed as an ouster.
O'Keefe launched a crowdsourced journalism collective with a similar mission. Two weeks ago, Project Veritas sued him, claiming he used its resources to launch his new venture and broke his contract by disparaging his former organization.
The Washington Post reports that it also claims O'Keefe remained employed by Project Veritas until mid-May. O'Keefe indicates he intends to fight the lawsuit.
While all of this was going on, Project Veritas appears to have been actively looking for someone to replace its founder. Late last week, it announced that it had found O'Keefe's successor: Hannah Giles.
Most people have probably never heard of Hannah Giles. She has approximately 1,300 Twitter followers and her account shows that she hasn't tweeted in eight years.
Who is Hannah Giles?
Fifteen years ago, Giles burst onto the burgeoning industry of conservative journalism with O'Keefe by her side. In 2009, she and O'Keefe posed as a prostitute and pimp, respectively, to film undercover videos of associates with the Association of Community Organizations for Reform Now (ACORN), a collective of groups that helped the poor with matters such as housing, healthcare, and voter registration.
For these videos, Giles and O'Keefe pretended to seek advice on running illegal ventures, including a prostitution ring with underage girls and immigrants smuggled across the border. In what some might describe as foreshadowing, subsequent investigations found that they selectively edited the footage and misrepresented some of their findings.
For example, one ACORN employee told the California Attorney General's Office that she went along with them because she thought it was a prank.
The Attorney General's report states that the employee told outlandish lies to the pair about herself being a prostitute and getting away with murdering her husband. She also complimented their appearances and told O'Keefe he resembled Princess Diana. The footage they published reportedly omitted portions where it was apparent that the employee was not being serious.
The Attorney General found that another employee, who was fired the day they posted footage of him, had immediately informed law enforcement of their supposed plans to operate a prostitution ring and smuggle people into the country for it.
The report acknowledged that there were problems with how ACORN was managed and run, but ultimately concluded there was no evidence it was a criminal enterprise and that O'Keefe and Giles had twisted the truth to suit their own ends.
"The video releases were heavily edited to feature only the worst or most inappropriate statements of the various ACORN employees and to omit some of the most salient statements by O'Keefe and Giles," the report stated.
"Each of the ACORN employees recorded in California was a low-level employee whose job was to help the needy individuals who walked in the door seeking assistance. Giles and O'Keefe lied to engender compassion, but then edited their statements from the released videos."
Additional reporting and government investigations would also conclude that they misrepresented material facts and, as one law enforcement officer told the Daily Mail, "edited the tape to meet their agenda."
By then it was too late. ACORN had disbanded in the United States.
One of the California workers went on to sue Giles and O'Keefe for invading his privacy by recording him without permission. They settled for $50,000 and $100,000 respectively.
The ACORN tapes, though false, put Giles and O'Keefe on the map in conservative media.
Andrew Breitbart was among those impressed by their work.
Breitbart took Giles under his wing. In 2011, he told the New York Times that he'd said to Giles' father, who is a conservative podcaster and writer, that he was "going to treat her like she's my daughter." After his death, Giles described the Breitbart founder as her "mentor."
O'Keefe went on to create Project Veritas. Giles and her husband subsequently launched the American Phoenix Foundation.
The American Phoenix Foundation functioned much like Project Veritas but with a laser focus on the Texas legislature. In 2015, Texas Monthly reported that the foundation's "citizen journalists" secretly recorded 800 hours of footage of legislators in the hopes of catching them doing or saying something nefarious. Representatives told the outlet that some of these individuals used "ambush tactics" and "got so aggressive as to border on harassment."
An archive from 2017 shows that Giles has since deleted tweets from 2015 accusing a representative of lying about her staff following them home.
Project Veritas has a long history of following politicians.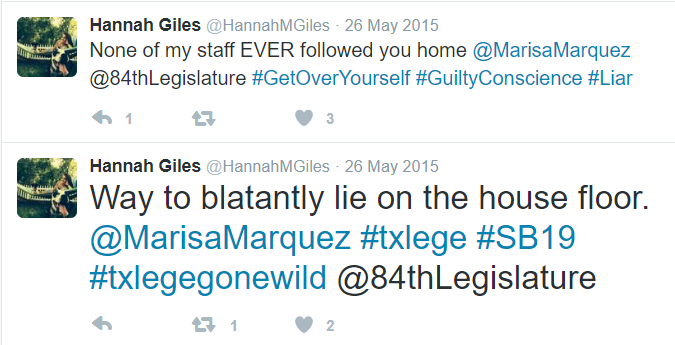 In 2018, the Texas Tribune reported that American Phoenix Foundation also placed an intern in one Republican representative's office in 2013 in the hopes of catching him doing something fraudulent. According to the Tribune, the effort was funded by a rival who later went to prison for obtaining funds under false pretenses and using them for his political campaigns.
Giles' foundation, which by then had disbanded, was not implicated in the case.
News of the foundation's activities purportedly enraged Republicans and came as a surprise to some of the conservative group's top donors, two of whom withdrew support after growing dissatisfied with how they were using funds.
After American Phoenix Foundation went belly-up, Giles seemingly retreated from public life, raising children and vegetables on the outskirts of Austin, Texas. She also launched a company Project Veritas described in a release as a "community transformation consulting firm."
Now the conservative activist is once more stepping into the spotlight as the CEO of the organization founded by her former partner in creating secret recordings.
"The recent void in leadership at Project Veritas has led us to today," Giles sais in the video announcing the organization had hired her. She promised to lead Project Veritas into a "new era" by continuing to do the same type of work it has been doing all along.
"The mission continues at Project Veritas, and we will expose corruption like never before," Giles said in a release.
Update 4:25pm CT, Aug. 17: According to a tweet since deleted, Giles fired the entire staff of Project Veritas.


We crawl the web so you don't have to.
Sign up for the Daily Dot newsletter to get the best and worst of the internet in your inbox every day.