Pope Francis offered some sage words of advice on the bird app (Twitter) Thursday morning about giving the bird (flicking people off).
"The middle finger, which is higher than the others, reminds us of something essential: honesty," the Pope wrote on his verified Twitter account.
"To be honest means not getting entangled in the snares of corruption."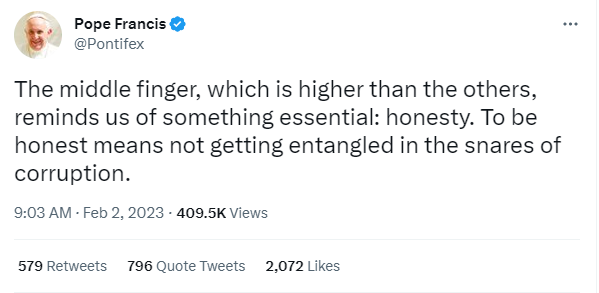 The Pope was clearly entangled in the snares of a cultural communication barrier regarding the significance of the middle finger.
People happily obliged his request with images, GIFs, and jokes as the nation's top Catholic accidentally told the entire internet it was OK to flick people off.
"Then I am doing to the Lord's work driving on the Belt Parkway this morning. Who else wants a blessing?" wrote one.
"Yes, Your Holiness, and in light of this information about the middle finger, I'm going to flash it constantly to remind people to be honest," @TomatoesGrilled replied.
Multiple commenters realized the Pope probably doesn't know that flipping the bird, as it's known, means "fuck you" in many nations around the world.
@Gooplefries wrote, "Yeah well 'round these parts it means somethin else, pal."
Within minutes, the tweet had been seen 400,000 times and generated hundreds of amused comments.
One person said that in Germany, it's "illegal to be honest with the police like this."
Less than an hour after posting it, the Pope deleted it and replaced it with a tweet about the "third finger."
One person commented on the new tweet, "Looks like we've made some edits."


We crawl the web so you don't have to.
Sign up for the Daily Dot newsletter to get the best and worst of the internet in your inbox every day.