Remember that guy at your college who was freegan and had a ponytail and performed in the Gilbert & Sullivan all-men's choir and had at least three women on his lap whenever you saw him at parties? Now there's a dating app to help that dude keep track of his many assignations: The Poly Life, which is exclusively targeted at polyamorous people and their families.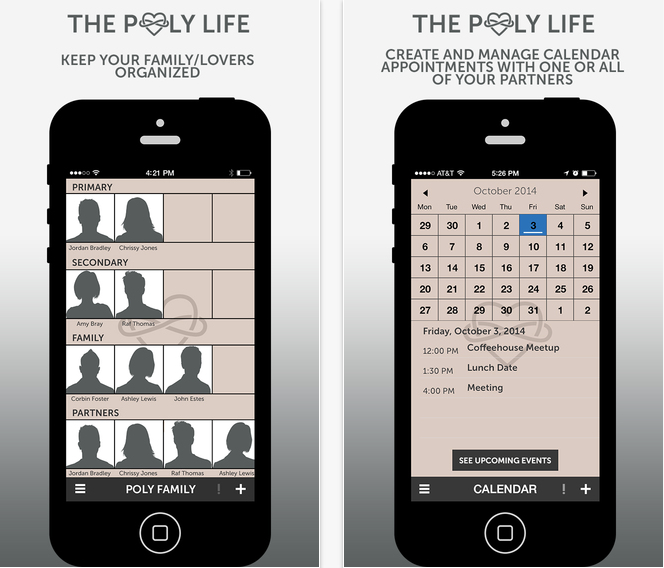 Created by a developer who wishes to remain anonymous, the Poly Life is a social network for polyamorous people, but it also lets you create customizable schedules for each of your relationships. In essence, it's a Google Calendar tailored specifically for people with multiple sexual partners.
The app was created in response to polyamorous families' difficulties with juggling their relationships. "Many poly families use great tools like Google Calendar to keep track of their busy schedules, but there was nothing out there that was made specifically for their community," Poly Life's developer told Heavy.com. "They needed a tool that was customized for their lifestyle."
Part of what makes the Poly Life so unique is that the app includes a space for you to specify what types of ground rules govern each relationship: So for instance, whether you're allowed to text your other partners when they're around, or if you can have sex in their partners' bed. It also includes a "relationship manager" function that classifies relationships according to whether they're "sexual, emotional, and other ways people are 'bonded.'"
To those unfamiliar with the poly lifestyle, all of this might sound like a hippy-dippy throwback to another era, conjuring up images of intermingling limbs and 1970s sex parties and people with handlebar mustaches leaving keys in bowls. But while the Poly Life is obviously targeting a niche audience, researchers say polyamory is becoming increasingly common, with shows like Showtime's Polyamory: Married and Dating shining a light on the alternative lifestyle.
That said, there's still a great deal of stigma associated with the polyamorous lifestyle, as many believe it's synonymous with having an open relationship, or simply being sexually promiscuous. That's why the developers of Poly Life wanted to give poly people a social networking platform of their own, so they don't have to deal with weird, judgmental comments from non-poly friends and family members on Facebook and Instagram. With Poly Life, polyamorous families have a private place to set rules for their relationships and post photos from their (presumably very large) family vacations to Disney World, without fearing judgment or censure.
H/T Heavy | Photo via KrisKrug/Flickr (CC BY-SA 2.0)