Link-sharing social network Pinterest has been besieged by a vast spam attack. The lowbrow ads promise victims that they too can unlock the secrets of an "Asian fruit" that "burns fat for you."
The accounts of presumably compromised pinners—as Pinterest users are known—are flooding the network with messages and links, both for the enigmatic "Asian fruit" and numerous identical messages declaring that they're between 12 and 15 "pounds lighter as of today!!!" It's unclear how the accounts have been hacked, but the spam has also spread to Twitter, where a cursory search reveals at least hundreds of affected users.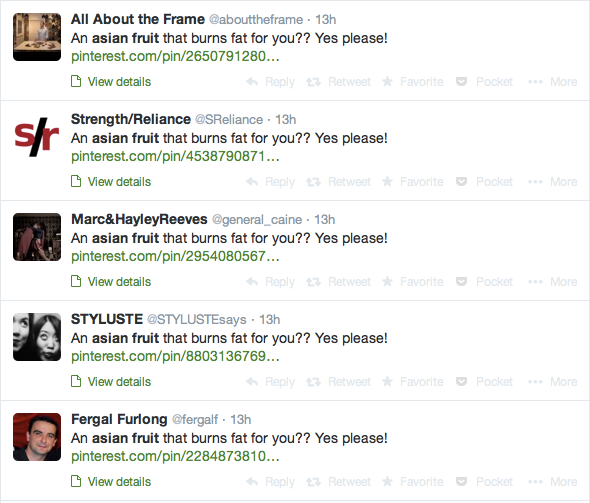 Clicking through, unwitting users are taken to a site imitating lifestyle magazine Women's Health. The design mimics the real site, and the URL—http://womenshealth.com-june2014.us—is designed to look like the real deal, http://www.womenshealthmag.com/.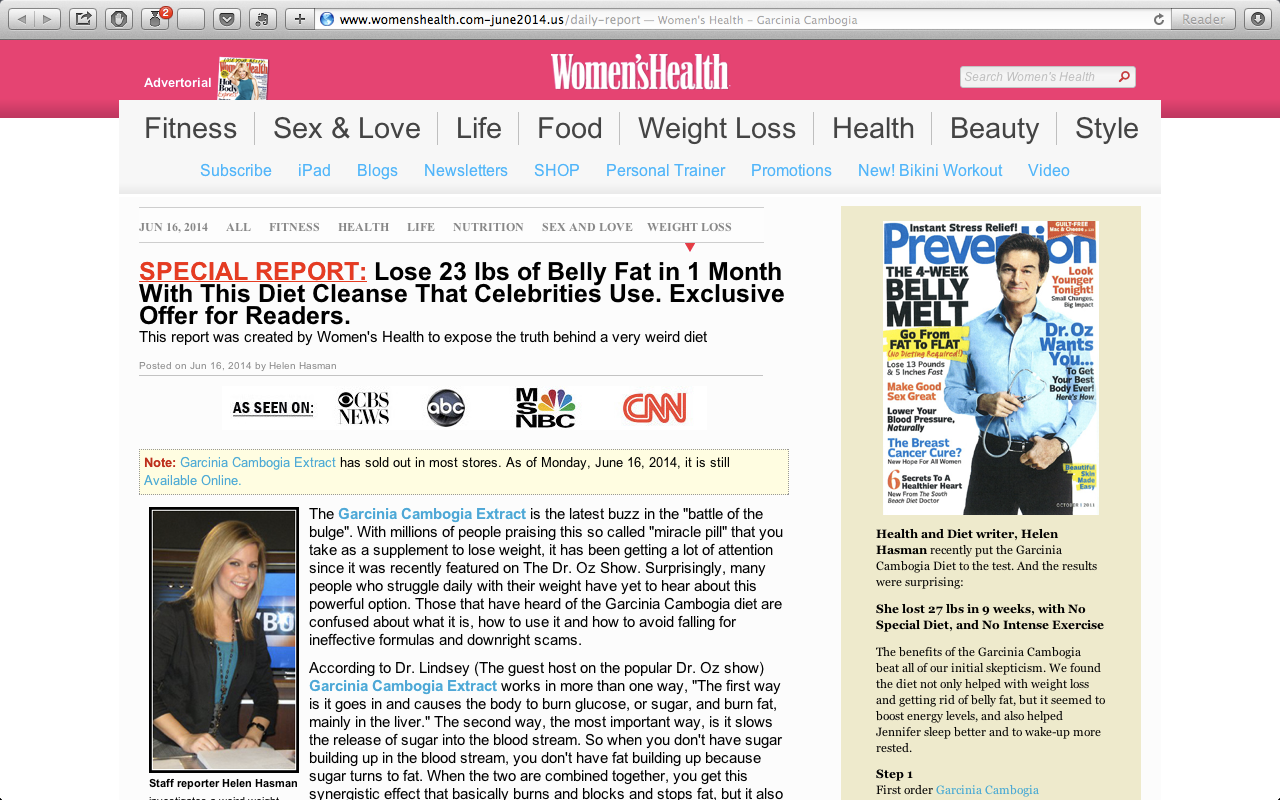 Once there, it waxes lyrical in terrible prose about the "miracle pill" that "you take as a supplement to lose weight, it has been getting a lot of attention since it was recently featured on The Dr. Oz Show." The "Asian fruit" in question is garcina cambogia, promising a "39 percent reduction in cholesterol and an average 2 inch reduction in belly fat within 28 days." [Emphasis theirs]
Garcinia Cambogia – Dr. Oz Weight Loss Review – As Seen On TV from Lis Andersen on Vimeo.
The only issue is—besides fraudulent misrepresentation—garcina cambogia is a total sham. It's almost certainly actually bad for you. A 2005 study even found that—how can we put this delicately?—it could make men's balls shrink.
Though this spam wave is recent, the scammers have been around for some time. In November 2013, (the real) Women's Health posted an article online decrying the illegal use of their "brand likeness and copyrighted materials." in ads for the weight loss pills. As a supplement, Women's Health warns, garcina cambogia is unregulated, and a report published in Food and Chemical Toxicology "found that high doses of garcinia cambogia extract caused testicular atrophy and toxicity in mice."
A Pinterest spokesperson told The Next Web, "the security of pinners is a top priority. We were alerted to some instance of spam and responded by immediately placing impacted accounts in safe mode, and reaching out to pinners as we solved the issue."
"We're constantly working on ways to keep Pinners safe through reactive and proactive steps," the company spokesperson continued, "as well as educating them on the importance of using complex and unique passwords."
So, in the future, pinners, protect your passwords—and your privates—by staying well clear of promises of zero-effort weight-loss pills. If it sounds too good to be true, then it is.
Photo via _e.t / Wikimedia Commons (CC 2.0)