Nearly half of all internet users have experienced online harassment, according to a new survey by the Pew Research Center, and that harassment is being disproportionately directed at women.
A survey of 4,248 adults found that 41 percent of Americans have faced some form of online harassment, most commonly on social media sites like Facebook and Twitter. While that number might seem high—and it is—it represents only a 1 percent increase from Pew's 2014 survey, which is surprising given the influx of people on social media sites and changing dynamics of political discourse in the U.S.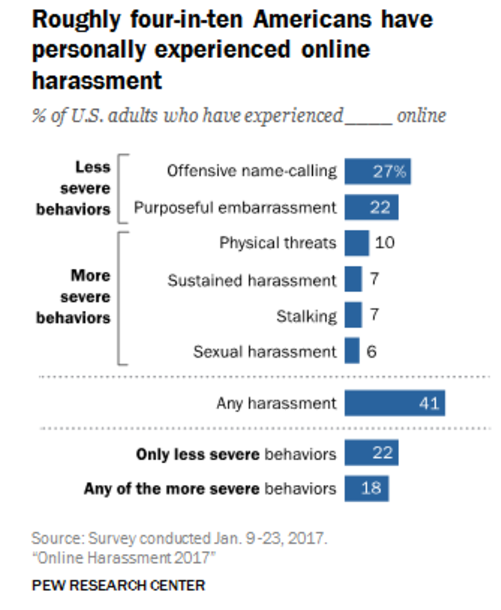 The new data also shows that 66 percent of people say they have seen harassment done to others, and nearly one-in-five Americans have been subjected to severe forms, such as physical threats, harassment over a sustained period, sexual harassment, or stalking.
There are several differences between how men and women experience online harassment. While men are more likely to face online harassment than women, at 44 percent compared to 37 percent, young women are much more likely to face sexualized forms of abuse. The survey found that 53 percent of women between the ages of 18 to 29 say they received explicit images they did not ask for, and 21 percent report being sexually harassed online. Of those who faced any form of harassment, 35 percent describe it as "extremely or very upsetting."
The attitude toward online abuse also differs between men and women. The Pew Research Center findings show 70 percent of women and 83 percent of young women say online harassment is a major problem, while only 54 percent of men and 53 percent of young men feel the same way.
It's no surprise that social media platforms are the most active breeding grounds for abuse, with 58 percent of participants claiming their most recent attack happened on social media. About one out of every seven Americans say harassment against them was incited by politics, while roughly one in 10 were victimized because of their appearance. Another 8 percent say they were targeted because of their race or ethnicity—the same amount as those harassed because of their gender.
As social media networks frantically release updates to their platforms in an attempt to curb harassment, some users are taking matters into their owns hands. According to the study, more than a quarter of Americans say they decided not to post something online after seeing harassment done to others. Thirteen percent say they stopped using an online service after witnessing others getting harassed, and 30 percent say they intervened to try and stop the harassment.
You can read the full report on online harassment on the Pew Research Center website.
H/T Reuters