A column on a popular platform for antifascists has been suspended from Patreon following an alleged mass reporting campaign pushed by the Proud Boys. The campaign is a continuation of the ongoing war between those on the far ends of the political spectrum.
It's Going Down (IGD) claims that Patreon recently notified This Week in Fascism that its account was permanently suspended for violating its anti-doxing policy. IGD said in a blog that Patreon also refused to allow This Week in Fascism to appeal.
Patreon did not respond to request for comment sent Monday morning.
IGD says that the column doesn't dox, it merely reports on doxes that are already publicly available. It's not clear how these differ.
"It was evident that a column which reports and exposes fascist organizing would be perceived as a threat to one of the groups at the heart of the White Riot Capitol Siege on January 6th in DC," IGD wrote after the suspension.
IGD believes that the suspension is the result of a mass reporting campaign initiated by the Proud Boys on a now defunct Telegram channel, Mass Report and Retweet thread, which it claims was run by the Proud Boys and "boosted" by its leader Enrique Tarrio.
"It's Going Down evading its Patreon ban," reads a screenshot of the post included in IGD's blog.
It's not clear whether This Week in Fascism is affiliated with IGD beyond the column being posted on the site. One of the column's coauthors described them to the Daily Dot as independent contributors, rather than part of IDG itself. The column is one of 11 that IGD publishes.
"The column is written by two folks and published on IGD," IGD told the Daily Dot via Twitter message. "Their Patreon was solely for their column and the money raised through it went directly to them." 
"I've been writing the column for almost a year," one columnist added, describing the suspension as "nightmarish" and "absurd."
IGD says that a similar mass reporting campaign pushed by conservative commentator Tim Pool and others on the far-right led to its permanent suspension from Patreon in 2017. Patreon didn't cite the previous ban as the basis of this suspension.
Patreon's CEO Jack Conte later released a video explaining why it suspended IGD and conservative provocateur Lauren Southern, who was also banned back in 2017. Those sympathetic to IGD accused the company of suspending it to create the impression that it enforces rules without regard to politics. Conte denied this, saying that both suspensions were instead based on Patreon's conclusion that their content could lead to real-world harm.
In Southern's case, he pointed to her efforts to stop a rescue boat carrying migrants in the Mediterranean Sea. Regarding IGD, he referred to an article that contained doxing and one that offered instructions on how to sabotage a railway line.
"Doxing is not okay for Patreon creators," Conte said, adding that promoting property crime is also against its policies.
IGD didn't believe Conte. "This is total and complete bullshit," it wrote in a blog. "IGD was banned as an act of appeasement to the alt-right."
In the video, Conte acknowledged that IGD had already been reported numerous times at the time of its suspension. He didn't explain how much reports of rules violations factor into such decisions.
Conte also said the company was committeded to allowing creators to appeal suspensions.
The far-right has a well-established penchant for weaponizing reporting to silence their critics. Prior to its suspension, Mass Report and Repost was a central hub for these mass reporting calls. The channel would post links and long lists of handles in the hopes subscribers would report them. Often these efforts were successful.
Telegram removed the channel, but another swiftly replaced it. MRARTT 2.0 launched on Jan. 18.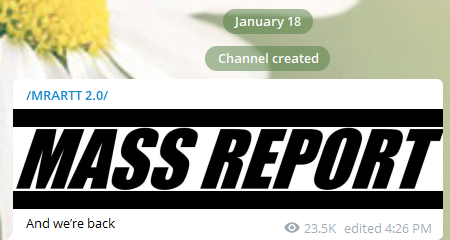 Since then, it's posted calls to report leftists, antifascists, and Black Lives Matter activists on various platforms and celebrated their successes getting accounts suspended or subjected to other enforcement actions.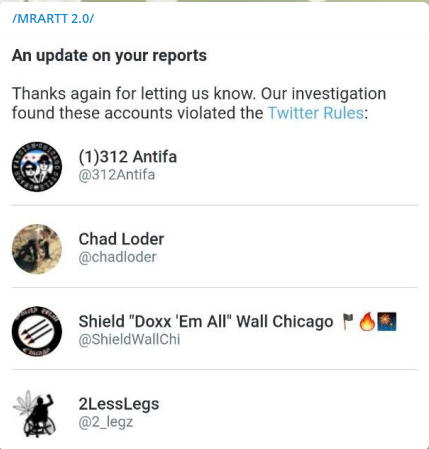 It's also urged disrupting leftist initiatives, such as its call to "clog the lines" of a progressive lawyers' group hotline for people planning to attend a Jan. 24 Tacoma, Oklahoma protest over a police officer driving through a crowd.
Patreon may intend to be evenhanded and investigate each report that a creator is breaking the rules. But its reliance on such reports and the far right's weaponization of the reporting feature—which is by no means unique to Patreon, nor is it exclusively used by the right—may mean that, in practice, leftists are more likely to get the boot.
Currently, there are Patreons for creators who promoted the Jan. 6 "Stop the Steal" protest that turned into an insurrection attempt, push QAnon conspiracy theories and, even after the Capitol riots, have claimed that former President Donald Trump was going to remain in power, some of which violates Patreon's policies. These creators may have escaped suspension simply because, unlike IGD and This Week in Fascism, no one has launched a mass reporting campaign against them.
"Over the course of five years now, Patreon has shown that it is willing to bend in the face of organized far-right harassment campaigns," IGD wrote on its blog.
It's now urging supporters to donate to This Week in Fascism on Liberapay, a nonprofit alternative to Patreon.
---
Read more of the Daily Dot's tech and politics coverage