President Barack Obama's first inauguration, in 2009, might have had more spectators, but 2013 saw far more activity on Twitter—to the tune of 1.1 million tweets.
Both the president and the First Lady (whose official White House account was launched last week) personally sent tweets during the day.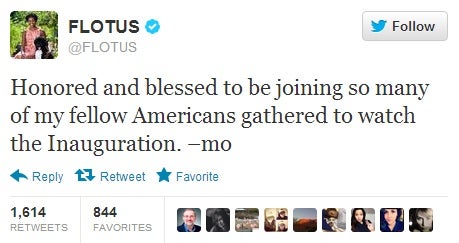 Through its @gov account, Twitter revealed there were more than 1.1 million inauguration tweets during the ceremony. This is compared to roughly 82,000 for the 90-minute ceremony in 2009. In the 90 minutes to 10am ET, there were around 124,000 inauguration-related tweets.
Twitter also noted that there were 18,712 inauguration-related tweets per minute (TPM) as Obama was sworn in. That's a figure far above the 3,210 TPM Twitter saw in 2009, the peak moment of activity during that ceremony. As the president's arrival was announced on the Capitol steps today, the TPM hit 14,062. The biggest spike, however, was reserved for a moment during Obama's speech: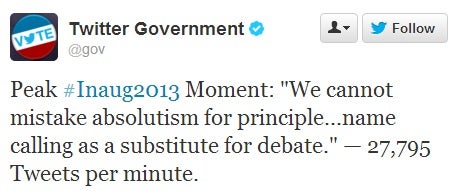 In 2009, Twitter saw around five times its then normal tweets per second rate, and four times the typical TPM. At the time, Twitter cofounder Biz Stone wrote that some people were seeing a two-five minute delay before seeing updates in their timelines.
While the increase in Twitter activity from the previous inauguration is certainly a big jump, the number of tweets for the event pales in comparison to Election Day. As news networks declared Obama the winner, the TPM spiked to 327,453, while there were more than 31 million tweets during the day. During his Democratic nomination acceptance speech, there was an average of 52,757 TPM.
Meanwhile, Obama holds the record for the most retweeted post ever, with an Election Day victory photo.
Photo via Daily Dot/Tumblr