Progressives frustrated with President Barack Obama's handling of the fiscal cliff negotiations have taken their anger to Tumblr with a series of memes this week. Negotiating With Obama was launched on Tuesday and is sure to gain more notoriety as the "cliff" nears.
This week, the White House and Congress continue to debate whether to extend Bush-era tax cuts and slash government spending on Jan. 1, 2013, which some say could send the economy backward. This week, it appeared Obama might give in to some of the Republicans' demands for entitlement cuts, including to Medicare, Medicaid, and Social Security. That doesn't sit well with Democrats who believe the President shouldn't give in to the party that lost the election just last month, according to act.boldprogressives.org.
"Any deal that cuts Medicare, Medicaid, or Social Security benefits is unacceptable," reads a citizen statement that is linked to the new Tumblr page. "I will work to hold accountable Democratic politicians who side with the millionaires and corporate interests that are working to enrich themselves and cut these benefits."
In just 10 hours, the minds behind Negotiating With Obama had posted two dozen memes featuring the President giving in on various social issues. Most of the pictures referenced popular movies or memes, including Confused Fry.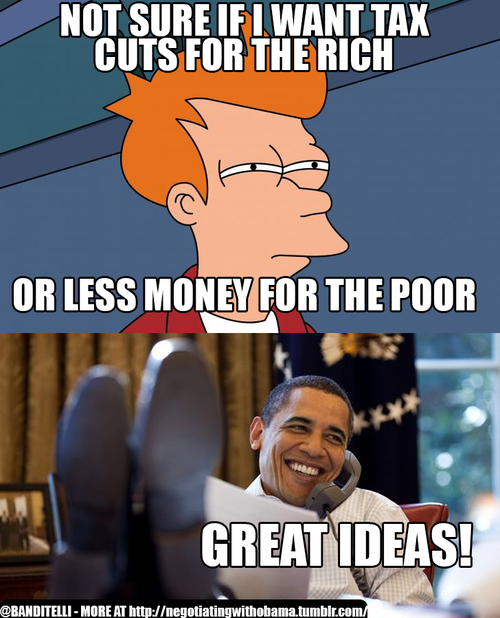 The site's tagline is "This Tumblr is silly, but the President's proposed cuts are not." The site's goal of bringing people to Progressive Change Campaign Committee's site appeared to be working too, with the petition getting about 31,000 signatures by Wednesday morning. With the debate over the nation's fiscal future most likely going right through the holiday, we'll surely see more from this new Tumblr.
Photo via Negotiating With Obama/Tumblr