As millions of Americans line up to vote this Election Day, a Tumblr called Mike Brown Can't Vote, But I Can shows how the shooting of unarmed African American teenager Mike Brown in Ferguson, Mo., is still reverberating around the country.
The blog features pictures of people—predominantly young, predominantly African-American—holding black-and-white stickers featuring the site's eponymous slogan.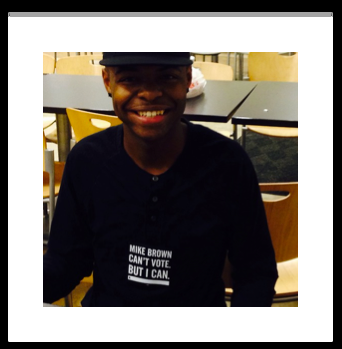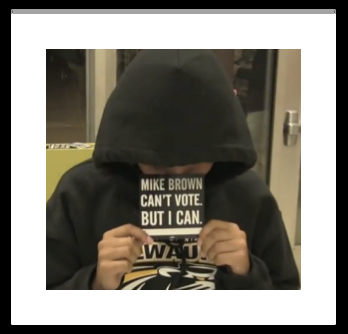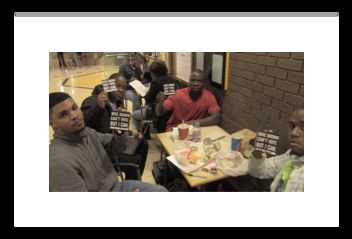 Screenshots via mikebrowncantvotebutican.tumblr.com
The stickers are the work of the Georgia-based voter-registration group Vote Mob.
"To me, Mike Brown represents the man who could have been anything," Vote Mob organizer Yoehzer Yeeftahk told ThinkProgress. "He was a week away from college when he was gunned down. So many of us are being snatched before we even get a chance to open our wings, and black and brown people have been disenfranchised away from taking and controlling their own power. That's what voting power means to me. This is our time. We have paid for this with our sons and our blood."
Brown's death and the shockingly intense police response to the protests that followed drew widespread attention to issues of race and police brutality—not just in Ferguson, but across the country.
These stickers aren't the only way in which the events in Ferguson have become a rallying cry for political action. In the areas around the St. Louis suburb, groups have taken to chanting "Hands Up, Go Vote" at rallies.
Not everyone is excited is excited that Brown's death and the ensuing protests have encouraged more young minorities to participate in the political process. Missouri Republican Party Executive Director Matt Will told Breitbart that he didn't approve of voter registration booths set up near the site where Brown was shot. "If that's not fanning the political flames, I don't know what is," he said, "I think it's not only disgusting but completely inappropriate."
Thus far, the most concrete call for political action to come in the wake of the events in Ferguson is proposed legislation requiring all police officers to wear body-mounted cameras. These cameras would record everything officers say and do while on the job, hopefully preventing them from getting away with brutal killings like Brown's or clearing their names if they are erroneously accused. If cops know that their every action is being recorded, activists believe, then they will be less likely to commit unwarranted violence against the very people they're supposed to be protecting.
Despite the energy shown in rallies and on this Tumblr, polls have shown that millennials aren't exactly enthusiastic to vote in the this year's elections. One poll from the Harvard University Institute of Politics found that fewer than 25 percent of people under the age of 30 plan to vote in the midterm elections. For young women, that number was 19 percent.
At one point, reports from Ferguson suggested that the voter-registration rate in that predominantly African-American city surged after Brown's killing. However, shortly thereafter, the St. Louis County Election Board backtracked, saying that reports of a registration spike were mistaken.
Photo by Loavesofbread/Wikimedia Commons (CC BY-SA 4.0)