When Melissa Murphy, 31, joined Tumblr four years ago, she wanted to create a simple personal blog to keep track of her Brooklyn adventures.
But what she instead found was a community that has helped turn a long forgotten teenage hobby into a profession.
"It's through those relationships [on Tumblr] that I was pushed to try make something of my hobby," Murphy told the Daily Dot. "That's one of the reasons why I'll always stay with Tumblr."
Murphy joined Tumblr in February 2008 and found a community of artists who regularly attended meetups—public events or gatherings organized by Tumblr users who want to get to know other in person. It's at one of these meetups that Murphy rediscovered the photography hobby she developed at Brooklyn's Fontbonne Hall Academy.
She bought a Canon 5D Mark II and started taking photos of her friends. Before long, she had started her own freelance photography business. She still works a day job, doing research in radio, but she's also pulling in some big gigs, including a recent collaboration on the "365 Reasons Why The Mandarin Oriental Loves New York City" project.
Mostly, she takes engagement photos and a lot of photos of babies. But these aren't your average family photos taken at the mall. They are quirky and creative. Her style is best exemplified by one photo she took on Jan. 7, 2011 of her friend's son Joey for his first birthday.
"We just put him down in front of a cake and let him go nuts," she said. "I just thought the picture was so adorable."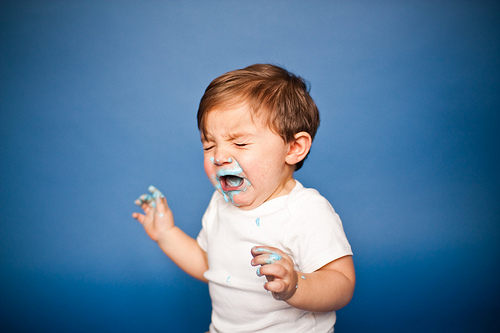 When she's not doing freelance work, Murphy finds time to take fun, random, photos. That was the case on May 10 when Murphy attended the official Tumblr Storyboard party. Her photos from the event collected more than 50 notes and were reblogged by the official Tumblr Editorial team.
"I'm happy for Tumblr opening up this whole new world for me," Murphy said. "I never thought I'd be a photographer and I'm grateful for that."
Photo via Melissa Murphy