On February 14, 2018, a single shooter opened fire at Marjory Stoneman Douglas High School in Parkland, Florida and killed at least 17 people, injuring 17 others. The shooting became the eighth deadliest mass shooting in modern U.S. history. What's the number of mass shootings in 2018 so far? Of the top 10 deadliest shootings, half have taken place during the last four years, with Las Vegas marking the deadliest mass shooting in U.S. history.
After every major mass shooting that dominates the news cycle, a routine aftermath unfolds: The nation grieves individuals lost and reports on the phenomenon of gun violence at large, politicians are criticized for offering thoughts and prayers rather than actual policy, and debates surrounding gun control, mental health, violence, and terrorism resurface.
Still, after yet another violent incident, the U.S. has failed to reduce the number of mass shootings by enacting effective gun control policies. Despite the 346 mass shootings in 2017 and 15,590 deaths as a result of gun violence, authorities can hardly agree on a standard definition of what a "mass shooting" is.
The Gun Violence Archive (GVA), which classifies a mass shooting as an incident in which four or more people are shot or killed not including the shooter, counts 268 mass shootings in 2018 so far—but aside from Parkland, you may not have heard much about them. Here's a running tally of every mass shooting so far this year.
Number of mass shootings in 2018
Along with mass shootings, GVA also tracks accidental injuries, officer-involved shootings, and the total number of children (ages 0-11) and teens (ages 12-17) killed or injured by guns. With these categories included, the GVA counted 61, 497 total incidents in 2017 alone. As of June 13, 2018, there have been 42,637 incidents and 10,779 deaths.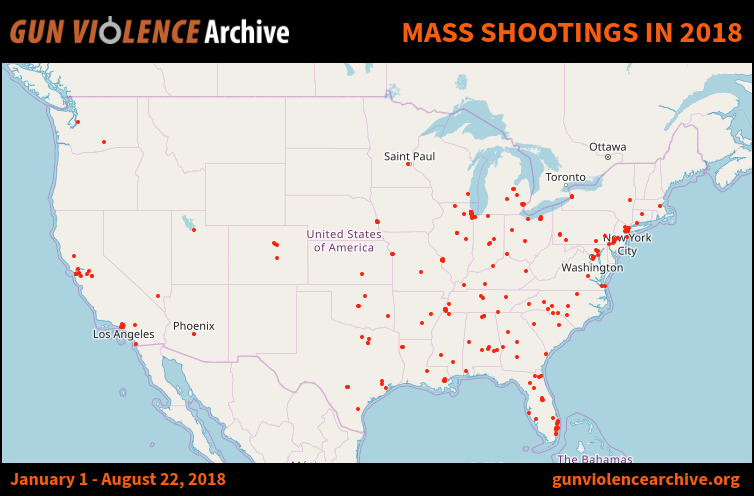 READ MORE:

Trackers via news organizations
Other outlets have a more restricted definition when it comes to the number of mass shootings in 2018. Mother Jones, for instance, also counts mass shootings as incidents in which four or more people are killed not including the shooter, but it only counts shootings that take place in a public space. According to Mother Jones' dataset, there have been nine mass shootings in 2018, including the Parkland, Fla. school shooting, the Yountville, Calif. veteran's home shooting, the Waffle House shooting in Nashville, the Santa Fe High School shooting in Texas, the Capital Gazette shooting in Annapolis, Md, and the Fifth Third center shooting in Cincinnati.
As the mass shooting death toll climbs and news outlets become immune to reporting another deadly incident, more restrictive tallies denote what most Americans are now trained to think of when they define a mass shooting. There are numerous innocent victims, a lone shooter, and a highly visible, presumably safe public setting.

READ MORE: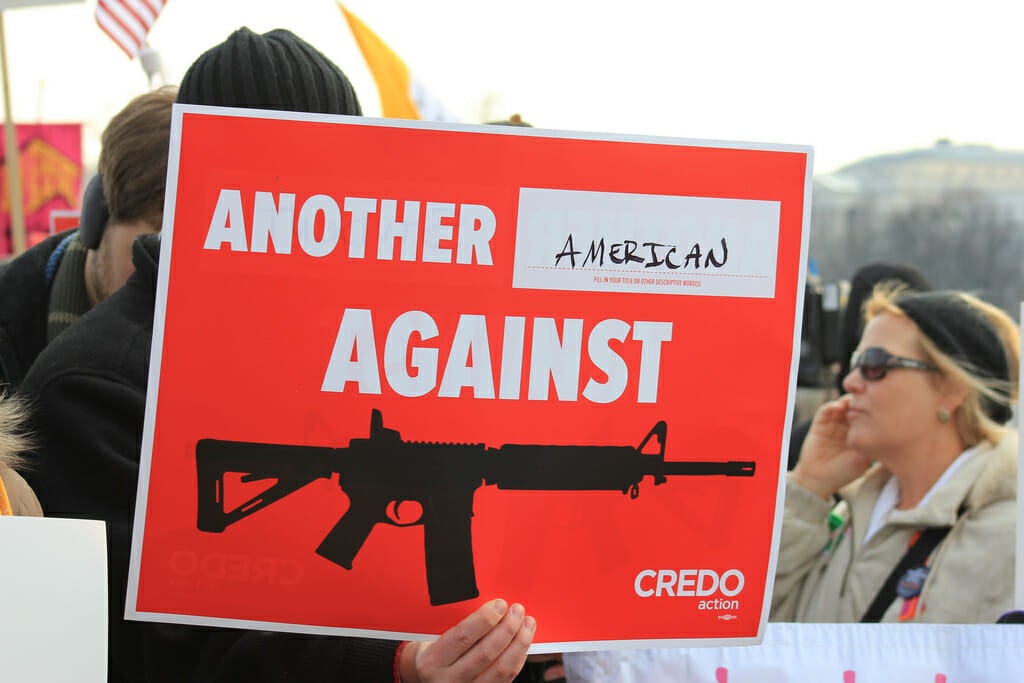 Crowdsourced shooting trackers
Other tracking resources include the Mass Shooting Tracker, which began as a crowdsourced database on Reddit in 2013. Based on its definition of a mass shooting—any incident in which four or more people are shot, whether or not there were any casualties—the number of mass shootings in 2018 is 332. The site's tally also includes the death of the shooter and a statement on shooter suicide and motivation:
We do not consider the motive of the shooter, or whether he or she shot up a school, workplace or street corner. Our mission is to record all incidents of mass gun violence. We include the shooter's death because suicide matters and means matter. Ignoring the shooter's death is not logically consistent with research that tracks the death toll of firearm suicides in our society.
Editor's note: This article is regularly updated for relevance.