North Carolina Lt. Gov. Mark Robinson, the current Republican frontrunner in the 2024 gubernatorial race, has an extensive history of making bigoted and incendiary comments on social media. Over the last decade, Robinson has published countless Facebook posts mocking and attacking the LGBTQ community, many of which use the Bible and Christianity as justification for this hostile rhetoric.
In one post in 2016, Robinson called the LGBTQ community a "satanic cult of sexual perversion" and referred to the acronym as a "symbol of a mass delusion" that he refuses "to buy into, accept, or even acknowledge."
In another post, shortly after the Pulse nightclub shooting in Orlando, Florida, Robinson wrote that while he was praying for the "souls" of those who were killed, "homosexuality is still an abominable sin and I will not join in 'celebrating gay pride' nor will I fly their sacrilegious flag on my page."
Robinson made headlines in 2021 after a video of him comparing LGBTQ people to "filth" went viral, prompting the White House to condemn his remarks. In response to the backlash, the lieutenant governor doubled down, vowing to "not back down" or be censored. "I will continue to fight for the rights of our children to receive an education that is free from sexual concepts that do not belong in the classroom," he said in a video. The same year, he also gave a sermon at a church in Winston-Salem, during which he said straight couples are "superior" to gay couples and compared being gay to "what the cows leave behind."
Now that he has announced his bid for governor, however, even more of his past remarks are coming to light. Earlier this month, CNN reported that Robinson previously attacked the civil rights movement and mocked the teenage survivors of the 2018 mass shooting at Marjory Stoneman Douglas High School in Parkland, Florida.
According to experts and early polling, Robinson is expected to be the Republican nominee in the governor's race, given his stance on abortion and gun laws, his fundraising operation, and the support he's received from party leadership. His potential challenger, former congressman Mark Walker, called Robinson a "strong favorite," but winning the election against his Democratic opponent Josh Stein is another story. North Carolina's current incumbent governor is a Democrat.
The Daily Dot has uncovered a number of his remarks that vilify and deride the LGBTQ community as a whole, as well as particular individuals. In two separate Facebook posts, Robinson went after lesbian WNBA star Brittney Griner, blaming her for her own imprisonment in Russia, and mocked gay actor Billy Porter for wearing a dress to the Academy Awards in 2019.
He also made homophobic and transphobic comments about public figures who are not queer or trans. Following the attack of former House Speaker Rep. Nancy Pelosi's (D-Calif.) husband, Paul, Robinson shared a meme pushing a homophobic conspiracy about the nature of his attack. The meme featured a photoshopped Halloween costume titled "Attacker," which included two pairs of underwear, two hammers, and a "lame story to tell the press."
In another Facebook post in 2017, he implied that former First Lady Michelle Obama is not a cis woman. "Michelle Obama is an anti-American, abortion and gay marriage supporting, liberal leftist elitist and I'll be glad when he takes his boyfriend and leaves the White House," Robinson wrote. This long-standing trope is rooted in racism and transphobia and has been used as an attack by the far-right for years on Obama.

More recently, in 2022, he referred to trans swimmer Lia Thomas as "some guy" who is being enabled by "wokeness" to try to "destroy" women's college sports.
In addition to these more personal attacks, Robinson has posted a number of lengthy rants that continually invoke God and the devil. In one religious diatribe, Robinson called trans people "black-hearted haters of Christ" who are attempting to "destroy the foundation" of society. "The goal is to turn God's creation backward, and make it into a sickening image of rebellion to glorify Satan," he wrote.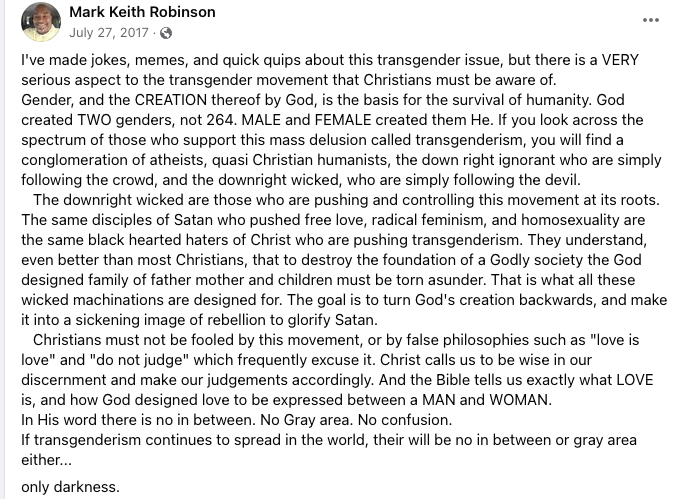 He also criticized the film and television industry for pushing the "homosexual agenda," adding that TV is a "demonic circus whose ringmaster is Satan," and said that those in the industry shouldn't be surprised there are sexual predators since they have already "promoted homosexuality, transgenderism, and the sexualization of children."
This is not the only time he has compared LGBTQ people to pedophiles. In one post from 2014, Robinson wrote, "We have pushed homosexuality over the top. Mark my words pedophilia is next, which will be closely followed by the end of civilization as we know it." In another, addressing those who support marriage equality, he said, "don't be mad 25 years from now when your 15-year-old grandson is 'dating' a 45-year-old man."
In a number of other posts, Robinson claimed that LGBTQ people are ruining the family unit, that trans people can't change how God made them "no matter how much cutting you do," and that people who "proudly" come out of the closet are "standing in open rebellion against God."
North Carolina has a history of pushing anti-LGBTQ legislation, the first state to pass an anti-trans bathroom bill in 2016 before it was ultimately repealed the following year. Just this year, the state legislature introduced a number of anti-LGBTQ bills, which aim to ban trans kids from playing sports or gaining access to gender-affirming care. The state Senate also recently passed a more extreme version of Florida's "Don't Say Gay" bill, which would require teachers in all grade levels to essentially out students to their parents.
While Robinson has certainly targeted many other marginalized groups and social issues in both public statements and on social media over the years, much of his ire is specifically directed at LGBTQ people, which he made clear is a main priority for him during a church service in March, according to WRAL News. "God formed me because he knew there was going to be a time when God's learning was going to be intolerable to the wicked," he said at the service. "When children were going to be dragged down to go see the drag show. When pornography was going to be presented to our children in schools."
In the speech, Robinson also lambasted churches that are accepting and affirming of LGBTQ people, adding that it makes him "sick" to see some churches displaying rainbow Pride flags, calling the sight "a direct spit in the face of God almighty."
Although Robinson recently brushed off reporting of his past comments as a baseless "attack from [the] liberal elite," these posts demonstrate a long and continuous pattern of bigoted remarks.
Robinson's campaign did not immediately respond to a request for comment.


We crawl the web so you don't have to.
Sign up for the Daily Dot newsletter to get the best and worst of the internet in your inbox every day.