Tributes are pouring out online as the names of those murdered in Monday evening's suicide bomb attack at an Ariana Grande concert in Manchester, England.
The homemade bomb, now believed to have contained nails and shrapnel, exploded in the foyer of the Manchester Arena at around 10:35pm local time, as concert attendees prepared to leave the facility. The Islamic State claimed responsibility for the attack on Tuesday, hours after Greater Manchester Police announced they had arrested a 23-year-old man in connection with the attack.
The devastating terror attack claimed the lives of at least 22 people and injured 59. Many of these victims were young music fans—children and teenagers.
Authorities have not yet named many of the victims. Here is what we know about those who have been identified so far.
Georgina Callander, 18
Callander was a health and social care student at Runshaw College and an Ariana Grande superfan, originally from Lancashire in northern England. She had tweeted at Grande on Saturday, ahead of the concert, to tell the pop star how "excited" she was to be attending her show. She actually met Grande in 2015 and posted the photo below.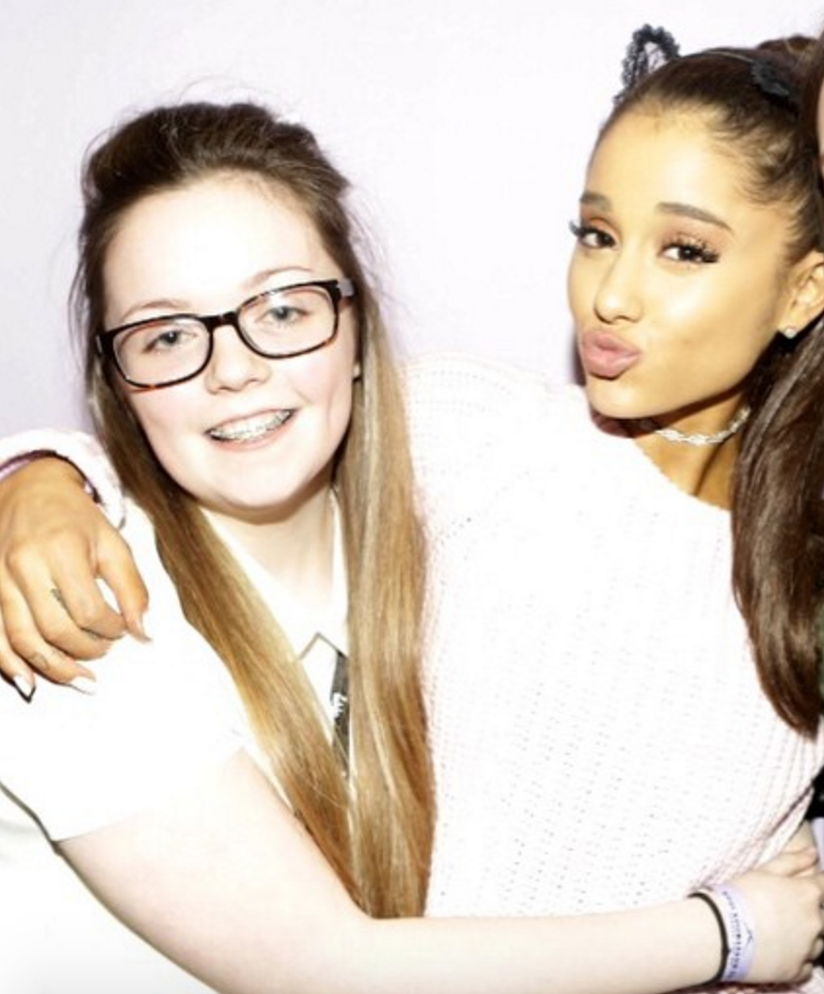 Callander reportedly died in hospital from injuries sustained in the attack, with her mother at her bedside. Her friends have been tweeting their tributes.
https://twitter.com/lianasarfati/status/866909946071437312
Saffie Rose Roussos, 8
Roussos was a young schoolgirl attending the concert with her mother Lisa and sister Ashlee. Both are still receiving treatment in hospital, Roussos mother is reported to be in a coma. Roussos had been a pupil at Tarleton Community Primary School. Her teacher described her as a "beautiful little girl … loved by everyone" in a statement released through Lancashire Council.
This poor little angel. Second victim confirmed as Saffie Rose Roussos, 8 years old. Remember the victims, not the perpetrators. #Manchester pic.twitter.com/nGbqwjrFfk

— Alexandra Zarrah (@Ali_ZONeill) May 23, 2017
John Atkinson, 26
Atkinson, from Radcliffe in Bury, has been named as the third victim. Atkinson studied health and social at Bury College and danced competitively. Online tributes describe him as a "kind and thoughtful… a beautiful soul." Atkinson was leaving the facility when the bomb detonated.
https://twitter.com/ShawnCanBeSassy/status/867351845563269120
Martyn Hett, 29
Hett, a public relations manager, was killed in the initial blast. He had been preparing to set off on a two-month tour of the States, according to his recent posts on Twitter.
https://twitter.com/martynhett/status/866060880974368770
Hett was a big fan of British soaps and had even appeared on television himself, alongside his boyfriend Russell Hayward, winning a popular U.K. cooking show called Come Dine With Me. Hett's partner, with whom he'd spent his final day ahead of the dream traveling adventure, posted his tribute on Twitter.
https://twitter.com/RussellHayward/status/866986800044273664
Marcin Klis, 42, and Angelika Klis, 40
Polish parents of a student attending the University of York, the couple were waiting in the arena's foyer for their children who had been at the Grande concert. Missing since the explosion, Poland's foreign minister confirmed that they had been killed in the blast on Wednesday morning.
They leave behind their two daughters, Alex and Patricia.
https://twitter.com/geomw_/status/867280188677160961
Olivia Campbell, 15
Campbell was a pupil at Tottington High School who loved singing. She had been missing since the attack on Monday night. As injured victims were sent to hospitals across the city, many parents took to social media to try and find their children. During the search for her, Campbell's mother, Charlotte, appeared in a tearful interview on British television and BBC radio.
Unfortunately, Campbell's mother confirmed in an early morning Facebook post on Wednesday that she had received confirmation that her daughter had been killed.
https://twitter.com/LostManchester/status/867171424749879297
Kelly Brewster, 32
According to her family, Brewster died when she "heroically shielded" her 11-year-old niece, Hollie Booth, from the blast. The pair had become separated from Brewster's sister, Claire, when leaving the concert. Hollie and Claire Booth both remain in hospital with their injuries.
"Kelly really was the happiest she has ever been and we had so many things planned together," Brewster's grieving partner, Ian Winslow, wrote on Facebook. "My daughter Phoebe will be absolutely devastated like we all are."
https://twitter.com/Pkakooza/status/867323489627381761
Jane Tweddle-Taylor, 51
Tweddle-Taylor was a school receptionist, wife of former Wrexham AFC footballer Mark Taylor, and mother of three from Blackpool. She had gone to the Manchester Arena to collect a friend's daughter from the concert.
Jane Bailey, headteacher of South Shore Academy, where Tweddle-Taylor worked, described her as "bubbly, kind, welcoming, funny, generous… irreplaceable… a truly wonderful friend and colleague."
Nell Jones, 14
Jones, a student at Holmes Chapel Comprehensive School in Cheshire, was confirmed to be among the 22 murdered.
The school's Headteacher Dennis Oliver described the pupils and teachers as "devastated" to lose a girl that was "always smiling, always positive."
https://twitter.com/izzy2804/status/867415680483766273
Sorrell Leczkowski, 14
Teenager Leczkowski, a pupil from Allerton High School in Leeds, was waiting in the foyer with her mother and grandmother for her sister, who had been inside the arena watching the concert.
Fourteen-year-old Sorrell Leczkowski from Leeds named as one of those killed in the Manchester suicide bombing. pic.twitter.com/5NjQhi0P8x

— BBC Yorkshire (@BBCLookNorth) May 24, 2017
Leczkowski is believed to have been killed in the blast, while her mother and grandmother currently remain critically ill in hospital. It's understood that her grandmother remains unconscious and has undergone a 15-hour operation to remove nails and shrapnel that were packed into the improvised device.
Michelle Kiss, 45
Hours ahead of the Grande concert at the Manchester Arena, Kiss, a mother of three, posted online that her daughter Millie, 12, and a friend were both "Excited girlies ready to watch Ariana." When the suicide bombing happened, the three were in the foyer. In the chaos that followed, images that would become iconic of a policewoman holding a young girl—Millie Kiss. Her family, who had not heard from any of the party, recognized her shoes when the clip ran on the news.
Thank you to the police officer who held her daughter Millie Kiss all night… she was only 12. pic.twitter.com/nKtrsnXqbS

— TABS (@cylclit) May 24, 2017
Both young girls were taken to hospital, but Michelle Kiss was killed. Her husband posted his tribute online: "We hope to draw from the courage and strength she showed in her life to get through this extremely difficult time."
Mother of 3 Michelle Kiss killed in Arena https://t.co/rtzF2YePQH sd"She has been taken away from us in the most traumatic way imaginable" pic.twitter.com/sx478dKzBi

— BBC North West (@BBCNWT) May 24, 2017
Alison Howe, 45, and Lisa Lees, 47
The two friends from Oldham were waiting in the foyer to collect both their teenage daughters after the concert. Howe and Lees were both reported missing in the immediate aftermath of the attack, but family members confirmed that they had passed away in the blast late Tuesday.
Moms Waiting For Daughters To Exit Concert Confirmed Killed In #ManchesterBombing. https://t.co/VYpwlGDn2y

RIP Alison Howe & Lisa Lees 😔 pic.twitter.com/scvG6V1EAe

— I Yam What I Yam (@Nvr4Get91101) May 24, 2017
Anyone with concerns about the safety of friends or loved ones can call the Greater Manchester Police helpline at this number: 0800 096 0095.
We will continue to update this list as more confirmed details become available.