An Alabama man who died during Wednesday's Capitol riot in Washington, D.C. posted extremist content on social media platform Parler prior to his death. A Birmingham-based investigative journalist shared screenshots of the content on his own Twitter account, in the hopes of gathering more information about 55-year-old Kevin Greeson's life.
Greeson died of a "medical emergency" on Wednesday according to the Birmingham News' Connor Sheets. Greeson's family, in a statement Sheets shared on his Twitter account, said Greeson died of a heart attack "in the midst of the excitement" of being at the site of the Capitol insurrection.
Sheets shared content from the KevinDGreeson Parler account on Twitter, including a photo with the caption, "I wish these motherfuckers would come to my hood!" The post (or, in Parler's parlance, a "parley") was actually a response (or "echo") to content posted by the Proud Boys account.
As Sheets noted in his Twitter thread, Greeson boosted numerous Proud Boys parleys in his account.
While it didn't appear that his own parleys garnered much if any attention, he was able to piggyback on more popular Parler accounts, such as Sean Hannity's account, to express his view on perceived Republican inaction following President Donald Trump's loss to Joe Biden in the 2020 election.
He asked, "Where are all the FUCKING Republicans … you chicken shit motherfuckers, are you not smart enough to stop this shit?!? Stand the fuck up! Our President is being took out of office in coup and you motherfuckers do nothing!! It might take a few years but Trump and the American people will take you fucks out of your office. YOU SPINELESS MOTHERFUCKERS!"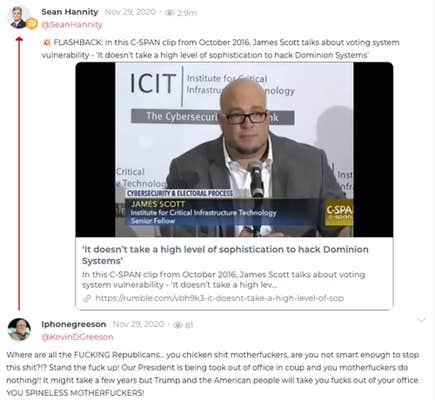 Sheets made other observations about the account that corresponded with the Daily Dot's tour through the account, including support for Trump and multiple posts calling for violence.
In one of Greeson's last parleys, he volunteered his "guns and ammo" to the Utah Constitutional Militia.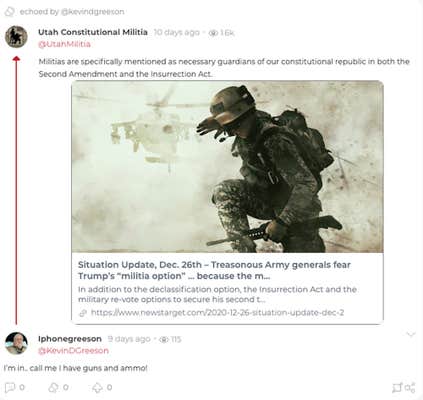 But that wasn't his only interaction with the Militia's account. He wrote, on Dec. 12 in response to a parley on civil war," "Let's give them a war … Democrats don't have guns … we do … bring your stick, I'm bringing MY GUNS!"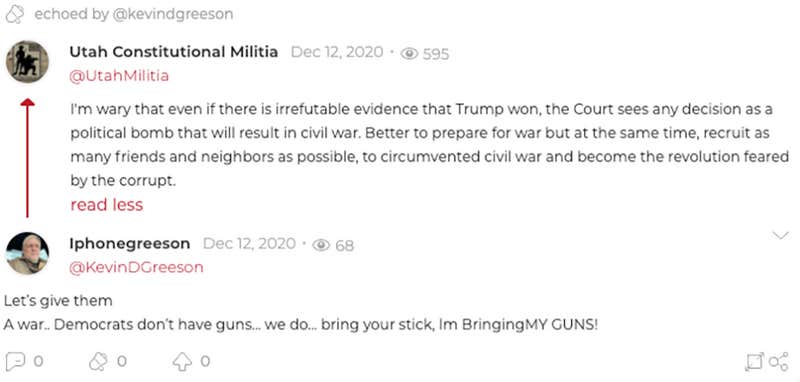 And he responded on Dec. 11 to a post about Rep. Devin Nunes (R-Calif.) and COVID-19, ominously (and with egregious typos), "I don't give two fuks about COVID, we have a coup going on in our goddamn country! Theses motherfuckering demo's are going to make COVID look like a runny nose! There going to fuck this country up!"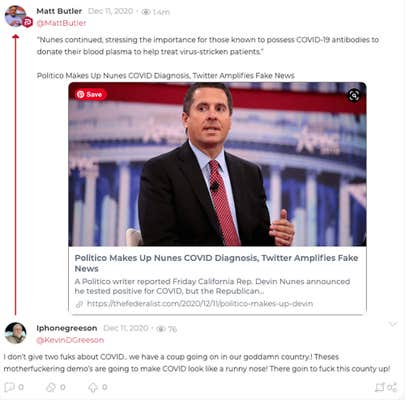 Greeson's family, in their statement, noted that he was "an advocate of President Trump and attended the event on January 6, 2021 to show his support." They added, "He was excited to be there to experience this event—he was not there to participate in violence and rioting, nor did he condone such actions."
Sheets invited people to reach him via his Twitter account if they knew Greeson and had any insights about his life.