Hey, makeup nerds: Wouldn't it be awesome to print out your own blushes and lip tints from the privacy of your own home, rather than schlepping to the mall and elbowing high school girls over that tester of Bare Minerals lip plumper? Pretty soon, you'll be able to with Mink, a new 3D printer for makeup that just debuted at TechCrunch's Disrupt conference.
Mink was created by Harvard Business School grad Grace Choi, who came up with the idea for a 3D printer for makeup while researching the beauty industry. What she discovered is that the beauty business, which is worth about $55 billion, makes most of its money by mixing pre-existing shades of products and selling them at a marked-up cost.
"The makeup industry makes a whole lot of money on a whole lot of bullshit. They charge a huge premium on something that tech provides for free," Choi said at the conference this week. "That one thing is color."
So Choi created Mink, a 3D mini desktop printer that uses regular, FDA-approved printer ink to replicate the same shades of makeup you'd find in a Wal-Mart or Sephora beauty aisle. It does this by connecting to the Internet and lifting color codes off products on any website or Pinterest board. After you paste the code into Photoshop or Microsoft Paint, you can print out a creamy lipstick or eyeshadow with that shade, which comes out in an adorable little Mink container.
Here's a demo, in which Choi selects and prints out a pink eyeshadow lifted from beauty vlogger Michelle Phan's YouTube channel. The whole process just takes a few minutes; you can watch here.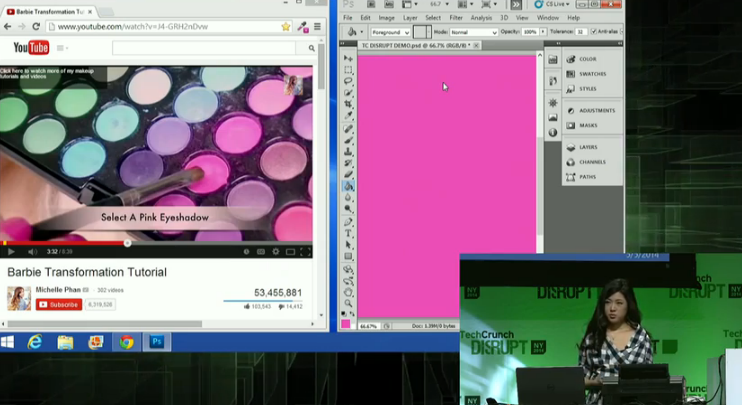 Choi plans to team up with "the big guys" like Epson to manufacture the printing hardware, and she aims to market the 3D printer to 13 to 21 year olds, who are reared on the YouTube DIY aesthetic and don't necessarily have pre-existing loyalties to specific makeup brands. Of course, most 13-to-21-year-olds don't have $300 burning a hole in their pockets, which is what Choi says the Mink printer will retail for.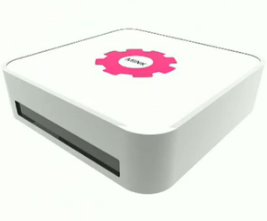 But $300 is ultimately a small price to pay for the freedom of printing out your own makeup, and never having to shell out $50 on a high-end Clinique lipliner again. "This is gonna finally train our girls to understand that the definition of beauty is something they should be able to control, not our corporations," Choi says. "To me, that's the most important thing."
H/T TechCrunch | Screengrab via TechCrunch