Sen. Kirsten Gillibrand (D-N.Y.) may not be a household name, but that's probably for a good reason.
Despite nearing a decade in the U.S. Senate, Gillibrand has managed to stay unspoiled by controversy and still commands respect among her constituents. After Hillary Clinton was appointed secretary of state in 2010, Gillibrand stepped in to fill her seat as junior senator of New York.
The former corporate lawyer has defined herself as an advocate for sexual assault victims in the military and became an outspoken ally in the Me Too movement. Gillibrand's New York roots, advocacy for women's issues, and status as the senator who has voted the least in line with President Donald Trump make her an interesting foil to the current president. No doubt an attempt to cash in on the contrasts, Gillibrand made her first major campaign speech in front of the Trump Hotel in New York City.
Still, Gillibrand isn't doing well in early polls, earning less than 1% of the approval of caucus-goers.
While Gillibrand is normally popular with women voters, she will be competing against more buzz-worthy female politicians such as Sens. Kamala Harris (D-Calif.) and Elizabeth Warren (D-Mass) for the Democratic nomination. But Gillibrand is striving to define herself as the only woman politician with a platform that is focused on women's issues. Here's what we know about Senator Kirsten Gillibrand's 2020 presidential platform so far.
Kirsten Gillibrand 2020 platform and policies
1) She supports paid family leave
Gillibrand's paid family leave plan would allow workers, regardless of gender, to take three months of paid leave in the event of a new child, personal illness, or ill family member. Gillibrand would fund the plan with a payroll tax, taxing workers 0.2% of their wages.
2) She supports a woman's right to choose
The junior senator has defended Planned Parenthood and abortion rights throughout her career. She received 100% on the scorecards published by both NARAL and Planned Parenthood. Gillibrand criticized a Trump administration proposal to bar facilities that give abortions from receiving federal funding. The policy change was meant to target Planned Parenthood, which relies on federal funds to offer subsidized reproductive healthcare services, such as annual screenings and checkups.
"I don't know why members of Congress think it's their job to tell women what to do with their healthcare," Gillibrand said of the proposal in an interview with CNN's Chris Cuomo.
3) She wants universal paid family leave and equal pay for women
Gillibrand hasn't been shy about advocating for women in the workplace. She is a co-sponsor of legislation called the Paycheck Fairness Act, which would make it illegal for companies to retaliate against employees who ask about their wages. It would also give the Department of Labor tools to enforce equal pay laws. While the bill passed in the House and a Senate version has been introduced, it will likely fail in the Republican-controlled upper chamber.
The former corporate lawyer also advocates for universal paid leave, or a paid leave program for both fathers and mothers. She introduced legislation known as the FAMILY Act which would allow workers to take 12 weeks of paid leave for a pregnancy, the birth or adoption of a child, to recover from a serious illness, or to take care of an ill family member.
4) Gillibrand supports buying into Medicare
Gillibrand supports a single-payer, government-run healthcare system. The New York senator voted in favor of Obamacare, and has backed a measure by Sen. Bernie Sanders' (I-Vt.) that would expand Medicare to all Americans. Even in light of announcing her candidacy, Gillibrand continues to support Medicare for All.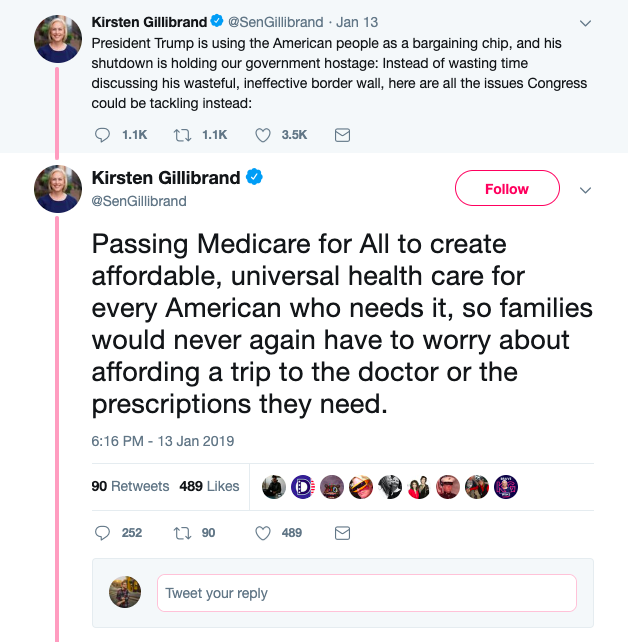 Her personal plan is a bit less sweeping, however—an incremental approach to reforming healthcare. At an MSNBC town hall in March, Gillibrand outlined a Medicare plan that would allow anyone that contributed four or five percent of their income to sign-up.
"I think the quickest way that you get there is that you allow anyone to buy into Medicare at a price they can afford. Something like 4 or 5% of income; they buy in so it's an earned benefit, and they qualify automatically for Medicare," Gillibrand said.
Gillibrand explained at the town hall that rather than banning private health insurance altogether, she would push for a public option so private health insurance companies would be forced to compete. But she added that she believed a public option, due to not having to focus on profits, would likely win over private health insurance. She guessed that after a few years of such a system, the nation could then revert to a single-payer healthcare system.
READ MORE: 
5) She wants to ban assault rifles and require universal background checks for gun purchases
Gillibrand is a staunch supporter of strong gun control laws and has earned an "F" grade from the NRA, a dramatic decline from the "A" she earned as a House member representing a rural district in New York State.
Gillibrand's position on guns reversed once she became a senator in the wake of several high-profile mass shootings. Over the past couple of years, she pushed for laws to make gun trafficking illegal on a federal level, ban assault weapons, and make bump stocks or any other device that accelerates a semi-automatic rifle's rate of fire illegal.
She introduced a measure in March that would make trafficking firearms across state lines a federal crime. The bill has been referred to the Senate Judiciary Committee but has yet to be taken up for a vote.
"People who aren't allowed to purchase a gun in New York shouldn't be able to buy all the weapons they want in another state and then shuttle them back into New York to sell out of their trunk. By cracking down on gun trafficking, we can help stop the flow of illegal guns and save innocent lives," Gillibrand said on her website.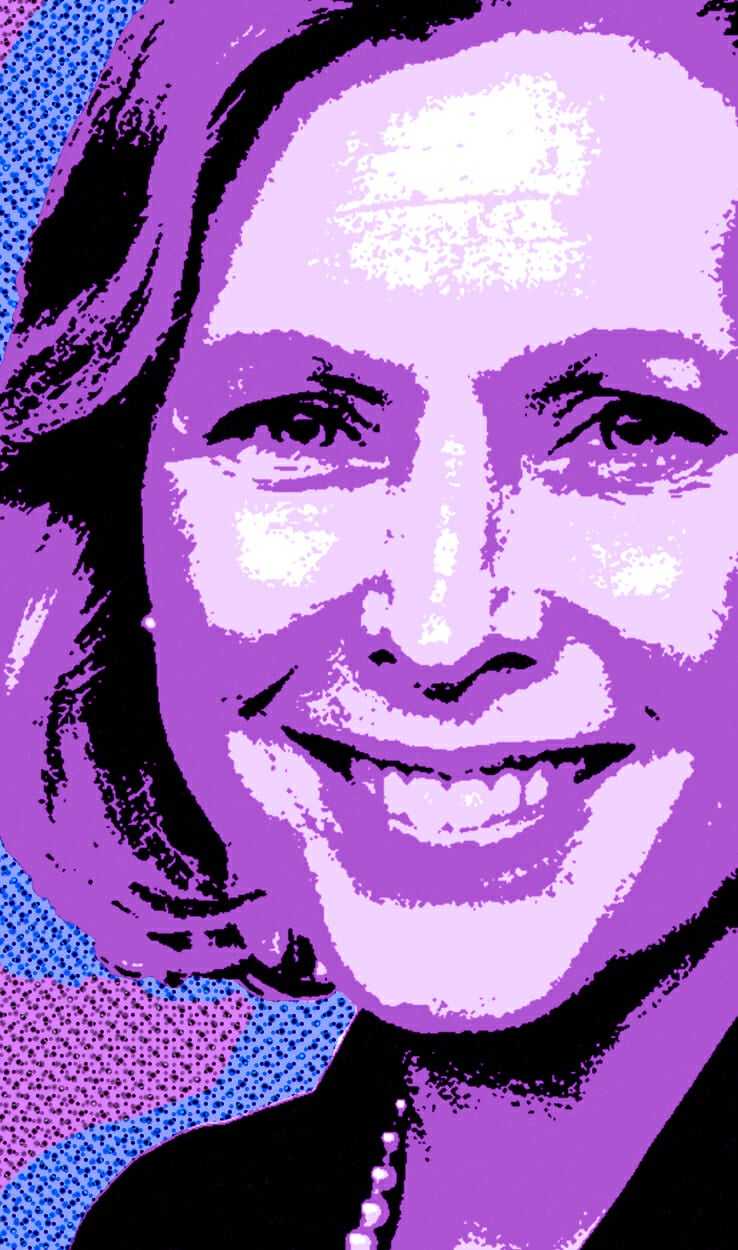 6) She wants to guarantee asylum seekers access to a lawyer
Gillibrand's previously staunch position on immigration grew more liberal once she reached the Senate. She has actively pushed back against Trump's proposed border wall, deeming it a "waste of money," and called the DHS practice of separating children from their families  "immoral." She supports "abolishing" ICE and creating a new agency that just deals with crime and terrorism, instead of including immigration.
Gillibrand also wants to make several changes to the U.S. legal system for refugees and asylum seekers. She is crafting legislation that would guarantee asylum seekers access to a lawyer, allow Americans to foster immigrant children, and make immigration judges independent of the Department of Justice.
7) She wants to limit access to opioids and decriminalize marijuana
Gillibrand recently proposed a seven-day restriction on opioid prescriptions in an attempt to curb abuse. She stressed that her bill would only apply to only those with acute pain, such as that from a wisdom tooth removal, rather than chronic pain. Critics attacked Gillibrand's proposal, arguing that such a blanket restriction would cut off drugs from those who would badly need them.
Gillibrand has sided with other Democrats in supporting the marijuana legalization effort. She cosponsored the Marijuana Justice Act of 2019, which would legalize marijuana across the country and take cannabis off the Department of Justice's list of controlled substances. The bill has been referred to the Senate Judiciary Committee but has not been scheduled for a vote.
READ MORE: 
8) She backs the Green New Deal
Gillibrand has voiced support for the Green New Deal, calling it exciting on the Pod Save America podcast. "The way I see a green economy is this: I think we need a moonshot. We need to tell the American people, 'We are going to have a green economy in the next 10 years, not because it's easy, but because it's hard, because it's a measure of our innovation and effectiveness,'" she said.
As a member of the Senate Environment and Public Works committee, Gillibrand has constantly pushed for legislation to address climate change.
In a letter to Senate Chairman John Barasso (R-Wy.), she asked the committee to hold hearings on legislation that would decarbonize the economy and get us to net-zero emissions by as close to 2050 as possible.
Climate change is an immediate and catastrophic threat to our future. And yes, it's real.

We need to:
✅Get to net-zero carbon emissions
✅Invest in clean energy and green jobs
✅Update infrastructure and build community resiliency

We need a #GreenNewDeal, and we need it now. https://t.co/viCTQMix9b

— Kirsten Gillibrand (@SenGillibrand) January 24, 2019
9) Gillibrand supports tax credits for childcare and small businesses
Gillibrand opposed Trump's tax reform, tweeting that it was a "cruel joke" that helped corporations and hurt lower-income workers. Throughout her career, Gillibrand has pushed for tax relief for homeowners and small businesses, tax credits for companies that provide on-site childcare, and tax credits for companies to provide jobs to veterans.