Kimberly Guilfoyle's old tweets have not aged well after testing positive for COVID-19 on Friday.
Guilfoyle, a top fundraising official for President Donald Trump's reelection campaign, reportedly received the diagnosis prior to a Fourth of July event at Mount Rushmore.
Twitter users quickly began pointing to previous tweets from Guilfoyle, who is also the girlfriend of Donald Trump Jr., in which she appeared to downplay the seriousness of the virus.
"President Trump is ready to safely reopen America!" she tweeted in June, just outside of Trump's controversial rally in Tulsa. "We are thrilled to be here!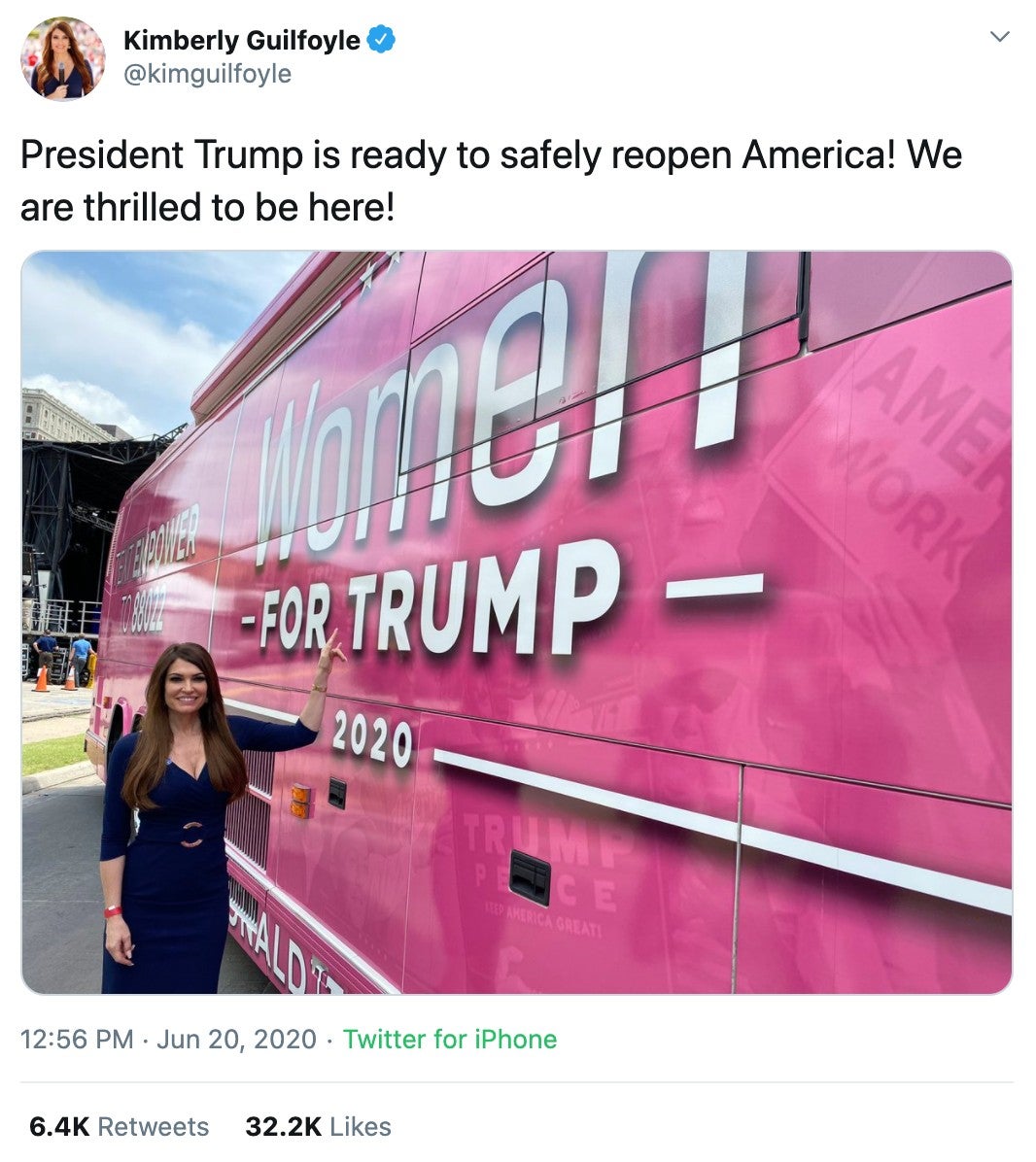 She also criticized "left-wing" mayors, who didn't prioritize the economy, for their pandemic responses.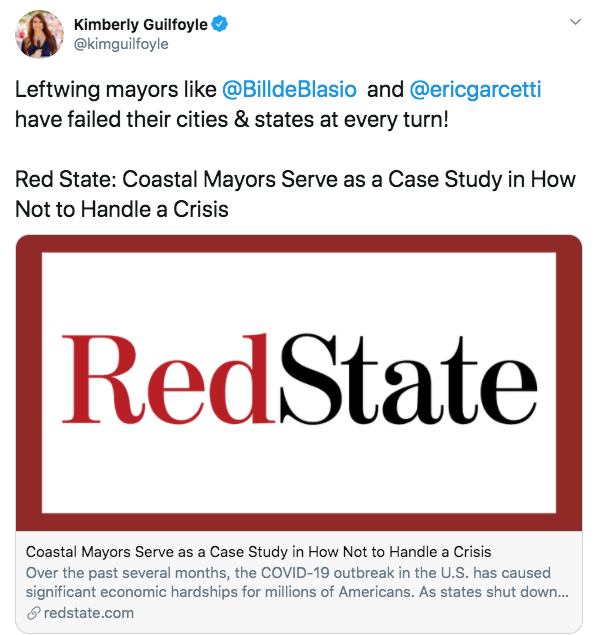 The tweets were widely mocked and condemned in light of the Trump administration's lackluster response to the pandemic, which has resulted in over 2.7 million infections in the U.S. and close to 130,000 deaths.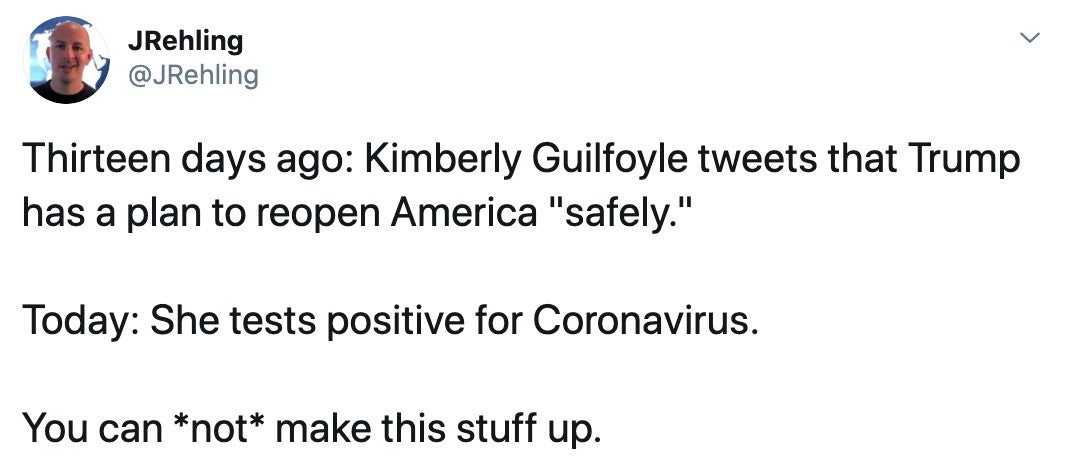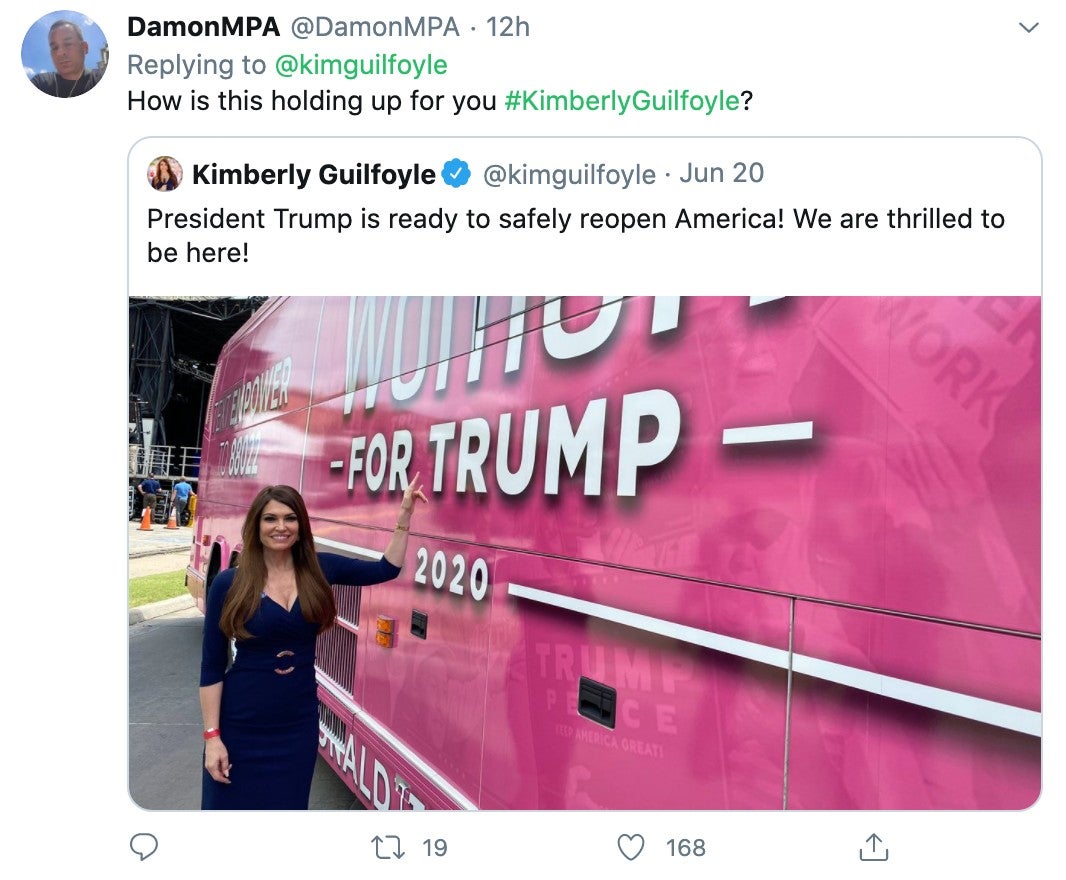 Guilfoyle is just one of a growing number of individuals in the president's orbit who has contracted COVID-19. Herman Cain, who also attended the Tulsa rally, likewise recently tested positive.
The former Fox News host weighed in on her condition in a tweet on Saturday, using the opportunity to promote Trump's reelection campaign.
"Thank you for all the well wishes and prayers!" she said. "I feel good thanks be to God and look forward to a speedy recovery so I can resume working to re-elect @realDonaldTrump."

Guilfoyle's responses were unsurprisingly filled with more criticism of her previous tweets as well as the president's response.
"I'm not sure what you mean," @pche8701 said sarcastically. "How does one recover from an illness that is just a hoax?"



Guilfoyle, who largely ignored social distancing and mask guidelines prior to her infection, has not responded to her critics online.
READ MORE: