Amid widespread rumours and conflicting accounts, Julian Assange has confirmed that he will be leaving the Ecuadorian Embassy in London "soon"—but refused to be drawn on further details.
The 43-year-old WikiLeaks founder has been holed up in the Ecuadorian Embassy in Knightsbridge, London, since the summer of 2012, after accusations of sexual assault surfaced in Sweden. Ecuador offered Assange asylum over unconfirmed fears that the claims could be a prelude to extradition to the U.S. to stand trial for his involvement in Wikileaks.
Reports circulated in the British press on Monday morning that Assange was considering surrendering himself to the police, after two years of effective captivity in the Ecuadorian Embassy had left him with serious untreated medical conditions. These potentially include a "life-threatening heart condition … a chronic lung condition and dangerously high blood pressure," reports the Guardian.
At a press conference at the Ecuadorian Embassy, Assange obliquely confirmed his deterioration in health, without going into detail: "[The embassy is] an environment in which any healthy person would find themselves soon enough with certain difficulties they would have to manage," the Australian told the assembled reporters. 
Assange stressed, however, that while he intends to leave the embassy "soon," the rumors of his imminent surrender to the British authorities were unfounded.  "I am leaving the embassy soon," Assange said, "but perhaps not for the reasons the Murdoch press and Sky News are saying at the moment."
The Ecuadorian foreign minister, Ricardo Patino, was also present, and reaffirmed his nation's "protection" of Assange. "It is time for [Assange's] human rights to finally be respected," Patino said. He also urged the relevant governments to come together to find a "political resolution to this impasse."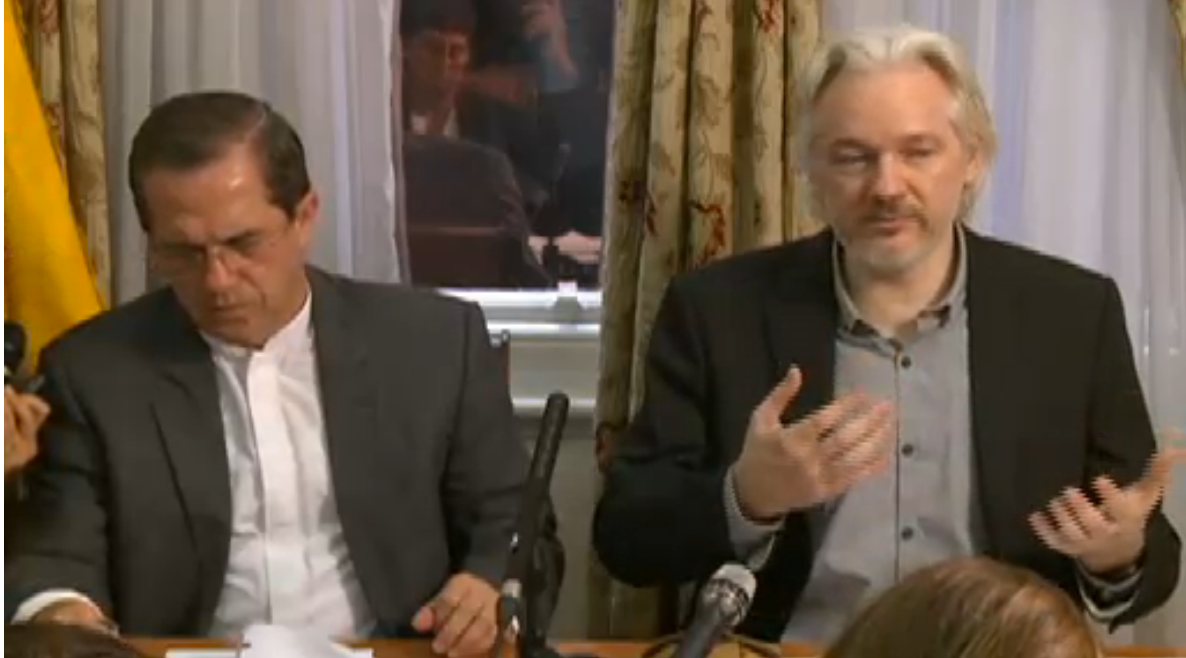 Ricardo Panito (left) listens while WikiLeaks founder Julian Assange (right) addresses the assembled reporters at the Ecuadorian embassy.
Without further clarification from Assange—which he declined to give at the press conference—it remains unclear what is meant by "soon," and what diplomatic solution could be reached that could allow the media activist to leave the Ecuadorian Embassy a free man. Esther Addley, a journalist who was at the press conference, reports that soon "does not mean today."
Addley has also spoken to a WikiLeaks spokesperson, who reportedly said that Assange's "bag is packed," but it is a "hope rather than [a] plan to leave soon."
The U.K. government remains resolute that Assange must travel to Sweden to answer for his alleged actions—regardless of any potential future U.S. action. Prior to the press conference, a Foreign Office spokesperson told The Guardian that they "remain as committed as to reaching a diplomatic solution to this situation. We are clear that our laws must be followed and Mr. Assange should be extradited to Sweden." 
The paper also reports that Ecuador's requests to have Assange transported to a hospital in a diplomatic car should his health falter have been denied. It is highly unlikely that Assange's deteriorating health would allow him to avoid arrest and extradition, the BBC reports: "It is almost inconceivable that an extradition would be halted on health grounds if that extradition is to a country that is part of the European Arrest Warrant scheme," their legal affairs correspondent Clive Coleman says. "All of those countries have good hospitals and health care facilities. The health issue doesn't open up a new round of domestic legal challenges."
Photo via New Media Days/Flickr (CC-BY-SA 2.0) | Remix by Rob Price