Congressman John Boehner (R-OH) is the Speaker of the House of Representatives. It's a powerful job, but you might not realize it from the latest video released by his office.
The clip shows Boehner holding a wind-up monkey that squawks and claps cymbals together. In the video, titled "The Monkey in the Room," Boehner compares himself to the monkey. "This sits in my office on my coffee table because this is me," he says.
A clip then shows Boehner entertaining several laughing children with the monkey. He points to it and exclaims, "That's what I do all day!"
Boehner explains to the viewer that the monkey was a gift from his staff, a tongue-in-cheek reflection of the role that aides play in a politician's daily routine. "Every 15, 30 minutes, they come in and wind me up, and I do my thing."
You might wonder if there is some deeper meaning to be gleaned from the video. Perhaps the endless winding up, the frantic but futile clapping, and the subsequent winding down represents Boehner's tireless and useless struggle to convince House Republicans to pass serious legislation.
"People will often ask about the monkey sitting in the center of the room," reads a leaked manual for Boehner interns. "Was given to the speaker as a birthday gift after the joke was made that he was often just wound up like a doll by his political advisors [sic] every night and he would proceed to clap his hands only to have his advisors wind him up again the next day."
The manual stresses that Boehner's monkey "shows his sense of humor."
If, as we'd like to believe, the video is indeed a metaphor for Boehner's life in the House, the last few seconds are somewhat ominous.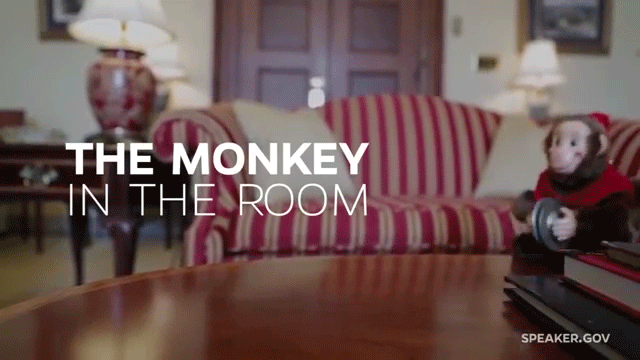 Correction: A previous version of this story stated that the monkey in this video "hoots." More accurately, monkeys squawk. The Daily Dot regrets the error.
Screenshot via John Boehner/YouTube | H/T Jamie Lovegrove