As Election Day comes to an end, the country awaits the final election results—but experts are warning that without mail-in ballots fully accounted for, current numbers may overestimate Republican percentages of the vote in what is being called a "red mirage."
To account for mail-in ballots, voting totals in key battleground states including Wisconsin, Michigan, and Pennsylvania will not be reflected until Wednesday at the earliest, according to NBC. Meanwhile, Bloomberg is reporting that some of those states may need several days to tally the votes.
Current election results in these states potentially reflect only Election Day vote counts, which tend to lean toward Trump, creating a "red mirage."
The possibility of a "red mirage" had been speculated about a lot ahead of Election Day. With the presidential race still very much in the air early Wednesday morning, the idea of the "red mirage" came up again online.
"Warning: these early numbers in Wisconsin, Michigan, and Pennsylvania are part of the 'red mirage' that the experts warned us about," political blog Palmer Report tweeted. "The numbers in those states are to be ignored until the mail-in votes start getting counted, which won't be for awhile."
A lot of people have noted that because there are unaccounted ballots, the numbers as they stand now are nowhere near final. As of early Wednesday morning, President Donald Trump was leading in Michigan, Wisconsin, and Pennsylvania, but a large number of votes had yet to be counted.
Experts describe it as a 'red mirage'
Mail-in ballots, absentee votes, and early voting typically are expected to go to Democratic candidate Joe Biden. Meanwhile, Election Day votes have gone to Trump.
For example, Pennsylvania reported at 11:30pm that 2.7 million votes were counted for out of an expected 7 million, according to the Philadelphia Inquirer.
Of the unofficial tally of votes so far in Pennsylvania as of 11:30pm CT, Trump holds a 56.8% lead over Biden's 41.8%, according to Decision Desk HQ.
Chairman of the Wisconsin Democratic party Ben Wikler explained to voters that a red mirage is what they are seeing right now.
"This is how tonight's gonna go. In places that count absentee ballots separately from e-day ballots, numbers will look terrible for Democrats… until the absentee numbers roll in and the script flips. Red mirage ⟶ blue shift," Wikler tweeted.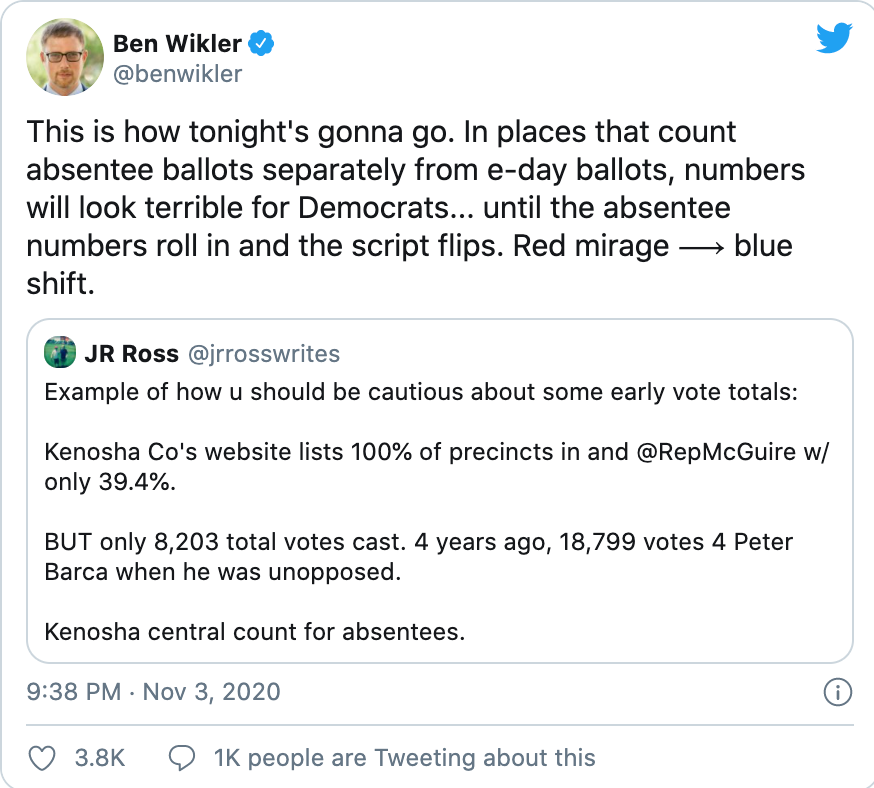 "The Red Mirage is happening in WI, MI, PA. We were told this would happen and that it would appear Trump is winning, but it will take a couple days to count the mail ballots and Biden will catch up. Keep perspective," another Twitter user added.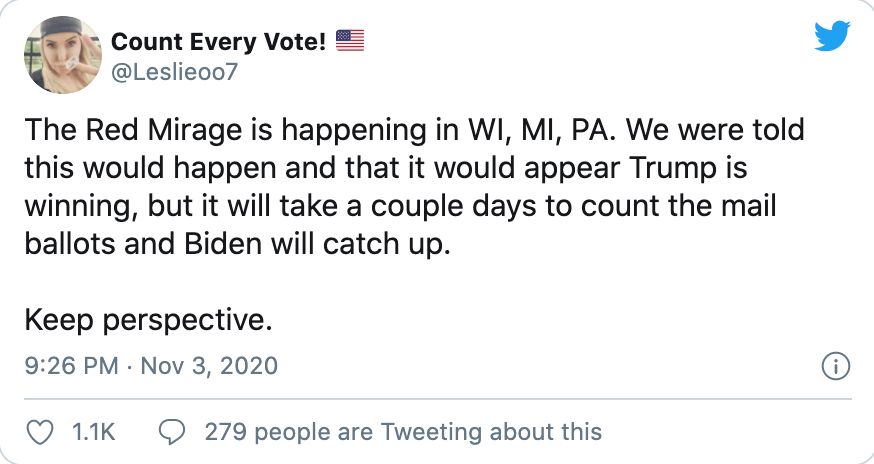 Basically, there are still a lot of votes to be counted. And as a mirage states, just because it seems to be there, it may soon disappear.
More election 2020 coverage