Using the hashtag #BurnISISFlagChallenge, Middle Eastern activists are taking to social media to promote their own take on the viral Ice Bucket Challenge—encouraging Lebanese citizens to burn the flag of Islamic State (IS, formerly ISIS), in a show of opposition to the militant Islamist group.
Three Beirut residents initially registered their opposition to IS by burning its black flag, Mother Jones reports, before posting the footage online and asking others to do likewise. Their call did not go unheeded: In the week since the initial video, numerous Lebanese citizens have taken to social media to decry Islamic State and to burn their flag.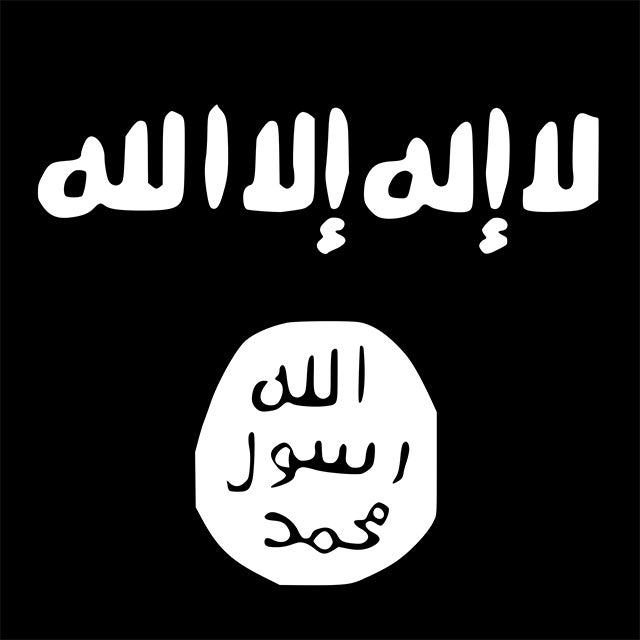 The flag of Islamic State.
The Jihadist organisation has made international headlines over the killing of American photojournalist James Foley, as well as Steven Sotloff more recently—but within Lebanon there are fears that the group will turn its attention towards them next, having already reportedly kidnapped more than 30 Lebanese soldiers and executing one. 
#BurnISISFlagChallenge #احرق_علم_داعش لان الله تعنا مش الله تعن لان النبي محمد (ص) تعنا مش النبي تعن #تعى_حاكمني pic.twitter.com/AIcUkX91eT

— Mhamad Haraké (@Mharakeh) August 30, 2014
Lebanese youths in Beirut burn the ISIS flag pic.twitter.com/7a8gTOHVFG

— Sunny Hundal (@sunny_hundal) August 30, 2014
The Jewish Press » » Burn Your ISIS Flag Today #BurnISISFlagChallenge #isis #Israel https://t.co/IeR0LbUK33 pic.twitter.com/DULQDOkz8O

— Bolo (@Bolo1970) August 31, 2014
Citizens of #Lebanon invoke a #BurnISISFlagChallenge for the world https://t.co/ApYA1xAQeK https://t.co/daytqk3hBn pic.twitter.com/CRkA3bjXKK

— Syricide (@Syricide) September 1, 2014
However, the flag-burners have also come under criticism from some quarters. One Lebanese minister has called for those who do the "challenge" to be prosecuted, arguing that because the flag contains the Muslim declaration of faith, or Shahada, its burning constitutes an insult to the religious slogans of the Abrahamic faiths, and could stir up sectarian conflicts."
Islamic State has not ignored this provocation, reportedly burning Christian symbols in response, saying that it is "just the beginning."
They burned #ISIS flag and pro #ISIS burned the Cross in return and say it is just the begining.. #Tripoli #Lebanon pic.twitter.com/HWV5EpNHuD

— Rami(ط) (@RamiAlLolah) August 31, 2014
America is currently engaged in a series of strikes against Islamic State, and President Obama has promised "justice" for Sotloff after footage of his killing was posted on the Internet. The masked militant in the video of Sotloff's killing addresses the President directly, saying he is "back because of your arrogant policy towards the Islamic State,"but Obama has said the journalist's death will only "stiffen" American resolve to fight the Islamist group.
H/T Mother Jones | Photo via 4028mdk09 / Wikimedia Commons (CC BY-SA 3.0) | Remix by Rob Price