Instagram has rolled out a new "Your Activity" feature that allows users to track how often they are using the app. And if you're a frequent poster,  you know your Instagram activity is likely to be surprisingly off the charts.
Intended to help monitor and limit one's time on the photo-sharing service, the feature comes with options to temporarily mute push notifications and set daily usage reminders. You may have already been tracking who else can view your Instagram, but it's now much easier to track yourself.
How to use the new Instagram activity tracking feature
To begin utilizing the new dashboard, start by clicking your profile button in the bottom right corner of your screen. Then, click the menu button, also known as the hamburger button, in the upper right corner of your screen. From there, simply locate and choose the Your Activity option.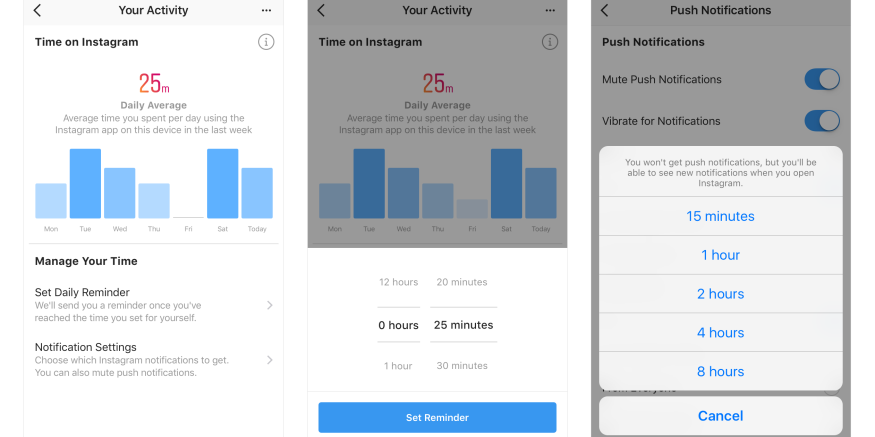 You can then see exactly how much time you have spent on Instagram in the last week as well your average daily use, which is probably the most telling factor.
READ MORE:
Facebook, which owns Instagram, has also reported that it plans to introduce a similar activity dashboard as well.
This feature isn't new. It's similar to the Screen Time feature already standard on Apple iPhones and iPads, which tracks your daily app usage.
Instagram announced these changes in the wake of some scientific studies which found links between increased smartphone usage and depression and suicide attempts, especially among teenagers.
Tracking exactly how much time you spend scrolling isn't proven to change the state of your mental health, of course. But anyone who has felt the instant gratification of multiple likes could probably stand to take a conscious break.