On Jan. 4, a video posted to YouTube by Stop Antisemitism named Rep. Ilhan Omar (D-Minn.) its 2019 "Antisemite of the Year." Critics of this dubious honorarium noted that mass shooters who targeted Jewish people this year somehow missed out on winning.
Stop Antisemitism was formed following anti-Semitic attacks, including the Pittsburg synagogue shooting in 2018 which killed 11 people.
In an effort to educate Americans on anti-Semitism, the organization says that they "name and shame" anti-Semites each week. This has included people anywhere from neo-Nazis like Andrew Anglin to pro-Palestinian advocates like Linda Sarsour.
In their latest contest, they named Omar the 2019 "Antisemite of the Year" for her previous "anti-Israel" comments.
While everyone's mind draws to the Holocaust as the prevailing example of anti-Semitism, modern occurrences keep the word from exiting news headlines for good. In 2018, there were over 100 physical attacks including "with or without weapons, arson, vandalism and direct threats" in the United States according to a report by Tel Aviv University's Kantor Center for the Study of Contemporary European Jewry.
Stop Antisemitism posted a poll to determine the winner of anti-Semite of the year on their website in late October. Participants in the poll were also offered a chance to win Amazon gift cards.
"The watchdog group is calling on the public to select the most notoriously vile anti-Semites who not only spread hatred, but also incite violence against the Jewish people," the website states.
The Jerusalem Post covered the nomination, which helped bring it notoriety online.
Omar was not an actor that contributed to the 13% rise in anti-Semitism that the 2018 report found. But this is not the first time the Minnesota representative has been hit with the slur.
And Stop Antisemitism, a right-wing group that goes after prominent left-wing Jews as well, is one of the reasons the slur against Omar perpetuates.
Who is considered an anti-Semite?
The clearest form of hate is one that physically or mentally harms members of a community. Take, for example, the stabbing of five people in the home of a rabbi on Hanukkah this past December. That was an attack driven by anti-Semitism.
People who spread offensive slurs directed towards Jewish people are also considerably anti-Semites. This would include neo-Nazis like Richard Spencer, who has also been flagged by Stop Antisemitism. In Nov. 2019, an audio tape leaked demonstrating his clear disdain for Jews and African Americans.
"Little fucking k*kes. They get ruled by people like me. Little fucking octar**ns," he said in the tape.
However, some argue that critics of the Israeli government are also anti-Semites. This broadens the definition of anti-Semitism to any pro-Palestinian activist like Omar or Sarsour.
But even the Anti-Defamation League (ADL), a Jewish organization that aims to fight hate, says that criticism of any government including Israel does not correspond to blatant hate
"Certainly the sovereign State of Israel and its government can be legitimately criticized just like any other country or government in the world," the ADL says on their website. "Criticism of particular Israeli actions or policies—even harsh and strident criticism and advocacy—in and of itself does not constitute anti-Semitism."
But in American political discourse, that distinction is often lost, and that's where criticism of Omar begins.
Who is measuring anti-Semitism?
The right and Jewish advocacy groups frequently categorize Omar as an anti-Semite no matter what she does. Sen. Ted Cruz (R-Tex.), in particular, is indicative of this attempt to characterize Omar.
"The anti-Semitic Left—whether @IlhanMN repeated anti-Israel slurs or @nytimes apologizing for Hamas terrorists (eg, on 3/14/18) & running racist cartoon—is getting worse. And the House can't even pass an anti-Semitism resolution. Responsible Dems need to say Enough is Enough," Cruz tweeted.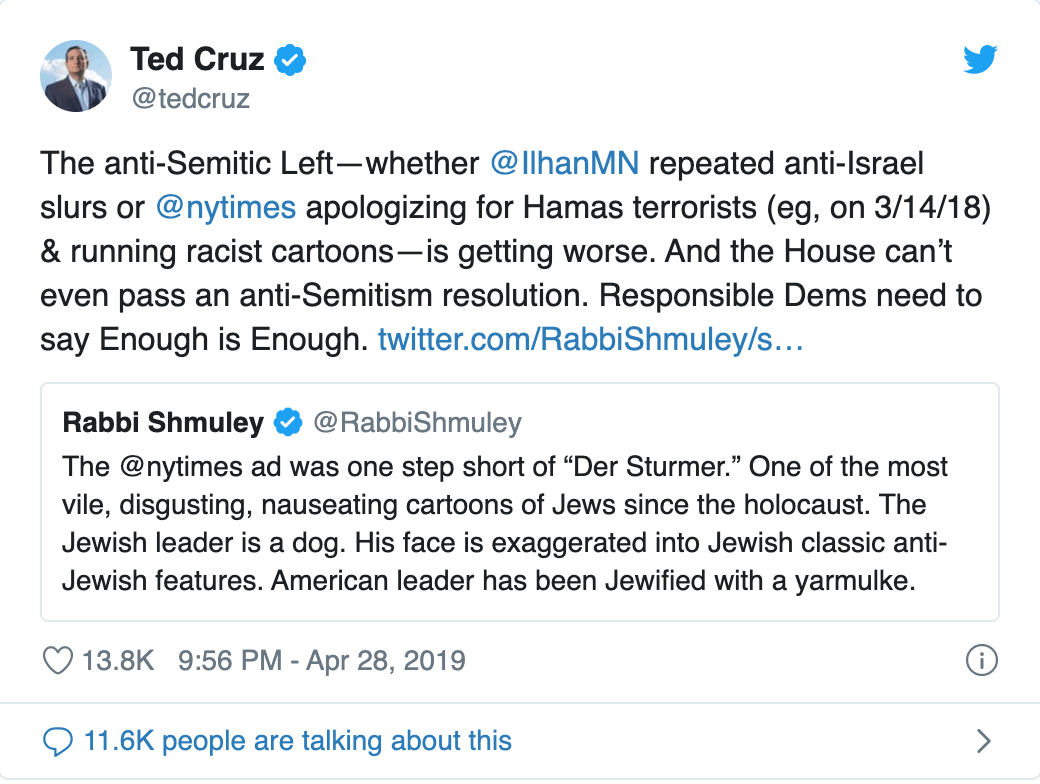 And Stop Antisemitism stands strong aside Cruz and other Republicans.
In the video, Stop Antisemitism says that Omar won the nomination for six reasons. One of the examples notes comments Omar made in regards to the American Israel Public Affairs Committee (AIPAC) in February. Omar responded to one of journalist Glenn Greenwald's tweet that said House GOP Leader Kevin McCarthy (R-Calif.) intended on punishing her for anti-Israeli comments.
"It's all about the Benjamins baby," she replied quoting a line from a Puff Daddy song.
Omar apologized following criticism that said she used a common slur that equates Jews and wealth. But, she says she was referring to AIPAC lobbying funds to those that support Israel, NPR reports. And some Jews like Jews with Ilhan and the Jewish Voice for Peace believe in her.
"Accurately describing how the Israel lobby works in this country is not anti-Semitic," the Jewish Voice for Peace wrote about Omar's tweet. "The never-ending smear campaign against Ilhan Omar is racism and Islamophobia in action."
Omar's criticism of Israel is highlighted repeatedly by Stop Antisemitism. The list includes her proposed bill that would allow U.S. citizens to boycott governments, likely meaning Israel, which she proposed in wake of congressional criticism of the Boycott, Divestment and Sanctions movement. BDS is a pro-Palestinian campaign that boycotts companies that work with Israel until the Israeli government meets their terms. The major obligation is for Israel to cease the occupation of the West Bank, which Palestine claims is its territory.
Stop Antisemitism also points to neo-Nazi David Duke's endorsement of Omar as one of the reasons. Duke, among his other anti-Semitic comments, denies the existence of the Holocaust.
What does it mean when anti-Semitism is wrongfully used?
After Omar's nomination became public, many on Twitter criticized the pick, as it seemed to ignore several mass shootings and other violent attacks targeted at Jewish Americans.
"Wasn't there a guy who killed a bunch of ppl at a synagogue," @Bowsnonk replied, likely referring to the Poway Synagogue shooting in April of this year which left one dead.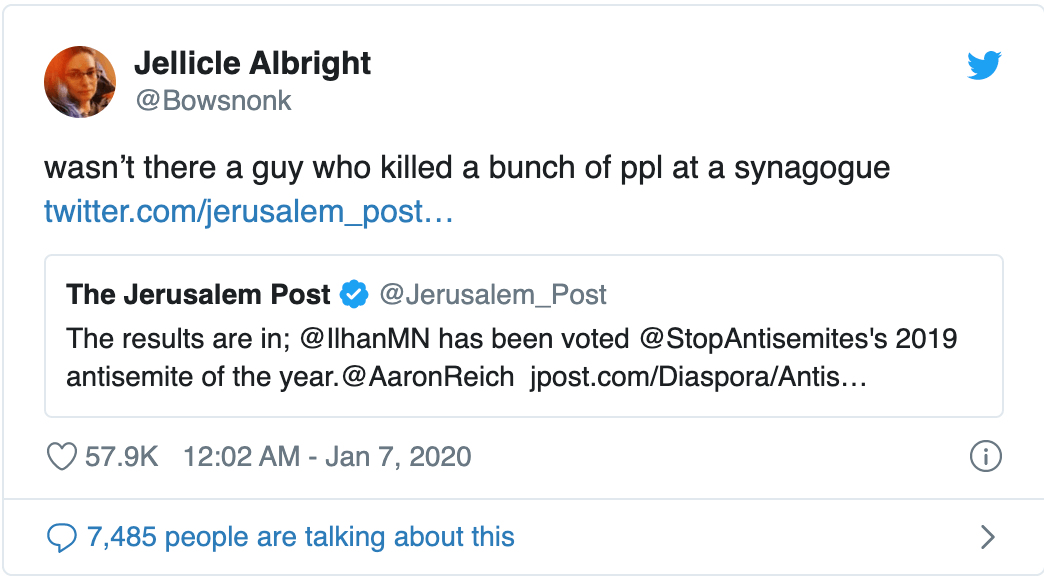 "Lucky day for John Earnest (Poway synagogue Nazi killer), for David Anderson and Francine Graham (Jersey City Black Hebrew anti-Semites – 2 Jews dead), and for Grafton Thomas (Monsey stabber – 5 Jews injured during Hanukkah celebration). Good thing you found the real anti-Semites," @NathanGuttman also replied.
People called out the Jerusalem Post and Stop Antisemitism for wrongfully equating Omar's pro-Palestinian stance as more anti-Semitic than hate-driven violence.
Since the establishment of Israel, the state and Palestine have long been at odds. But, in American politics, expressing support for Palestine is widely frowned upon due to the U.S. relationship with Israel. Regardless, Omar has led the way for Palestinian support in Congress as one of the first Muslim female representatives, through her support of BDS and criticisms of Israel.
And because of that, she has been repeatedly called anti-Semitic.
Others deem that title Islamophobic.
Peter Beinart, a political science professor, published an article in the Guardian in March 2019 which backed this claim by saying that the loose definition of anti-Semitism that is thrown at Israel's critics belittles the Palestinian experience.
"It is a bewildering and alarming time to be a Jew, both because antisemitism is rising and because so many politicians are responding to it not by protecting Jews but by victimizing Palestinians," Beinart wrote.
He sees a double standard in Israel's self-determination as the world denies that right to Palestine.
Another Twitter user debunked the anti-Semitic claim by noting how Omar endorsed the only Jewish presidential nominee, Sen. Bernie Sanders (I-Vt.).
"The same Ilhan Omar who endorsed and is actively campaigning for what will be our first Jewish president? Surely you jest," @shvintage tweeted.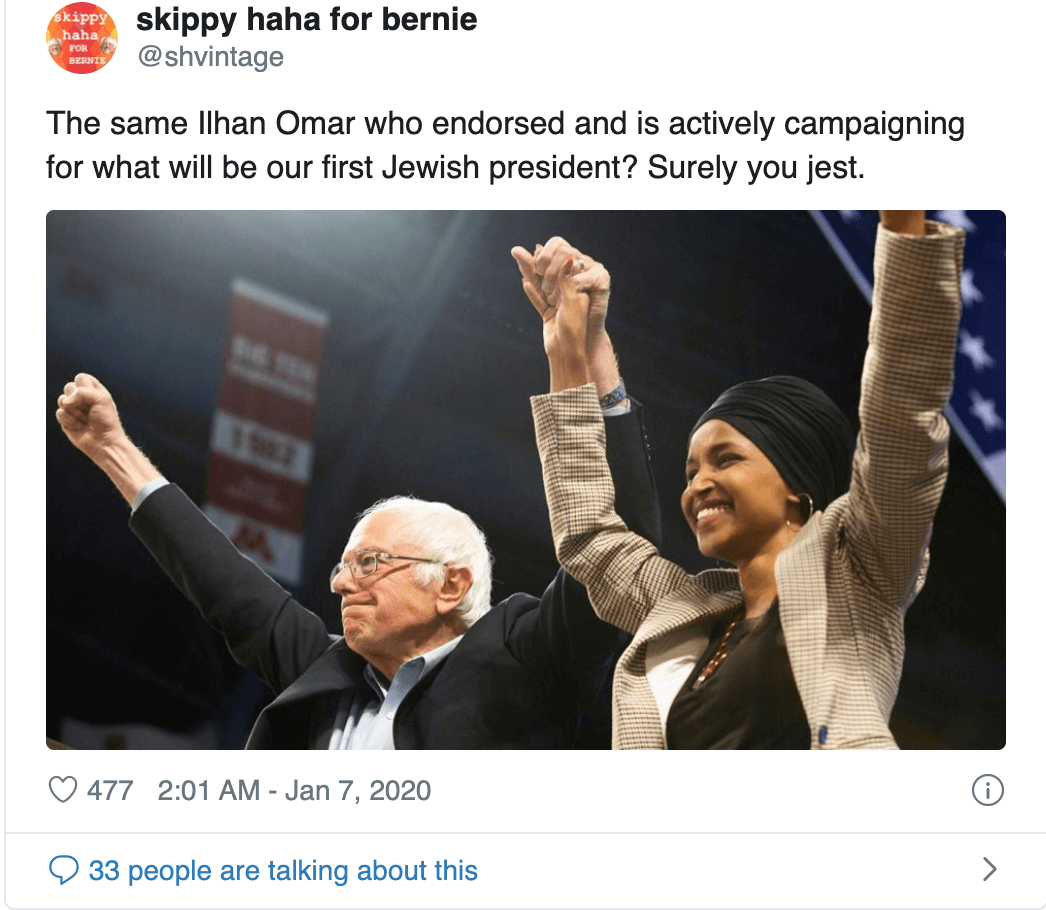 Alongside Omar, Rep. Rashida Tlaib also faced an anti-Semitic smear campaign. Tlaib is a critic of Israel, and her family lives in the West Bank.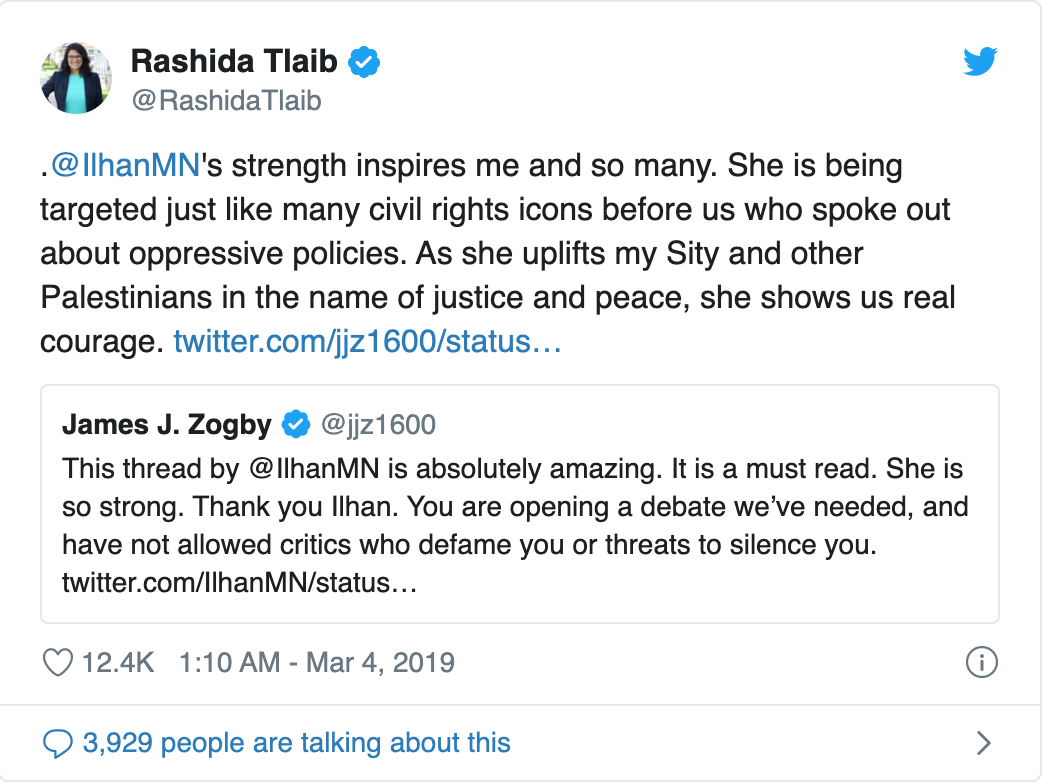 The Israeli government and the two representatives clashed when Israel banned them from entering the country following criticism of Israeli policy in August. Tlaib intended on visiting her grandmother, who lives under Israeli occupation.
After U.S. pressure, Israel lifted the ban, but Tlaib did not back down.
"Silencing me & treating me like a criminal is not what she wants for me. It would kill a piece of me," Tlaib tweeted. "I have decided that visiting my grandmother under these oppressive conditions stands against everything I believe in–fighting against racism, oppression & injustice."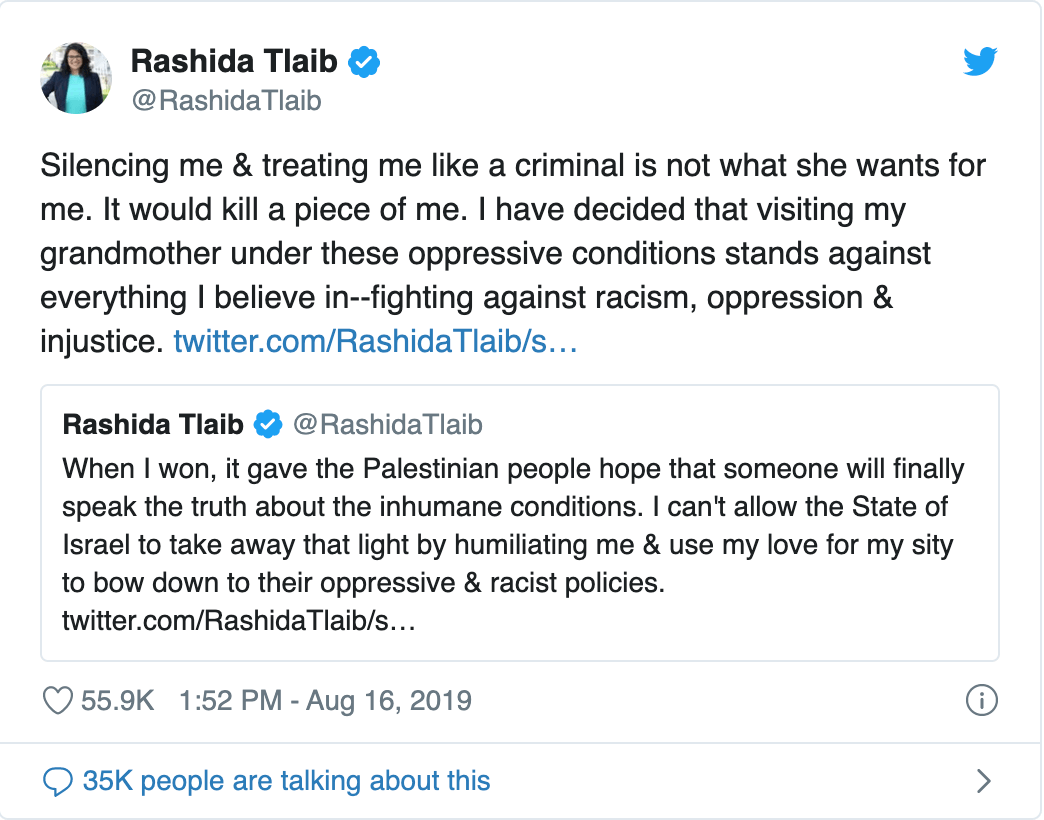 Stop Antisemitism did not reply for comment about their award by the time of publication.
READ MORE: