Owen Mundy knows where your cat lives.
Mundy is an associate professor of art at Florida State University, and he created a data project called I Know Where Your Cat Lives, which maps a sample of 1 million public photos of cats from photo sites like Flickr and Instagram, using coordinates from metadata. When you hit the "random cat" button, you'll see a photo of someone's cat and a map of where it lives, as well as nearby cats, though the origin info has been erased from the photo, so it's not clear if it came from Flickr or Instagram.
"I wrote software to access APIs data from top photo-sharing websites," Mundy told the Daily Dot. "All the data is public for anyone to access. I downloaded the photos and scrubbed all identifying information from them, then used the high-performance computing cluster at FSU to create the cluster visualizations and designed and coded a frontend to put all the cats on the map."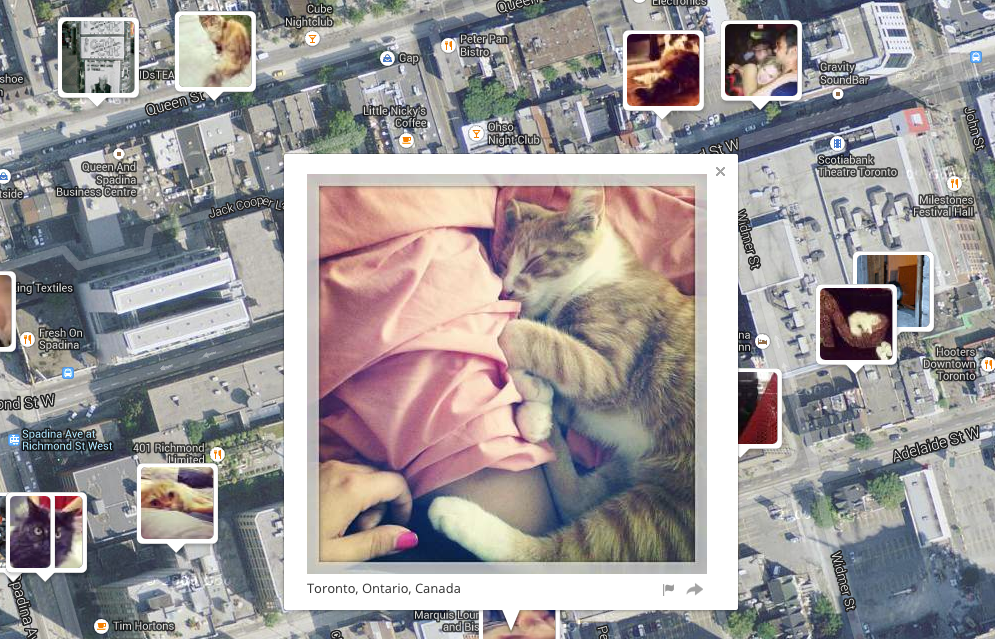 Since these are photos of cats, it's easy to laugh off the concept. However, Mundy says the experiment's origin was more ominous.
"I was using Instagram to photograph my 3-year-old and one day I realized that the app had been recording and embedding the geographic coordinates in my backyard," he says. "I thought to myself, 'I don't recall being asked by the app if I wanted to share this data.' It was a creepy experience that I wanted to translate in a way that was equal parts scary and fun, but technically harmless."
And since cats absolutely don't understand the concept of privacy, this makes I Know Where Your Cat Lives an interesting test case for other areas of data analysis and visualization.
"The project is a lot of things," Mundy says. "Engaged software is one phrase that comes to mind. It comes out of the tradition of engaged community art practice, where politics and culture figure into a creative outcome. Engaged practice attempts to create dialog, so hopefully the culture around the use of data listens to the conversation. It's also a pretty sophisticated data visualization."
Mundy also has a Kickstarter going to help with hosting the site. There, he explains the project "explores two uses of the Internet: the sociable and humorous appreciation of domesticated felines, and the status quo of personal data usage by startups and international megacorps who are riding the wave of decreased privacy for all. This website doesn't visualize all of the cats on the net, only the ones that allow you to track where their owners have been."
This might lead you to believe cat owners are freaking out about Mundy's invasion of purrrr-vacy (sorry), but many of the reactions have been just the opposite.
"The only person who knows it's your cat is you, and it's easy to remove your cat from the map," Mundy says. "You just increase your privacy settings on the photo-sharing website. It's so easy to get your cat off the map, no one has complained. I think a lot of people appreciate how tangible it makes the privacy issue because of the creepy factor, while on the other hand it offers the data in such an enjoyable way that I've actually had many requests from people to add their cat to the map!"
H/T Motherboard | Photo via Ed Mitchell/Flickr (CC BY-NC-SA 2.0)