Kaitlin Bennett, the Kent State gun girl, reportedly mocked Jewish people and made anti-Semitic jokes in private chats with members of her organization, Liberty Hangout.
Leaked screenshots of those chats between Bennett and a few others, including her husband, Justin Moldow, were first obtained by Colorado Springs Anti-Fascists, and recently published by It's Going Down. The messages reportedly are from a 2017 private Facebook chat.
None of the alleged parties responded to It's Going Down's request for comment. Moldow did not immediately respond to a request for comment sent via Twitter DM. Neither Bennett nor Liberty Hangout offer means of contacting them on the website or social media channels.
In the messages, Bennett, Moldow (the founder of Liberty Hangout, which Bennett is a part of), and others appear fixated on rival right-wing propaganda and indoctrination machines, Turning Point USA and Prager U.
In 2018, Bennett, formerly president of the Kent State chapter, had a public falling out with Turning Point USA. One of her beefs with the organization, as espoused in an unbelievably lengthy resignation letter, was that it "wants to distance itself from the alt-right."
The "alt-right" is a loose collection of conservatives that harbor white supremacists.
"Turning Point Israel," reads one alleged leaked message, to which Bennett responds, "I bet they have a looottt of Jewish and Israel first donors." Moldow replies, "Weird how (((they))) can donate their money to these organizations, but not directly to Israel."
The triple parenthesis is a right-wing, anti-Semitic dog whistle. Several messages use triple parenthesis about Jewish people, including a production assistant at PragerU.
In one message, Bennett purportedly writes of a PragerU program called Zionism 101, "give israel ur monies breakout session."
Bennett also says in one, "I want to donate my Christmas gifts to Israel."
"Now we can all go back to being normal Nazis," reads another message by someone else in the thread.
Liberty Hangout, which boasts of being Bennett's "official home," has previously been accused of bigotry, including Holocaust denial.
In 2016, it posted a Twitter poll asking if people "believe the Holocaust happened as we've been told," Snopes reports. It subsequently commented, "It doesn't seem possible that 6 million were killed."
Liberty Hangout later deleted the tweets.
Its recent Twitter history includes racist jokes and hopes that President Donald Trump names himself king, a strange look for a self-described libertarian organization. Then again, it also openly advocates for ending democracy.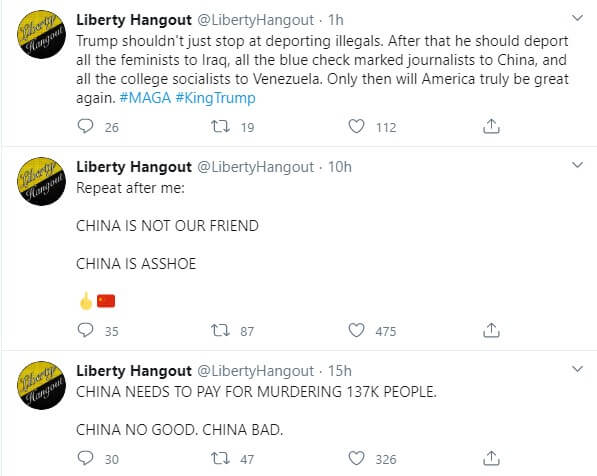 Bennett, who also contributes to InfoWars, is a committed self-promoter whose main shtick largely entails espousing hate to solicit a reaction, then claiming to be a victim.
In spite of Bennetts's far-right views and numerous accusations of bigotry, she has found a willing audience in the White House. In January, she posted on Facebook about being invited for a private tour of the West Wing.
READ MORE: