Every day seems to bring a new revelation about Rep. George Santos (R-N.Y.). He's been caught lying about his résumé, his mother's death, that his grandparents fled the Holocaust, and that he was a college volleyball star.
The newest development in the Santos' saga may be the first that doesn't raise concerns about his fitness to serve in Congress. It just calls his musical ability into question.
On Tuesday, TikToker Broadway Bob posted about Santos' account on Smule, an app that lets users record karaoke covers.
The news of Santos' Smule account was first reported by Rolling Stone.
The Smule account is under the name George Devolder, one of Santos' many aliases. The profile photo looks to be him. Nearly all the songs were recorded eight years ago.
The Smule account only has a few dozen followers.
Santos didn't immediately respond to an emailed inquiry from the Daily Dot.
The account is very heavy on Disney songs with a few renditions of "Cups" from Pitch Perfect.
Frozen, The Lion King, Aladin, and The Little Mermaid appear to be favorites. Seven of the 69 recordings are "Let it Go" from Frozen. There are several recordings of "Kiss the Girl" from The Little Mermaid.
The caption for one "Cups" cover includes the Portuguese phrase "Jóia in!" Santos is from Brazil and speaks Portuguese.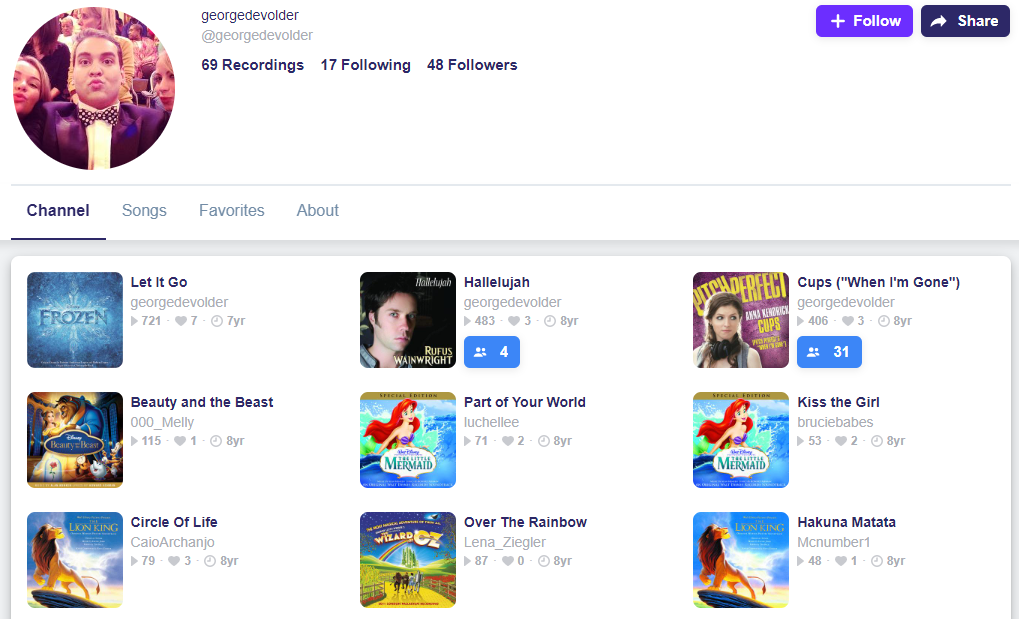 Bob captioned the TikTok, "It's giving Miranda Sings." Miranda Sings is a popular YouTuber known for her comedically bad song covers.
Bob didn't respond to a direct message sent via Instagram on Tuesday afternoon.
People were highly amused by the content of the Smule account. "Santos lore is getting out of hand," wrote one.
"That's not karaoke, that's from when he won an Oscar for his leads on The Lion King soundtrack," Kev the Cat Dad commented facetiously.
Another user suggested that the "Lyin' King" was more appropriate, given Santos' history.
GenX wondered, "Is…is the app strictly for Disney music or was this a genre choice?" Bob responded, "A choice."
Several more sympathetic commenters opined that younger generations are bound to have embarrassing internet footprints.
"But maybe also don't lie about your background," Bob responded.
After Bob unearthed the Smule account, people started posting comments. "Congressman slayy," wrote one.
This post has been updated.


We crawl the web so you don't have to.
Sign up for the Daily Dot newsletter to get the best and worst of the internet in your inbox every day.