A Twitter account is fueling disinformation about what caused Buffalo Bills safety Damar Hamlin to experience cardiac arrest during the Monday night game against the Cincinnati Bengals. Hamlin was revived on the field and remains in critical condition.
Soon after Hamlin collapsed and was rushed to the hospital, a person claiming to be a physician tweeted that they gave him a COVID-19 vaccine booster shot last week.
"I recently administered Damar Hamlin's Covid booster on 12/26, and as a medical professional, I can assure the public he passed all screenings with flying colors. I am in contact with the [University of Cincinnati Medical Center] staff and will provide any assistance to them," the tweet by @drbeneidelman read.
Although there were many red flags about the tweet and the account itself, this claim has helped spread unfounded rumors that the vaccine caused Hamlin's heart to stop.
The @drbeneidelman account has since been deleted. There's no evidence that they or anyone else gave Hamlin a COVID booster shot, last week or otherwise.
Nevertheless, @drbeneidelman's tweet continues circulating online. The Daily Dot found screenshots of it on Twitter, Telegram, Reddit, and other extremist forums popular with anti-vaxxers.
Anti-vaxxers have long held that the COVID vaccine causes a variety of ailments. It can cause myocarditis or pericarditis in rare cases, particularly among young men and boys within a few days of receiving a second COVID vaccine.
Many are taking "Dr. Benjamin Eidelman" at face value. A Truth Social user went so far as to baselessly claim that the doctor "murdered" Hamlin.
The Gateway Pundit wrote an article describing the supposed Dr. Eidelman as a "huge leftist," "Trump-hater," and "vaccine pusher."
A Twitter user also said @drbeneidelman is a "vax pusher" and claimed without evidence that there's been an "epidemic of heart issues in athletes."
Others, including some right-wing extremists, have applied more critical thought to the matter.
An archive shows that @drbeneidelman created their Twitter account some time last month. Its bio described Eidelman as an "Artist, Data Scientist, Disinfo/deception/fraud detector, Democracy Enjoyer"—but not as a physician.
"His cached Twitter profile leads one to believe that he may have been lying to combat rumors that Damar wasn't vaccinated," @amuse speculated, a dupe to throw fuel on a right-wing fire.
The account's bio also included a link to a since-deleted Substack that featured two articles: one on parenting a transgender teenager and another ironically about fighting global misinformation. Both appear to have been written in the last few weeks.
The Buffalo Bills' website shows it employs a medical team that includes five physicians. None of them are named Dr. Ben Eidelman. It is possible that Hamlin sought care elsewhere. But, as many have pointed out, physicians almost never administer vaccines. That's usually performed by nurses or other medical personnel.
Some have noted that there is a Dr. Benjamin Eidelman, but he is a much older neurologist than the person shown in @drbeneidelman's profile picture. The real Dr. Eidelman also happens to practice in Florida.
Additionally, and arguably most importantly, a medical professional disclosing that they'd given Hamlin a vaccine would be a clear violation of the Health Insurance Portability and Accountability Act (HIPAA).
"Yes real doctors love violating HIPAA on Twitter, an action that can easily cost their medical license and millions of dollars," a redditor wrote sarcastically in the Conspiracy subreddit.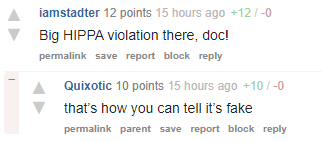 The Gateway Pundit has since updated its article to add, "It's a sock puppet account: Would a Dr. really disclose this info?" to the headline. It also wrote, "Is this a bot account? The only Dr. Benjamin Eidelman that is listed in a quick online search is an elderly man. What a strange coincidence!" It's not clear how this would be a coincidence.
A few don't know still what to think.
"Is it true that Dr. Ben Eidelman gave Damar Hamlin a booster shot last week?" one asked in a tweet tagging Hamlin, his representative, ESPN, and the NFL. "Please advise."


We crawl the web so you don't have to.
Sign up for the Daily Dot newsletter to get the best and worst of the internet in your inbox every day.