In a stunning escalation from Tuesday's Fact Check Gate, where the Tory party temporarily rebranded one of their Twitter accounts as an independent fact-checking service, the party has now made a fake Labour manifesto website.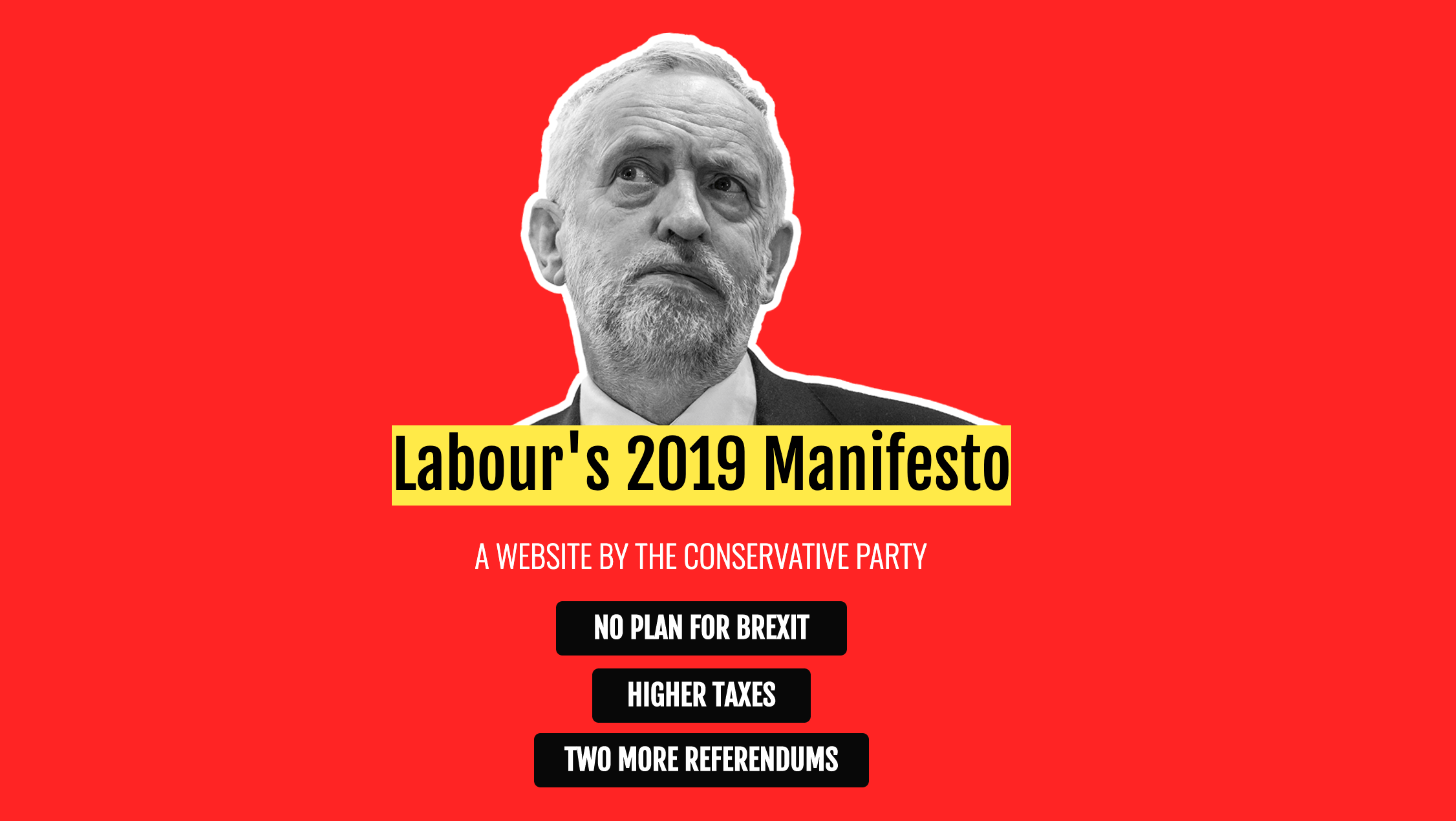 While significantly more obvious as a piece of propaganda than the Twitter account, thanks to "A website by the Conservative party" written in unobtrusive but still noticeable lettering, that is counterbalanced by the fact that the site's web address is labourmanifesto.co.uk/ and likely to draw traffic intended for the actual Labour party's website.
One spots a trend does one not

— Einar Petersen (@TheEinarkist) November 21, 2019
https://twitter.com/EllieJeanEsther/status/1197514131613605888
This is exacerbated by the fact that the Tory party also paid Google to have their pseudo-Labour website featured in the top results for people actually searching for the Labour party's real manifesto and policies.
When asked for comment, Google said "this was a paid-for advert by a verified political advertiser" and reaffirmed that, while they will not allow content likely to undermine trust or participation in the electoral process, they will not be vetting every claim made in political ads.
Let's make sure people hear about the real @UKLabour #manifesto.#ManifestoOfHope https://t.co/8GbM9L1GWj

— Screaming William (@screaming_will) November 21, 2019
This website is just the latest in a long line of lies and misdirection from the Tory Party in the run-up to the election.
The record so far:

▫️ Fake video of Starmer.

▫️ Fake fact-check Twitter account.

▫️ Fake Labour manifesto site.

The Conservative Party has forgone all standards of decency.

Why the need to rely on trickery and exploitation, rather than campaign on content and principles?

— Mike Galsworthy (@mikegalsworthy) November 21, 2019
In addition to multiple small-scale lies, the Tory Party has also edited two separate videos of Labour MPs in order to give a misleading impression of their policies and statements.
And this was before they posted a fake Labour manifesto website.

We still have 22 days to go. This is going to get worse and worse and worse. For god's sake please don't let yourselves get fucking played. https://t.co/65bQc83WqM

— Grace Petrie (@gracepetrie) November 21, 2019
"Trust us" says party that doctors videos and pretended to be a fact-checking site and lied about 40 new hospitals and lied to the Queen and promised to Brexit by 31st October and said there'd be no border in the Irish Sea and set up a fake website etc etc https://t.co/45Q4GJuAvO

— David Schneider (@davidschneider) November 21, 2019
Fake ads. Fake reasons for prorogation. Fake reasons for withholding a report. Fake assurances about withdrawal terms. Fake fact checking accounts. And now: even a fake site for their opponent's manifesto. If they win dirty, they will govern even dirtier. https://t.co/BJ1LsOtBya

— European Simon (@NoRemainNoGain) November 21, 2019
As a result, people are questioning whether their actions are legal and what consequences they should face if not.
Surely this is illegal ?

— Andy Davis (@androiddevice) November 21, 2019
How is this not a breach of electoral law is the question we should be asking.

— Salt Merchant (@SaltMerchantYT) November 21, 2019
Is this legal? And if yes, HOW IS THIS LEGAL?!

— Niek Dingemans (@NicolayaD) November 21, 2019
Oh for goodness sake! This must be highlighted as a false & misleading website. During an election campaign it must be investigated – surely it breaks @ElectoralCommUK rules? @BBCNews @Channel4News @itvnews @MichaelRosenYes @JolyonMaugham

— CMcG (@cmcg11214) November 21, 2019
The Daily Dot has reached out to the Conservative party for comment and will update this article if they respond.
READ MORE: