Facebook released a number of colorful features earlier this month to celebrate LGBTQ pride, but not everyone is feeling the love.
A number people from outside the U.S. are complaining they don't have access to the Pride reaction, a rainbow flag users can stick on posts to honor the occasion, leading to speculation that Facebook may be giving in to political pressure from governments that do not support LGBTQ rights.
As Mashable points out, Facebook stated on June 5 that its rainbow reaction would be available to all users. It's now nearing the end of the month, and we still do not have a satisfying reason for why some are unable to use the feature. Facebook's vice president Alex Schultz said in a blog it was because the company was currently testing the feature, but he did not provide an explanation beyond that.
"Because this is a new experience we've been testing, the rainbow reaction will not be available everywhere," Schultz wrote.
A number of disgruntled Facebook users have voiced their displeasure on the social giant's [email protected] profile page.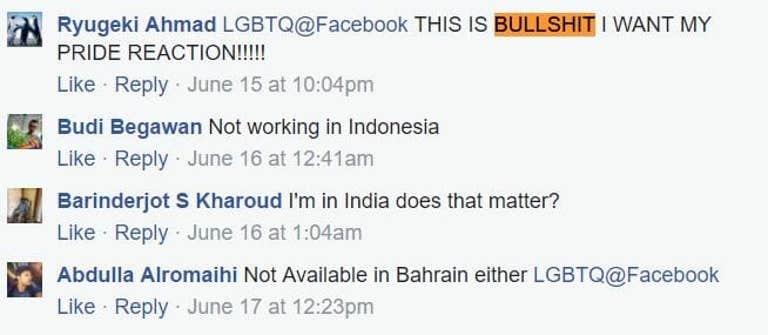 A Facebook representative clarified that the Pride reactions "isn't yet available in some areas." Those areas coincide with governments that do no support LGBTQ rights.
Facebook confirms it hasn't rolled out the "Pride" reaction in certain countries…so far, all countries where it's illegal to be gay. pic.twitter.com/dWPPv7rysT

— Jillian C. York (@jilliancyork) June 19, 2017
It should be noted that while most users who claim to not have access to the feature come from socially conservative countries like India, Indonesia, and Malaysia, a few people are also having trouble whose profiles claim they live in the U.S., Canada, Finland, and Australia. (Facebook did not respond to a request for comment.)

Other users have caught on to the idea that Facebook is only rolling the feature out to countries that are more accepting of the LGBTQ community and are desperately making a plea for why the feature should come to their hometown next.


Even if the reason comes down to a poorly calculated release, it's a bad look for a company that prides itself on inclusion.
Facebook has said that it hopes to roll out the feature to "more countries soon," but the clock is ticking on Pride month.
H/T Mashable